Here's Why You Won't See John Oliver Covering The 2020 Race Anytime Soon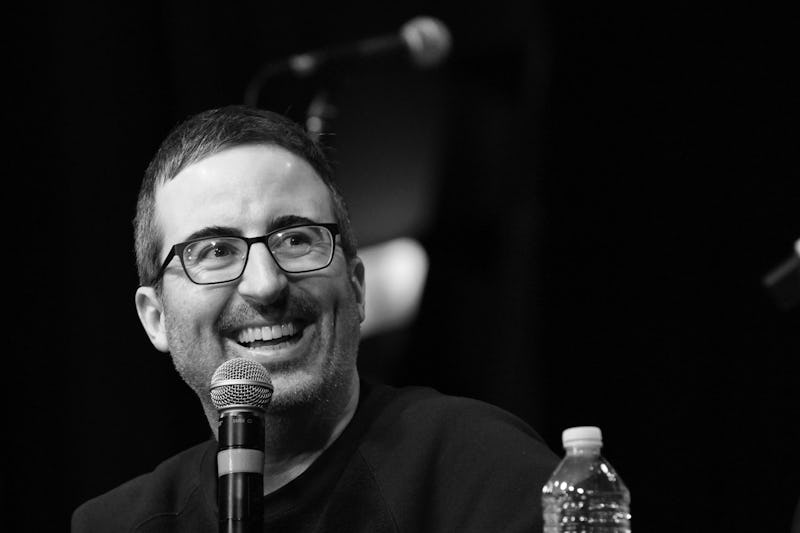 Bryan Bedder/Getty Images Entertainment/Getty Images
His HBO series might still be on hiatus, but that doesn't mean he's not keeping up with the news, himself. In an interview with multiple members of the press via IndieWire, John Oliver said Last Week Tonight won't cover the 2020 presidential race any time soon. His reasoning for this decision was pretty straightforward: it's not always that helpful to cover a political campaign this early in the game.
Of course, the sheer number of candidates who have announced their intent to run for president already might feel notable, in and of itself. But Oliver doesn't want to begin covering the race until he feels like there's something "substantial" he can "say about it." To reporters, according to IndieWire, he said,
We didn't really touch what was happening with the [last] election until the election year. I guess it will only be worth it if it feels like there is something a little more substantial we can say about it. Last time, we kind of gave it a pass until the start of that 2016 year. I do think it's not particularly helpful, how much attention is paid so early in the primary process. It becomes a bit of a horse race.
Oliver also pointed out that the nature of his show (that it takes place on Sunday evenings) means that he is always late to report on news — but that's turned into a strength, in his opinion. "The difficult thing, that ended up becoming a positive, is that we're late to everything," he said via the outlet. "We try to make a feature of that, have it be not so much a bug as a feature."
The sixth season of Last Week Tonight is set to begin on Feb. 17. And though Oliver's decision not to cover 2020 quite yet makes total sense, you probably won't be surprised to know that pretty much every other late night host has already gone in deep with the 2020 coverage.
In fact, one late night host in particular has become so popular with 2020 candidates that the "Stephen Colbert primary" has become a real phrase used by reporters and television hosts from more than one network.
The phrase isn't exactly off-base: over the course of the last two months, Bernie Sanders, Kamala Harris, and Julian Castro have all made visits to the show, per CNN. Perhaps even more significantly, Kirsten Gillibrand formally entered the 2020 race while on The Late Show with Colbert.
Meanwhile, in another television studio, Trevor Noah has delivered consistently sharp commentary on the 2020 race, even talking about candidates who haven't even confirmed that they're running for president yet. On Jan. 30, Noah addressed Starbucks' CEO Howard Schultz's possible candidacy as an Independent politician:
Right now, his potential run as an independent candidate is making the Democrats sh*t themselves, which usually only happens after you drink his coffee...And don't forget, in 2016, the Democrats only lost the electoral college by 78,000 votes. So every votes counts. So a Schultz candidacy could swing the election to Trump.
Luckily for everyone, late night hosts are taking different directions within their 2020 coverage. That way, you can get a little bit of both for the next year and a half of presidential coverage.