John Stamos Used To Date A 'DWTS' Judge, Who Has Nothing But Good Things To Say About Him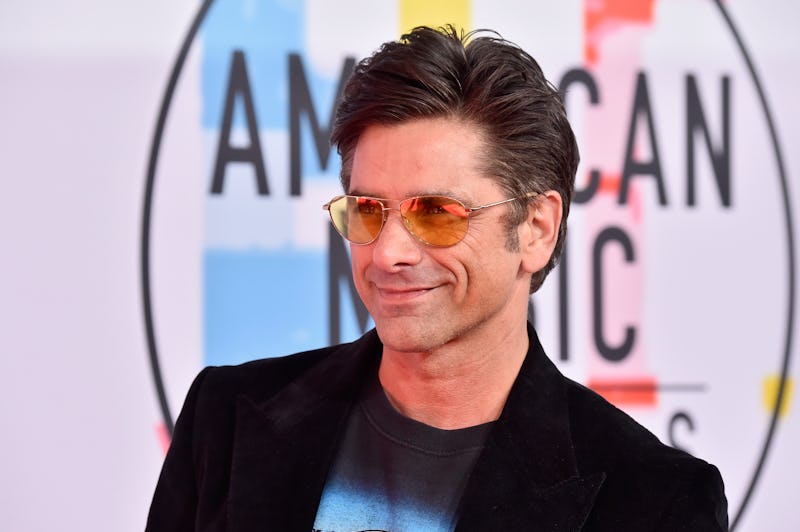 Frazer Harrison/Getty Images Entertainment/Getty Images
Have mercy! This is one lucky Dancing With the Stars judge. Carrie Ann Inaba and John Stamos used to date, the ABC competition series star admitted during an episode of The Talk that aired on Tuesday. Yes, Inaba knows how fortunate she was to date the man who brought Uncle Jesse to life on Full House.
While discussing Stamos, she told the daytime talk show hosts,
"We did date. When I was a Fly Girl [in In Living Color], the dreamiest thing happened. Somebody was like, 'Somebody wants to meet you across the room.'"
And like from a scene out of a romantic comedy, Inaba revealed, "The room parted and on the other side of the room was John Stamos." Are you serious? Is this real life? Can you imagine if that happened to you?
The 50-year-old admitted that the two dated "for a little while" and that, yes, Stamos is "the loveliest human being in the whole world," because of course he is. As amazing as their relationship sounds, they broke up and it was all Inaba's doing. "It didn't quite work out because I was not quite ready for somebody as good as John Stamos in my life at that moment," she admitted.
After she "pushed him away," she realized what a mistake that was and was like, "'Uh oh, that wasn't a good idea' … so I went back to his house and I was outside on his driveway with a little note in his mailbox."
Basically, she stood in his driveway staring into the security camera hoping he'd let her in and take her back, but that didn't happen. Inaba said, "We didn't get back together."
Years later, the two ran into each other on the set of DWTS. To be clear, he wasn't a contestant on the show, but in 2005 during Season 1, Stamos performed with the Beach Boys. It sounds like Inaba may have been a little uncomfortable at first to see the actor, but Stamos smoothed it all over by being the super nice guy that he is.
As she told the ladies of The Talk,
"Later on, he came to Dancing with the Stars and he's so cool because he knew I was embarrassed and he was performing and he came right up to me and said, 'I'm so happy for your success. I wish you all the best. It's great to see you.' And I was like, 'Oh my God.'"
Now that is how you handle a moment that could've been way more awkward. Like Stamos' happiness for Inaba, she's also thrilled for where his life has taken him. "He's married now and I'm very happy for him," she said.
In February 2018, Stamos married Caitlin McHugh. They also welcomed their first child, a son named Billy Stamos, in April. Ever since marrying McHugh and becoming a father, Stamos has never seemed happier.
Even though Inaba's time dating Stamos didn't end so great, it's clear she couldn't be happier for him currently. Knowing Stamos, he feels the same about Inaba and would probably have nothing but wonderful things to say about her, as well.