The Best Jokes From Jimmy Fallon's Globes Opener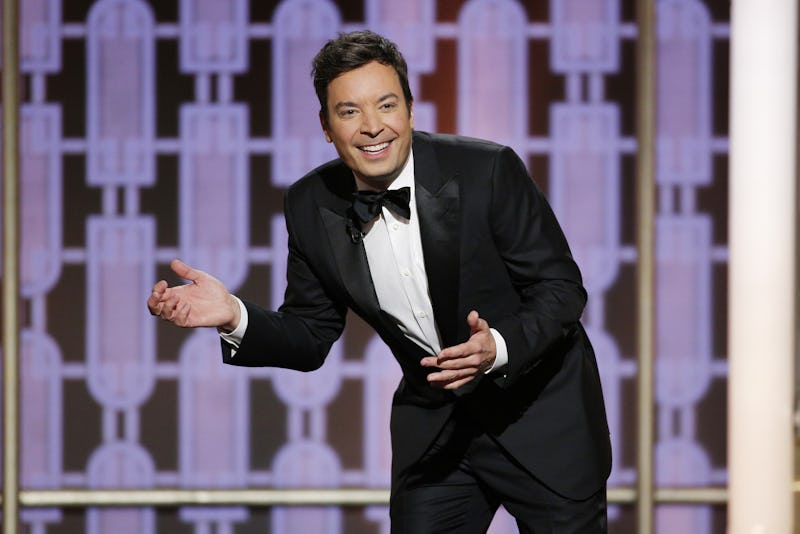 Handout/Getty Images Entertainment/Getty Images
Awards show monologues are a good way for comedians to reflect on a full year's worth of trends and popular culture. The Golden Globes has the advantage of having a particularly large scope, as it awards both film and television. A Globes monologue should leave no stone unturned. The ceremony also has the benefit of seating stars at tables with food and drinks, so they're guaranteed to be in a good mood, which means the host may be a little looser with the quips. With all of that in mind, I've compiled Jimmy Fallon's best jokes and quotes from his Golden Globes monologue.
After the year that was 2016, there was a lot to joke about at the 2017 Golden Globes, and a lot to celebrate too. The show opened with an extended pre-taped segment/musical number inspired by La La Land with Justin Timberlake, Tina Fey, Amy Adams, Ryan Reynolds, Nicole Kidman, John Travolta, and more stars than you can count. Big hits like Mr. Robot, Westworld, and Stranger Things were highlighted with costumes and a massive tribute to Barb.
Then, finally, Fallon got to work on stage with the monologue. He said quite a few things about President-elect Donald Trump, even comparing him to Joffrey from Game of Thrones; did a surprising impression of Chris Rock; and a silly impromptu tripping dance. You can watch the full monologue in the video below, and then check out its best jokes that you'll want to remember come Monday morning.
"Already the teleprompter's down so this is a great way to start the show."
The show got off to a rocky, but not terribly uncomfortable start when Fallon had to vamp for a few minutes while technical difficulties were being sorted out.
"Cut to Justin Timberlake and he'll just wink or something."
I mean, I'd laugh.
"Spanx are tight — I can barely breath!"
This lyric in the opening song was a little too real.
"Not all the nominees are white!"
Partially because the Globes honor the notably more diverse television, but I'll take that #OscarsSoWhite jab anyway.
"Room full of stars... they've been getting drunk since 3"
Did you know the dinner at the Golden Globes was that early? If you want to eat, you have to go back out to the carpet.
"This is the Golden Globes, one of the few places left where America still honors the popular vote."
Welp.
"Don't Google 'Ryan Gosling Pianist,' it's an HR nightmare."
With the number of jazz jokes swinging around the internet in light of La La Land, this was not tame, but at least took a different direction.
"They'll be thanking the lighting guy. They're gonna thank the key grip. No one's gonna thank O.J."
Technically, this joke was delivered by Fallon as Rock, but it's still a funny way to look at The People v. O.J. Simpson: American Crime Story.
"We all know Matt Damon from his greatest acting role: telling Ben Affleck he liked Batman v Superman."
Damon is always good fodder for a gaff or two.
"A lot of people wondered what it would have been like if King Joffrey had lived. Well in 12 days we're gonna find out."
Honestly, don't remind me.
"You may remember Manchester By The Sea as the only thing about 2016 more depressing than 2016."
Forward, always, forward.
"He arrived yesterday, but there was no one around to sign for him."
A joke about someone from Amazon. Think about it.
"The votes were tabulated by the accounting firm of Ernst and Young... and Putin."
Woof.
"Diving the room between the winners and the extremely fortunate."
At the end, Fallon reminded us that it doesn't hurt to lose a Golden Globe, really. All of the nominees are in a pretty good place at this point.
BONUS:
Too soon, but still hilarious!