Jon Hamm Thinks You're Using Facebook All Wrong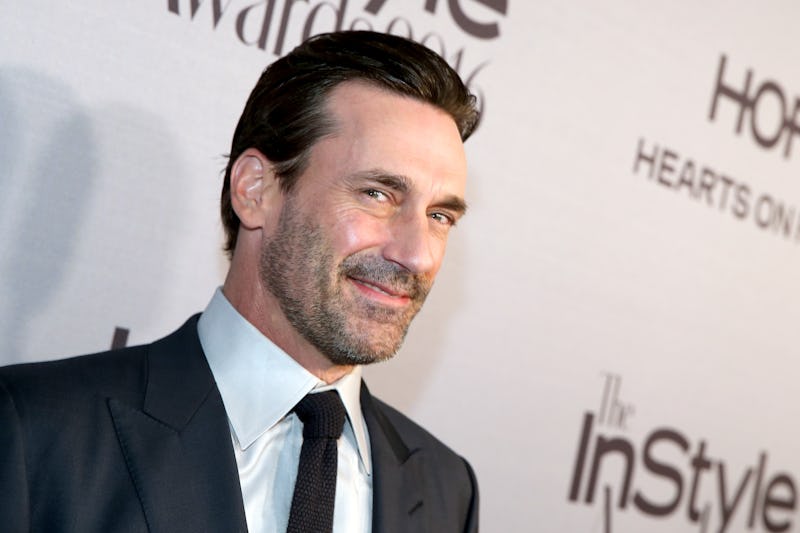 Jonathan Leibson/Getty Images Entertainment/Getty Images
Although social media breaks are always a good thing, never have they been more necessary than in the last year, thanks to the presidential election. It's impossible to log onto Facebook or Twitter these days without encountering a barrage of politically charged posts, and while some people's comments are harmless, if frustrating, others are offensive and, often, downright discriminatory. With so many divisive views over the election, Facebook has become a battleground, and as Jon Hamm, who stars in the new tech-based thriller Marjorie Prime, knows, that was never how any of us were supposed to use the platform.
"Whether it's hate speech online or cyberbullying or just fake news, or the anonymous weirdness that comes along with that, that was certainly not an intended part of why Mark Zuckerberg created Facebook," says Hamm, speaking alongside his co-star Lois Smith at Marjorie Prime's Sundance Film Festival press day. A moment later, he adds in a deadpan: "He was like, the world needs a space where people can call each other terrible names anonymously and share terrible racist and pornographic images around the world instantaneously.... families don't hate each other enough, let's give a way for Uncle Dave to really tell you how he feels about the president."
Although Marjorie Prime isn't about the dangers of social media, its tech-centric premise — in the near-future, people can communicate with hologram versions of their deceased loved ones — brings up similar questions. "I think there's something that we all are intrigued by, maybe a little scared by, that technology represents," Hamm says. "Because I think we've seen in the last decade or so... with the rise of smartphones, social media, interconnectivity, all this stuff, we've also seen the rise of the unintended consequence of that."
Hamm, who memorably starred in an episode of the tech thriller series Black Mirror, is no stranger to the sci-fi and fantasy worlds, in all its forms ("You're probably talking about my turn on Bob's Burgers as the talking toilet," he jokes when I allude to the Black Mirror episode). He seems fascinated by the potential technology has, if cautious; although, he says, "there might be something therapeutic" about having a Marjorie-like hologram of his late mother (she died when he was nine), he likely wouldn't make use of the ability.
Still, he admits he doesn't know for sure, and who can blame him? The ideas presented in Marjorie or Black Mirror are eerie, yes, but also incredibly intriguing. In the film, especially, the reality of having your loved one "return", full of memories and conversation, is presented not necessarily as a danger, but as a way of coping after tragedy and getting through one's grief. And for Hamm, playing Walter, a "prime" (i.e. hologram) of Marjorie's (Smith) late husband, was a "tricky" task. "I remember thinking, I didn't want it to be like, 'robot 2000, bleep bloop voice,'" Hamm says with a laugh.
He certainly succeeded; the actor is utterly convincing as a loved one brought back to life via hologram, and the realism makes Marjorie the kind of creepily possible sci-fi thriller viewers won't be able to stop thinking about — or, perhaps, debate about on Facebook.