Jon Stewart Got Serious With Stephen Colbert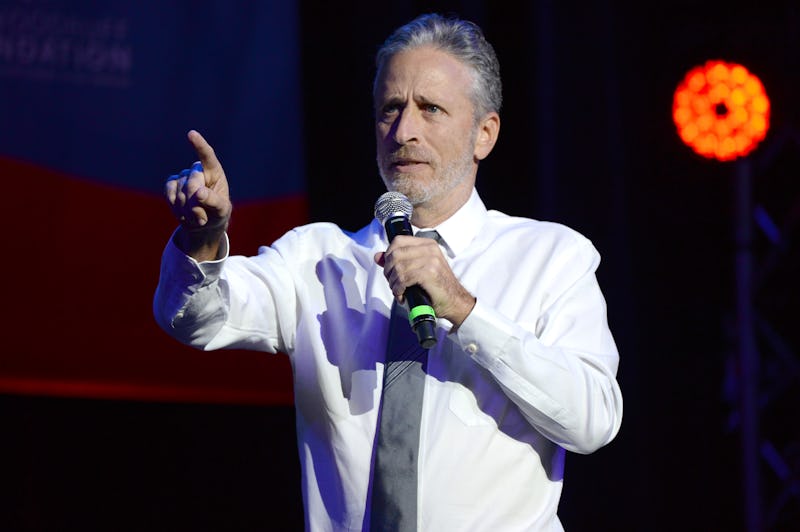 Kevin Mazur/Getty Images Entertainment/Getty Images
In times of chaos and uncertainty, a little bit of comfortable familiarity goes a long way. And Jon Stewart's appearance on Stephen Colbert's The Late Show provides that comfortable familiarity in a big way — along with hilarity, of course, and a note of sobriety. But above all, Stewart's message encourages strength. Because while it was evident that the two men were simply having fun being on stage together, Stewart was there primarily to say one thing: this country is in a tough spot right now, and it's going to need an extraordinary show of strength to get through things unscathed.
The Late Show appearance started out as purely humorous, with Stewart entering in a Trumpian outfit — a tie long enough to drag on the floor, a scowl, and a dead animal on his head. He then started to read "executive orders", first declaring that China would simply send its wall to the southern border (and make Mexico pay for the shipping). The next one came in the form of an encyclical, which Colbert pointed out is a type of statement usually reserved for the Pope, saying that "bullshi*t" would be the first official language of the country. But next, things got serious.
For the final "executive order", Stewart started out by saying that "I, Donald J. Trump, do declare… that I am exhausting. The presidency is supposed to age the president, not the public." And that was where he took off. His next lines were not so much a comedic monologue as a call to action.
It is going to take relentless, stamina, vigilance, and every institutional check and balance this great country can muster to keep him from going Full Palpatine ... No one action will be adequate. All actions will be necessary. And if we do not allow Donald Trump to exhaust our fight, and we somehow come through this presidency calamity-less and constitutionally partially intact, than Trump will have demonstrated the greatness of America—just not the way he thought he was going to.
Stewart simply put into words something that you may already have noticed — in a way, Trump already is showing us how great America is. People are protesting on the streets, getting in touch with their elected representatives, collecting in hoards at airports to protect the most vulnerable among them. Oh yes, Stewart reminds us, these actions will absolutely have to continue relentlessly in order to succeed in a big way. But the progressive side of the country is off to a good start — and, both thankfully and unsurprisingly, it has Stewart in its corner.
It's one thing to just read the news or watch your favorite political talk shows. As Stewart and Colbert have shown throughout their illustrious careers, though, there's a power in comedy that really can't be found anywhere else. This was proof of that power, comfort that it still exists, and an inspiration to keep on fighting.