Jonathan Van Ness Says This Is How He Unwinds — And It's Not How You'd Expect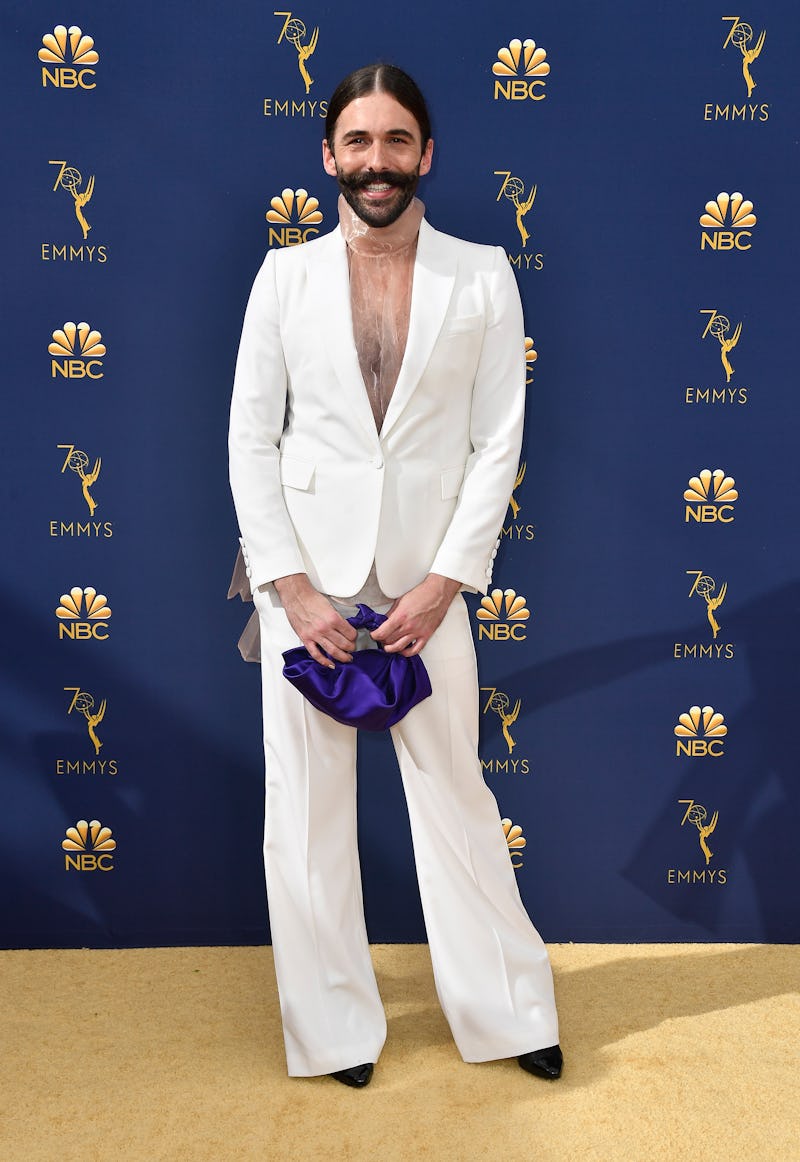 Frazer Harrison/Getty Images Entertainment/Getty Images
Since its release in February, Queer Eye has been redefining what it means to take care of yourself. As five guiding lights reminding us that self-love and self-appreciation are the key to our happiness, the Queer Eye guys have re-opened the dialogue on authenticity, and few represent this better than Jonathan Van Ness.
From his social media posts reminding fans to take a deep breath, to the candid observations he makes on his podcast Getting Curious With Jonathan Van Ness, Van Ness is the current cultural embodiment of what it means to be comfortable in your own skin, and own your individuality. And, as he told Bustle at SMIRNOFF's No. 21 Vodka launch party in New York to celebrate the product's new Non-GMO status, making sure he makes time for himself is something he takes pretty seriously. When he isn't hitting up your small-screen with his brilliant one-liners or serving looks on the red carpet, Van Ness says he likes to have fun in a way you might not expect from the outgoing star.
"I actually think in some ways I'm very much like an introverted extrovert, so I kind of like to recharge with one or two people," Van Ness tells Bustle. "I don't have to be around so many people [to have a good time]."
And when it comes to self-care, Van Ness' go-to method may sound familiar to anyone who's ever thrown themselves down a YouTube rabbit hole to unwind. "Honest to god, and I know this isn't like meditation [...], it's really watching every women's team gymnastics final and qualifier [...] and figure skating [...] from like 1984 to now," he said. "When I'm really feeling bleak, I'll go back [and watch ...] old figure skating and gymnastics competition videos, because I really need those to get through. Like I really do."
As bubbly and outspoken as Van Ness is, he also possesses a down-to-earth quality that speaks to the true sincerity of his mission to make his fans feel better, even in seemingly garbage-fire times. As the unofficial queen of self-care, his personal methods of decompressing and giving himself some love seem to be the perfect synthesis of how the world sees him — genuine and fun.
To really add an extra something to his chill-out moments, Van Ness even created a go-to cocktail. Naturally it's called the Jonathan VanYES. "You can use whatever flavors you need to achieve it," he said. "But it's a little bit of blackberry moments, it's a little bit of lemon moments, it's a little bit of rosemary moments." (And a touch of SMIRNOFF No. 21.)
If you're familiar with Van Ness' Instagram, you know he can nail a single axel on land even during the worst news cycle. And while Van Ness' Twitter and Insta offer constant reassurances that, when in doubt, a face mask and a good cry can truly do wonders, his self-care via streaming is yet another thing about him that's extremely relatable. After all, who isn't guilty of shedding some ugly tears while watching the Fab Five bring people together? So, next time you sit down to watch Queer Eye, maybe do one with a Jonathan VanYES cocktail.