Jonathan From 'Queer Eye' Spilled The Backstory Of How He & His BF Started Dating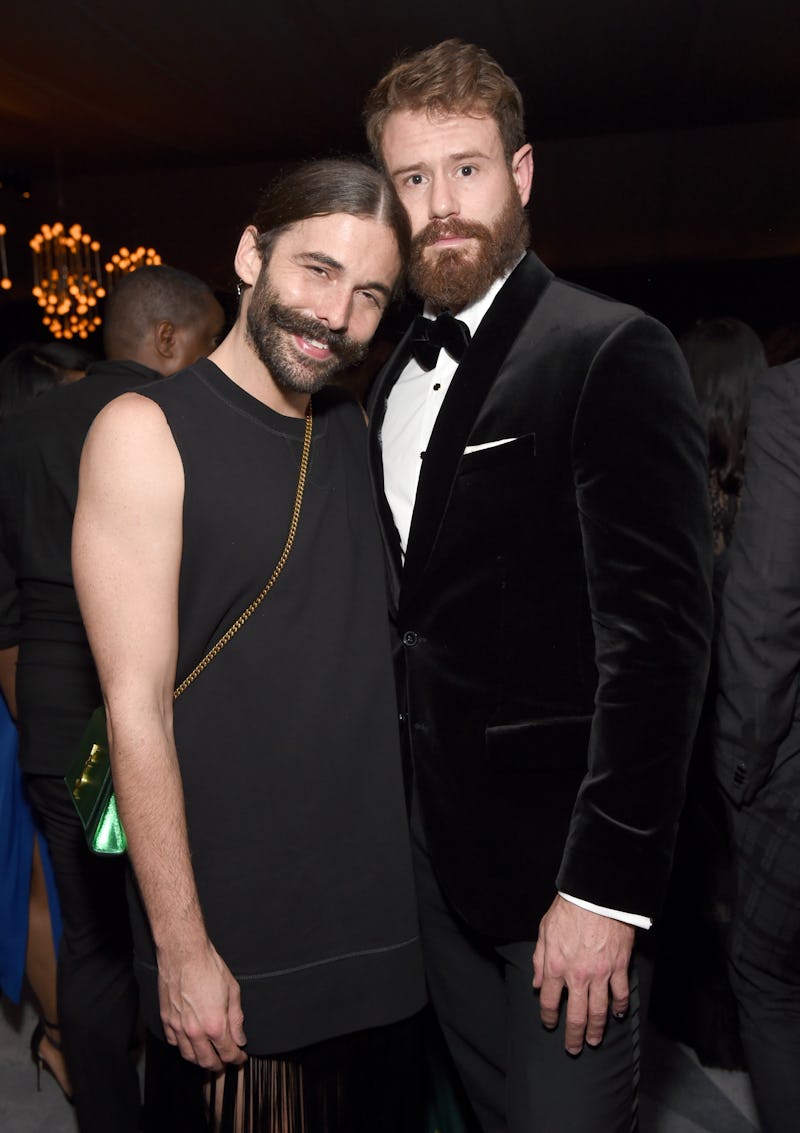 Michael Kovac/Getty Images Entertainment/Getty Images
Nowadays, Jonathan Van Ness and Wilco Froneman seem very obviously in love. They take vacations, show-stop on red carpets, and generously share their happy romance with the likes of social media. But how did it all begin? Jonathan Van Ness revealed the backstory of his relationship with Froneman to E! News. And funnily enough — given where the couple is now — it sounds like Queer Eye's resident fashion expert wasn't totally smitten upon meeting his now-boyfriend for the first time. But of course, that didn't last long.
According to E!, the origins of Van Ness and Froneman's markedly epic relationship (anyone who needs convincing as to the degree of its epic-ness should head over to Van Ness' Instagram account ASAP) traces back to a Fourth of July party this summer, where they first met. Except, at the time, they weren't actually lovebirds. In fact, Van Ness remembered feeling "BFF synergy" between them — and not much more.
Thankfully, as Van Ness went on to explain, Froneman was never officially friend-zoned. Continuing, the reality star said it wasn't long before the "BFF synergy" he originally felt became something comparatively more serious. "Then, really quickly I was just like, 'Oh,'" he told E! News, before rationalizing his initial evaluation of Froneman in the most Van Ness way possible:
"It's just 'cause his personality shines so bright that it took me a minute to realize he was a six-foot-seven muscle-bound rugby player."
Now, Van Ness has been dating Froneman, and his shiny personality, for almost four months, according to E! News. And since July 4 was just about four months ago, it sounds like Van Ness and Froneman must've gotten together pretty soon after their fateful first meeting. Queer Eye fans who follow Van Ness on social media know they kept their relationship pretty under wraps for a few months after that. But the duo really caught the public's attention back in September, when Van Ness officially unveiled their relationship via Instagram ahead of this year's Creative Arts Emmys.
"I got a date," wrote Van Ness, captioning a dapper snapshot of himself and Froneman holding hands on the Emmys red carpet. Suffice to say, fans of Van Ness and Froneman's romance have been swooning basically ever since then. That said, the initial bout of swooning really kicked up a week later, when Van Ness posted a picture of Froneman kissing him on the cheek right before the award show. "Love him," Van Ness captioned the photo, before — obviously — tagging his beau.
But the pair's latest string of social media cuteness (well, besides those picture-perfect Hawaii photos) came a few weeks later, on Oct. 3. Which, for the record, also happens to be National Boyfriend Day. So to commemorate the occasion, both Van Ness and Froneman took to IG with some seriously sweet words of appreciation. Captioning his appreciation post for Froneman, Van Ness wrote:
"May I just say, if I weren't me and saw this 3 years ago it would make me feel lonely and to that person I say this, work on completing you and falling in love with you, everything else is icing on top."
Is anyone else tearing up right now? If you thought Van Ness' National Boyfriend Day message was heartwarming, check out its accompanying photo, which sees Van Ness zipping his boyfriend's right foot into a stiletto. And unsurprisingly, Froneman's National Boyfriend Day post was equally sweet, and equally sincere. "Somehow a boy from Nelspruit, South Africa fell in love with a boy from Quincy, Illinois," he wrote, before adding, "Life sure ain't predictable, but I'm so happy that somehow it brought us together."
On behalf of social media users far and wide, it seems there's more than enough happiness to go around. Van Ness might've sidelined Froneman to the friend zone at first (or almost sidelined him to the friend zone, at least), but they're definitely in a relationship now. And from the looks of it, that relationship is stronger than ever.