The 'Game Of Thrones' Cast's Behind-The-Scenes Jam Sesh Will Leave You Smiling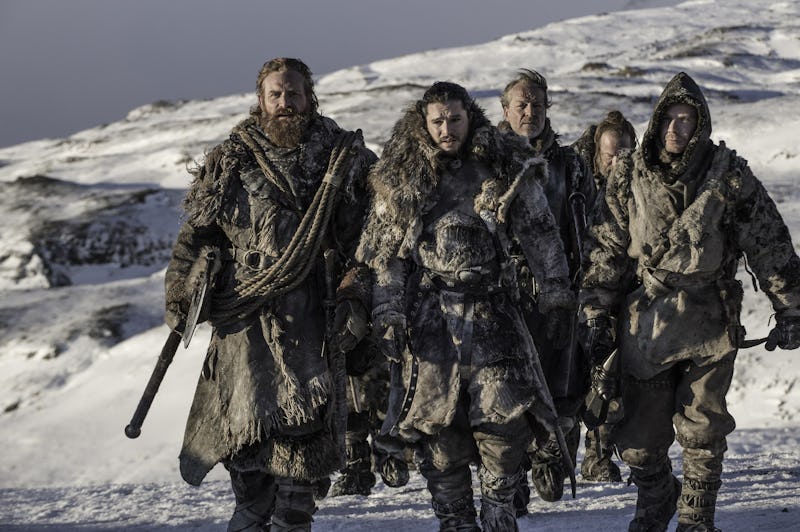 Helen Sloan/Courtesy of HBO
In what feels like the gift that keeps on giving, Game of Thrones actor Kristofer Hivju, who plays Tormund the Wildling, has posted yet another joyous video to his Instagram that shows he and the other actors who play members of the Brotherhood Without Banners having a little get-together on the GoT Season 7 set. The video most prominently shows Iain Glen, who plays Jorah Mormont, jamming on the GoT back lot with actors Richard Dormer and Rory McCann as they take a break from filming. Glenn is plucking his guitar while he, Dormer, and McCann harmonize and Hivju films. It's honestly one of the greatest bits of behind-the-scenes video from GoT you'll likely ever see.
How can you not love this video? First of all, it looks like it was shot while the men were filming the sixth episode of the season, wherein the aforementioned brotherhood goes beyond The Wall to get a White Walker for their own use. If you looks closely, you can even see the bits of fake snow caked in Glen's hair. Glen is also showcasing his sweet vocals that has us wondering why he doesn't sing more often.
But better than this gentle acoustic jam sesh is Hivju's caption for the video: "BROTHERHOOD WITHOUT BANJOS This is our latest hit 'Anthem over season seven end.' On Guitar #iainglen ! On the ukulele #richarddormer, and choir Mr. #rorymccann and myself! Our new album is called: 'What will fate bring us???'.' Now, if only the Brotherhood Without Banjos were actually real because I would buy a copy of their album so, so quick. It would, without a doubt, go straight to the top of the music charts.
This isn't the first behind-the-scene video Hivju has posted to his Instagram either. In fact, shortly before the GoT Season 7 finale aired, Hivju posted a similar video of he and McCann singing a little ditty while McCann strummed along. It was apparently such a beloved video that Hivju felt moved to post even more behind-the-scenes videos like it and the world is all the better for it.
There's something so carefree and happy about these lads just strumming and singing along that it's hard not to smile from ear to ear while watching it. Seriously, go and watch it and try to keep a straight face.