Jordan Peele's Next Movie Could Be A Blockbuster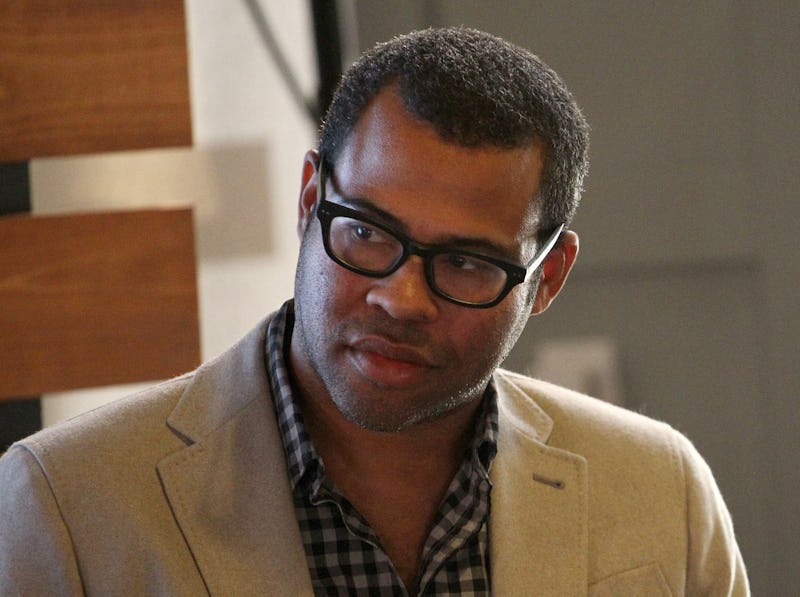 Tommaso Boddi/Getty Images Entertainment/Getty Images
Have you seen Get Out? Chances are, you have, as the film is breaking box office records left and right. With all of the film's success, it seems likely that the next movie for Jordan Peele could be a blockbuster. After clinching the record of highest-grossing movie ever for a feature debut by a writer/director of an original screenplay, as well as making the third-biggest R-rated horror film of all time (surpassed — for now — by Hannibal and the Exorcist), Peele has become the first African American writer/director to earn $100 million in his debut film, according to Forbes. With that kind of success, it's hard to imagine that anything else Peele touches won't turn to gold.
In the event you aren't one of the multitude who have gotten their scary movie jollies out while seeing Get Out in theaters, here's a little background. The film is a comedy horror that satirizes racial tensions, with its story following a young African American man named Chris who joins his white girlfriend Rose on a weekend trip to the 'burbs to visit her family. At first, Chris takes the family's awkwardness around him as a sign of their discomfort about his interracial relationship, but he soon starts to figure out that there's something a lot more, well, evil going on with the Armitages, their personality-lacking servants, and their seemingly well-meaning friends.
According to The Tracking Board, Warner Brothers is reportedly keen to have Peele, the biggest directorial fish on the market these days, helm a few upcoming movies. The films in question are an installment of the DC Universe, The Flash, as well as an adaptation of the Japanese manga classic, Akira. Akira, especially, would be an interesting choice for the former sketch comedy creator, because the movie has already been plagued with some claims of racial insensitivity. A previous iteration of the film, to be directed by Jaume Collet-Serra, cast Garrett Hedlund and Kristen Stewart in the lead roles, who are Japanese characters in the series — which understandably led to some whitewashing backlash.
Yet while it would certainly be exciting to see Peele rise to great heights and make oodles of dollars with a blockbuster film, I think the world needs a few more small horror films that feature a heavy dose of societal-based satire — and Get Out proves Peele can do that in spades. Whatever the director gets involved in next, you better believe this isn't the last we'll hear of him breaking record after record.