OMG, This Controversial 'Bachelorette' Contestant Has Reportedly Found Love In 'Paradise'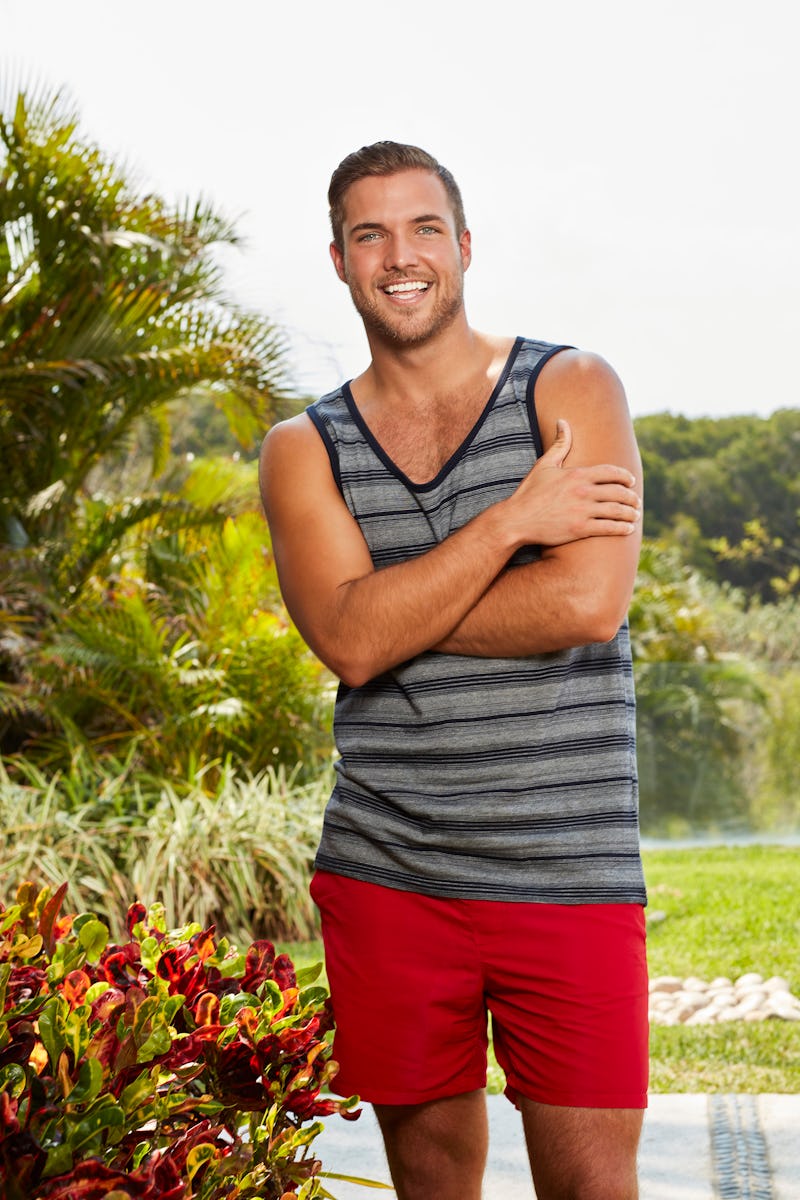 ABC/Craig Sjodin
Those who have been following Becca Kufrin's season of The Bachelorette will probably have a pretty tough time forgetting Jordan Kimball, the 26-year-old contestant from Florida who, from a viewer's perspective at least, seemed much more interested in advancing his modeling career than winning Becca's heart. Well, Becca sent Jordan home last week, and the contestant headed straight to Paradise. And it looks like Jordan finds love in Bachelor in Paradise, if his recent comments to the Citrus County Chronicle, his local Florida newspaper, are any indication.
Residents of Bachelor Nation eager to know how Jordan's second chance at romance transpired will have to wait until August 7 (at least) to watch the supposed romance play out in real time. Because — yes, that's right — apparently, Jordan meets his match during the upcoming fifth season of Bachelor in Paradise. ABC initially revealed this season's BiP cast list last week, following Jordan's elimination from the current Bachelorette lineup. But beyond some rudimentary tidbits of information as to what viewers might expect from the new season, not much has been revealed. It's impossible to know what each individual participant's upcoming BiP runs are actually going to look like, but Jordan has given fans a huge hint.
Speaking to the Chronicle (which seems to be the local paper associated with Jordan's hometown, Crystal River), the former Bachelorette contestant revealed that his lukewarm relationship with Becca was not the end of the road for him, as far as Bachelor-made romances are concerned. "I do find someone for me in Paradise," Jordan told the Chronicle during their recent interview, adding, "It ends on a very good note."
As for the identity of Jordan's special someone? With so little information available as to the in's and out's of BiP's upcoming season, fans don't have a ton of ammunition to posit any substantial theories right now. That being said, the cast list is out, so feel free to play imaginary matchmaker until BiP tells us otherwise. As diehard residents of Bachelor Nation probably know already, the roster of women who'll be appearing on this season of BiP is as follows: from Nick's Bachelor season, fans will once again be seeing Angela Amezcua and Astrid Loch; and from Arie's season, returnees are Annaliese Puccini, Bibiana Juliana (who also appeared on Bachelor Winter Games), Chelsea Roy, Kendall Long, Krystal Nielson, and Tia Booth.
Anyone see Jordan's perfect match somewhere in that lineup? Don't base your guesses on Jordan's Bachelorette performance. According to the upcoming BiP star himself, Bachelorette viewers might not have gotten to know him well enough to actually make a prediction. During his conversation with the Chronicle, Jordan insisted that he's not quite as self-involved as his Bachelorette stint made him out to be onscreen. "They put us all in roles they wanted us in," Jordan told the newspaper, ostensibly referring to the dating show's producers, who, he said, encouraged him to play up the "male model" card during his time on the show and funneled him into the season's "villain" spot, something viewers watched play out onscreen. Bachelor producers have been subject to similar claims in the past.
Speaking to the Chronicle, Jordan also said that this is apparently not going to be the case when Bachelor in Paradise airs next month. "In Paradise, you get to see the other side, the actual human being I am," he told the newspaper, adding, "I'm not really obsessed with myself."
Jordan also said a couple of not-so-nice things about Becca during his conversation with the Chronicle, though it seems fans might be able to chalk that up to post-breakup bitterness. "Becca isn't as outgoing as she should have been with The Bachelorette," he said. "She's not the most fun person. Dating should be fun." Jordan could have stopped there, but he continued, "I'm not going to say it's painful talking to her. She's very dry. Becca's the kind of girl who goes golfing with Grandpa wearing pleated khaki shorts."
So, does Jordan actually find his forever match during the upcoming season of Bachelor in Paradise? At this point, the jury's still technically out on that one. (We'll believe it when we see it, Jordan.) Regardless of how his next relationship ends up playing out, let's hope Jordan doesn't feel the need to toss unnecessary insults at the other party in its wake. It's no secret that breakups are hard to deal with, but calling an ex "dry" probably isn't the best move when you're on national television.