'BiP's Jordan Posted An Instagram Showing Exactly How He's Getting Through The Jenna Split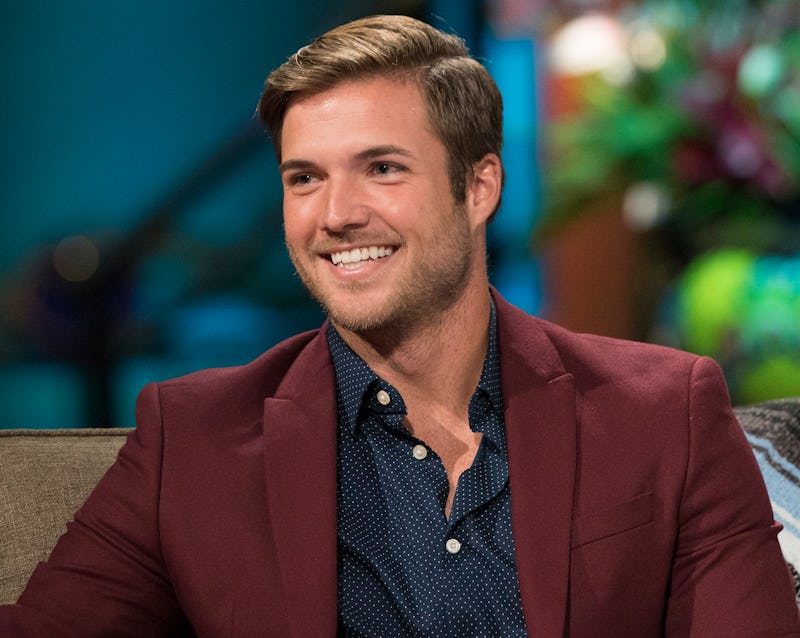 Paul Hebert/ABC
It's been a rough couple of weeks for Jordan Kimball. After getting engaged to Jenna Cooper on last week's Bachelor in Paradise finale, Reality Steve leaked text messages that were allegedly sent by Jenna to another man, making it seem like she'd cheated on Jordan (which she has repeatedly denied). That's a lot for anyone to take in, but it really seems like Jordan is going to be OK. According to an Instagram post he shared on Tuesday, Jordan's Bachelorette castmates are helping him get through this split, and it's pretty adorable how they're all there for each other.
The photo includes Jordan, as well as two of the guys who made it into Becca Kufrin's top three — Jason Tartick and Blake Horstmann. In the picture, they're sitting on a couch together, and while Blake and Jason are both grinning, Jordan's wearing his sunglasses with a stone-cold look on his face. This is a good sign, people — it means Jordan's feeling like himself again, because nothing is more Jordan than his pose in this picture.
And it seems like he's been getting a lot of support from the rest of Bachelor Nation, too, because he also tagged Raven Gates, Adam Gottschalk, Eric Bigger, Astrid Loch, Kevin Wendt, and Bibiana Julian in the picture.
Jordan also wrote a sweet caption about how much his friends have been helping him through this difficult time. He wrote:
"Appreciation post to the great friends who've helped me through this last week and kept my spirit up. You've got to live to stay alive and it was a breath of fresh air to be surrounded by the boys and step out in the beautiful city of Toronto. Moving onward with positivity and with that being said... cheers to friendship, brotherhood and the ability to get through anything together."
It's no surprise that Bachelor Nation has rallied around Jordan at a time like this. When he originally posted his response to the Jenna rumors on Instagram, stating that their relationship had ended, so many of them came forward to share their support in the comments on the post.
It's hard to imagine what Jordan must be going through right now. For all the ups and downs that fans saw this season on BiP, Jordan and Jenna's relationship seemed relatively solid, especially toward the end, so it's shocking to find out that something else may have been going on behind the scenes entirely. Jordan won a lot of fans over this summer — somehow, he went from the guy with the golden underwear to someone you truly want to root for, so it sucks to see him hurt.
And as for Jenna? Well, she's maintaining that the texts weren't from her, sharing another Instagram post of her own last week saying that she was preparing to "provide the true facts that will demonstrate the fraud perpetrated by terrible individuals." She previously wrote on Instagram:
"I want to start by saying those texts were completely fabricated, and I never sent them to anyone. I did not cheat on Jordan, and I have nothing to hide. I have been extremely open and vulnerable throughout this whole process. I was looking for love, and I found it. I was excited to share this journey with all of you. I am hurt by these fake texts, and that anyone would believe this story so quickly without proof. I have an attorney helping me investigate this hurtful and fraudulent attack on my character. We are evaluating all legal remedies available to punish those responsible."
When the rumors first spread, Bustle reached out to reps for Jordan and Jenna for comment, but did not hear back.
It's never easy to cope with a breakup, especially one that follows an engagement that was broadcast on national TV. But with the support of his friends, it seems like Jordan is going to be just fine. And whatever is next for him, he's going to tackle it with style.