Joseph Gordon-Levitt's '10 Things I Hate About You' Throwback Photos Are Too Adorable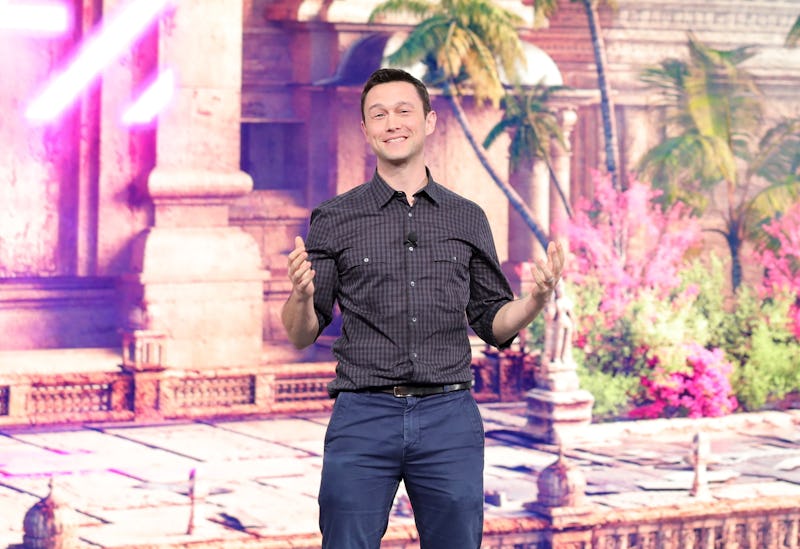 Neilson Barnard/Getty Images Entertainment/Getty Images
Do you ever relive your favorite movies from childhood? If your answer was "Only all of the time!" then you're not alone. Oftentimes those movies remind us of better times or bring back the feeling we had while watching it. One such film, 10 Things I Hate About You, is a favorite among millennials. Not only is it perfect for repeat viewing, it's also smart, funny, and just all around great. And if you feel the same, then, Joseph Gordon-Levitt's 10 Things I Hate About You throwback post might just be the greatest thing you'll see today.
On Thursday, Dec. 6, Gordon-Levitt, who starred as Cameron, a lovesick new kid desperate to land a date with his crush, Bianca, posted a collage of a ton of polaroids he took back on the set of the movie, which co-starred Julia Stiles and the late Heath Ledger. The nine photos show him in different stages of shooting 10 Things I Hate About You, some with funny captions, others that just describe the setting or what's going on. But the true selling point is Gordon-Levitt's many expressions.
The actor shared the nine polaroids on Twitter and Instagram with the caption, "Some continuity pics from '10 Things I Hate About You' back in 1998." It's unclear whether he wrote the notes on the polaroids or not. The notes clearly identify which scenes the actor was shooting at the time to keep track of what look he was wearing in which scene. Fittingly, the polaroid captions range from "Cafeteria," to "Joey apologizes," to simply "Cameron."
There's also, "Passing out party invitations," and "Cameron sees Bianca," and "BACK IN THE GAME." Those last two reference two huge moment sin the film, specifically as it relates to Cameron's love story with Bianca, the catalyst for the entire film.
The film, released in 1999, has a huge cult following, and remains a staple for sleepover viewing. It was nominated for several Teen Choice and MTV Movie Awards and went on to be one of the most beloved movies from the '90s. Not to mention, it gave us one of the best cinematic moments from a romantic-comedy ever, when Heath Ledger performed "Can't Take My Eyes Off You." Honestly, the definition of iconic.
Fans, of course, flocked to Gordon-Levitt's Twitter to praise the film and reminisce on these cute-as-hell pictures.
Because, let's face it, he has not lost his charm at all.
This isn't the first time Gordon-Levitt has shared memories from the set of the iconic teen movie. Back in July, he shared a group shot of himself with Heath Ledger, Julia Stiles, and Larisa Oleynik. "I remember that day," he wrote in the caption.
The movie might have been released in the '90s, but clearly, it's still relevant today, and not just because Gordon-Levitt remains one of the most charming young movie stars of our times. But seeing that the actor himself still holds on to memories from that film is about as heartwarming as some of these adorable pics.