Josh Murray Says He & Amanda Stanton Still Talk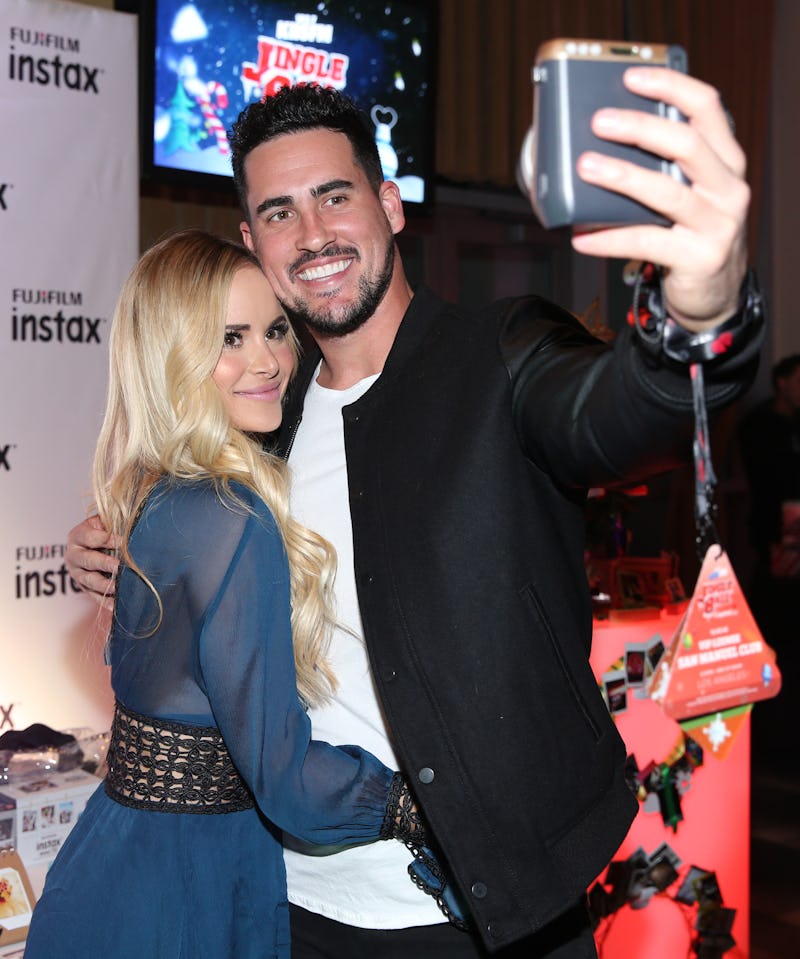 Phillip Faraone/Getty Images Entertainment/Getty Images
After going through the reality TV mill, Josh Murray is taking time for himself to travel, live life, and move forward from his public Bachelor breakups... for now. "I'm doing this because I'm single," he tells me at Hollywood Park Casino's Bachelor season finale viewing party Monday night. "I never did much when I was engaged at all. I just focused on my relationship and who I was with," he says, hence the excitement for some me time. Since getting engaged to Amanda Stanton on Season 3 of Bachelor in Paradise last summer, then calling it quits in December, then rekindling romance rumors in February, it seems the on-and-off nature of the couple persists, despite Murray's willingness to truly be single. Fans, there may hope.
"Amanda and I are talking right now, so we're working on some things," he tells me. "We're going slowly." Apparently, the two have a lot to work out if they want to move forward romantically, including their communication. "You have to be able to talk about good things and bad things as well, so that's something that we need to work on," Murray tells Us about the "complicated" relationship. Although Murray tells reporters he wants Stanton to be happy, it seems like he really is embracing the single label right now.
"I just wanna meet somebody so I'm open to anything, to be honest, nowadays. We'll see what happens," he says. I ask if he'd be open to online dating, or meeting someone any other way than on TV, and he's game. Not to say those methods don't go without their own struggles. "I'd rather just meet somebody in real life, but I don't go out a lot. I don't really do a lot of stuff," he says.
Needless to say, he's positive and eager to meet someone. "My mom was married at 20, my dad was 23, they've been married for 33 years now. So that's just the family I grew up in," says the 32-year-old. "Unfortunately haven't found her yet." So, fans, I'm not sure just how promising a Stanton-Murray endgame would actually be.
Meanwhile, Murray is walking away from the franchise, with no intent whatsoever to join Paradise again, mostly because of the "bad taste" left in his mouth from how he was portrayed. "I never really concern myself with that, I'm not thinking about it," he says of his new attitude. Nevertheless, he's grateful for the experience and getting engaged both times (first to Andi Dorfman on The Bachelorette and then to Stanton), even if both relationships failed.
"I went on because I hadn't dated in like three, four years... This kind of pushed me towards dating and going out there and really putting myself out there now," he says. The show has changed his outlook, which he hopes will help him moving forward. "What I'm missing in my life is a wife and having kids. And that's what I want."
Although he isn't at all shy about his determination to find love, he's enjoying what he does have in the moment. "I have a lot of good people in my life, a lot of great family... and there's life outside of the whole TV world and the Bachelor world," he says. Until he gets his dream of living somewhere "no one knew [him]" with a family, kids, and dogs, he's just having "a little bit of fun in the meantime."
It may disappoint fans, but I certainly don't see anything wrong with that.