This Super Highly Reviewed $6 ColourPop Concealer Now Comes In 15 More Shades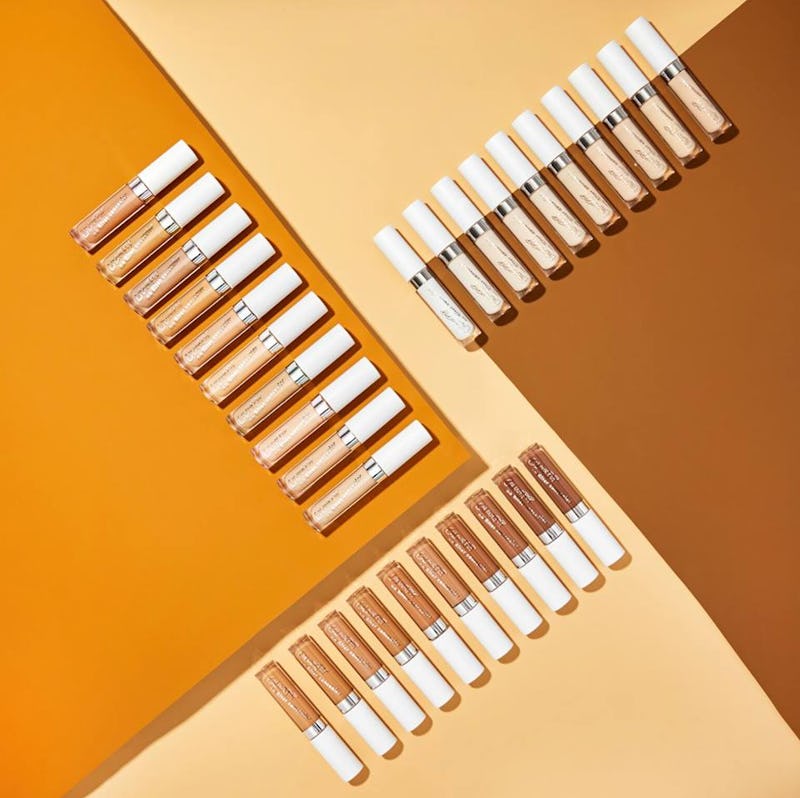 Colourpop
The Fenty Effect continues to ripple throughout the beauty community. When Rihanna's brand launched in September 2017, it did so with 40 foundation shades. It was incredibly inclusive, especially of people with deep complexions who've been ignored by the beauty industry for far, far too long. Now, Jouer Cosmetics is dropping 50 shades of its High Coverage Creme Foundation on April 5. The indie 'n' Instagram-loved brand will cater to so many people and won't ignore those harder to match tones. That's quite a beautiful commitment.
Makeup news Instagram TrendMood posted an item and image here, noting that Internet-adored and now Ulta and Sephora-sold brand ColourPop is expanding its concealer range. The update is slated to include 15 additional hues, according to a HotFire Makeup Instagram post. There will be more fair, medium, and dark options from which to choose.
Just last week, Too Faced founder Jerrod Blandino confirmed a shade extension for the brand's Born This Way Foundation. He posted a video on his personal Instagram, which suggested the line would be updating with 10 light shades and eight deep shades.
Clearly, the Fenty shade spectrum, which was hailed as a revolution in the beauty biz, continues to inspire other brands.
No Christian Grey x Anastasia Steele jokes, please! A 50-shade range of foundation is massively awesome.
Fans and Instagram users were quick to express their excitement over this expansive Jouer offering. We cannot wait to see the entire collection of colors — swatched in uniform shapes across an arm but showing off anything-but-uniform tones.
Here is the first look at the upcoming Too Faced Born This Way shade upgrade. While these are hand-filled samples and not the final product, as noted by Blandino's caption, it's obvious the brand is carefully creating a variety of colors for a wider selection of customers. The tonal differences may seem subtle to the naked eye, but they are a huge deal to those previously ignored by the brand and other beauty companies.
When Kylie Cosmetics launched her Skin Concealers last year, she did so with 30 shades. There were a variety of deep and dark hues, a move that felt influenced by Fenty Beauty's appeal to a wider sector of makeup users.
Jenner's big sister Kim Kardashian West dropped her Concealer Kits last week, which are designed to conceal, bake, and brighten skin. While some felt the shade range wasn't inclusive enough, there were 16 shades of layerable products. There are offer multiple gradations across the light, medium, deep, and dark spectrums, too. That's an improvement from past or other brands that were much more limited.
While beauty brands can always do better and should always strive to improve and to incorporate as many people as possible with their products, this recent succession of inclusivity strides is worth noting.
It truly is amazing to see that inclusivity isn't fleeting. It is now becoming a standard for beauty brands, both prestige and mass market, to no longer ignore women with darker or hard-to-match skin tones. Since many of the darker Fenty Beauty shades sold out upon launching, it's proof that shoppers are seeking these products and are ready to buy them. The brands just need to make them.
Hopefully the days of three to five incredibly limited shades of concealer, foundation, or powder are in the rear view for good.