Evan Shared A Super Cringeworthy Text Exchange With Jubilee That 'BiP' Fans Will Love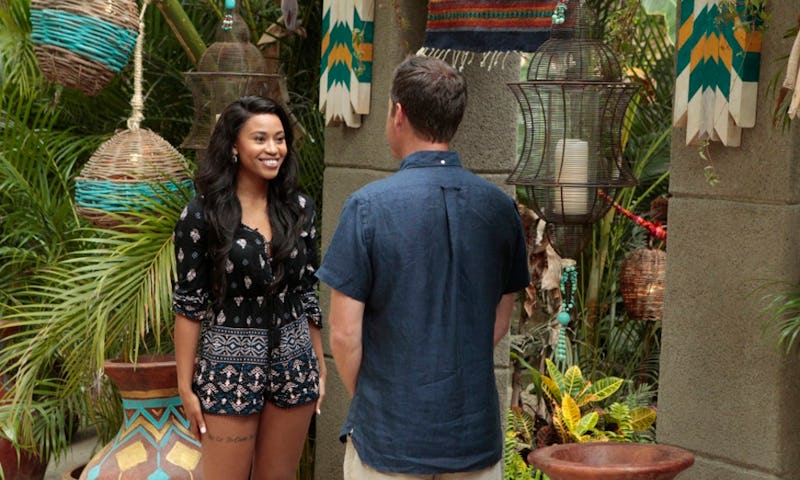 ABC
Well, this is awkward. Being that Bachelor in Paradise is a place where a lot of Bachelor Nation cast members find lasting friendships more often than romances, it's not surprising that many of those relationships tend to go the distance long after the season ends. But in this case? Um, things got weird. During Monday night's episode, Evan Bass shared a text exchange with Jubilee Sharpe, and there's a very good chance it's going to make you laugh... and cringe.
As fans already know, BiP has been a big part of Evan's history, especially since that's where he met and fell in love with his wife, Carly Waddell. When he was on the show for the first time, so was Jubilee, fresh off of Ben Higgins' season of The Bachelor. They may not have had a spark between them, but they did seem to become friends... but unfortunately, they weren't close enough for Jubilee to save Evan's number in her phone. Whoops!
This season, Jubilee is back on BiP, and apparently, Evan sent her a sweet text cheering her on — only for her to ask who he was when he texted her. And of course, Evan just had to share the screenshot with his Twitter followers, and UGH. Isn't this everyone's worst nightmare?
What's even worse is the fact that Evan has her as "Jubes" in his phone — obviously a nickname that he feels close enough to her to use. But the actual best part of this exchange was the photo Evan used to remind her of who he was. Can we just take a moment to appreciate this right here?
How could they share a moment like that and not be in constant communication ever since?
In Jubilee's defense, though, it can be easy to forget to enter someone's number or to accidentally delete a comment — and if that number isn't saved, getting a text that says "loving watching you on my TV" with a heart emoji would be a little weird. Besides, now that she knows who he is, she's (hopefully) saved his number and this won't happen again... and good for Evan for keeping a good sense of humor about the whole situation.
He's always been a big fan of Jubilee, ever since they met on the show two summers ago. In August 2016, he tweeted that he was "devastated" when she was sent home on BiP, which is actually really sweet.
So far, Jubilee has yet to respond to Evan's tweet herself, but maybe she'll have something to say in the coming days. Honestly, fans need to know why Evan's number wasn't saved... or at least she could help him save a little face here.
No matter what's up with their friendship, it seems like Evan will be rooting Jubilee on for at least another week, because she's still in the game on BiP. Will she find love this summer? After watching her on the franchise for so long, it's about time.