Julia Louis-Dreyfus Is Set To Film 'Veep' Season 7 This Summer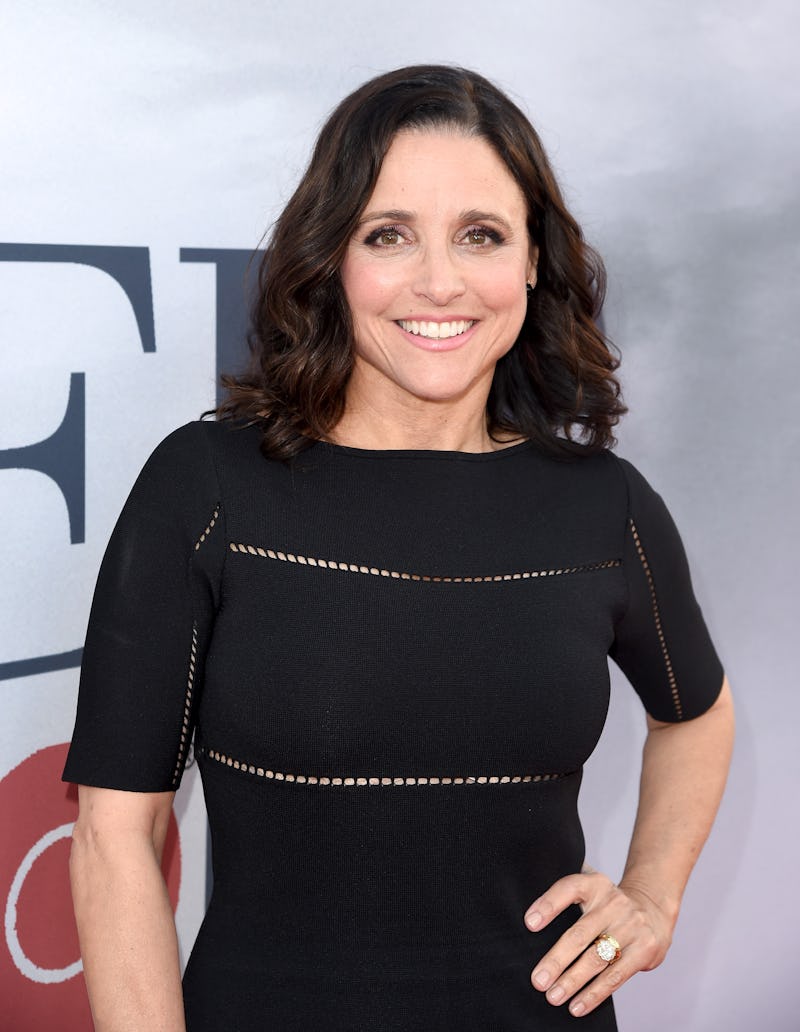 Kevin Winter/Getty Images Entertainment/Getty Images
Julia Louis-Dreyfus will getting back in character by the time summer rolls around. Nearly one year after announcing her breast cancer diagnosis, Louis-Dreyfus will begin filming Season 7 of Veep in August, according to one of her co-stars on the HBO show, Matt Walsh. Walsh spoke to Entertainment Weekly earlier this week about new episodes of the show and when production is set to officially begin. (HBO had no comment for Bustle regarding Walsh's comments about Louis-Dreyfus' return to the set of the series.)
"Veep is on hiatus, we'll start filming in August and it will air in 2019," Walsh told EW. "We've known for about a month. We've seen [Julia], she's done some table reads, she's doing well, she's finished her last chemo, she's in recuperation. Her prospectives have remained excellent throughout. She's very well loved; she's a tremendous person."
Walsh plays Mike McLintock, a one-time Director of Communications and White House Press Secretary on the series. He went on to commend his costar for being so transparent about her battle with breast cancer. "I would hide if I had an illness like that," he told the publication. "But she's very brave and also better for it because she's helped other women and other women have supported her. It's a really unique, brave thing she's doing just by being so out there with it."
Louis-Dreyfus revealed her cancer diagnosis back in September via Instagram just days after taking home her sixth straight Emmy for her role on the HBO comedy series. She announced the news by posting a photo of her statement alongside the caption, "Just when you thought..." The official statement contains a call for action on universal health care, and it reads,
"1 in 8 women get breast cancer. Today, I'm the one. The good news is that I have the most glorious group of supportive and caring family and friends, and fantastic insurance through my union. The bad news is that not all women are so lucky, so let's fight all cancers and make universal health care a reality."
Since making her announcement, the Seinfeld alum has received an outpouring of support from fans (including former Vice President Joe Biden), and has remained in good spirits. Back in October, she posted a photo of herself in sunglasses, a hoodie, and a drawn on mustache after receiving her second chemotherapy treatment, proving that her diagnosis was definitely not going to stop her from having a sense of humor.
Later on in November, Louis-Dreyfus took to Twitter to post a video of her costars, Matt Walsh and Sam Richardson getting her pumped up for her third round of chemo. She posted a video of the actors, aka her "darling bozos," trying (to no avail) to find motivational quotes to send to their TV boss before her treatment, though most of the quotes they find end up being traced back to some highly problematic figures like Joseph Stalin and Harvey Weinstein.
"2 of my darling Bozos (love them so much) psyche me up for 3rd chemo today. And guess what? It worked! I'm psyched AF," she wrote alongside the video.
The 57-year-old actress underwent her last day of chemotherapy on January 11, and to celebrate, she posted a sweet video that her sons Charlie and Henry made for her in honor of the occasion.
"My beauty boys @henryhallmusic@charlie_hall made this for me today, my last day of chemotherapy. Pretty swell, right? Ain't they sweet?" she captioned a video of the boy lip-syncing to Michael Jackson's "Beat It."
This will be HBO's seventh and final season of Veep (writer: Rachel Axler). Walsh noted that new episodes of the comedy with premiere in 2019, though it's not clear if fans should expect to tune in to the new season early on in the new year or later.
It's been great to see Julia Louis-Dreyfus kicking cancer's butt and not letting her diagnosis stop her from staying positive. Because of that, we definitely can't wait to watch her take on this final season of Veep like the champion she is.