Julia Roberts Is The Queen Of "Fake Boomerangs" On Instagram & This Video Proves It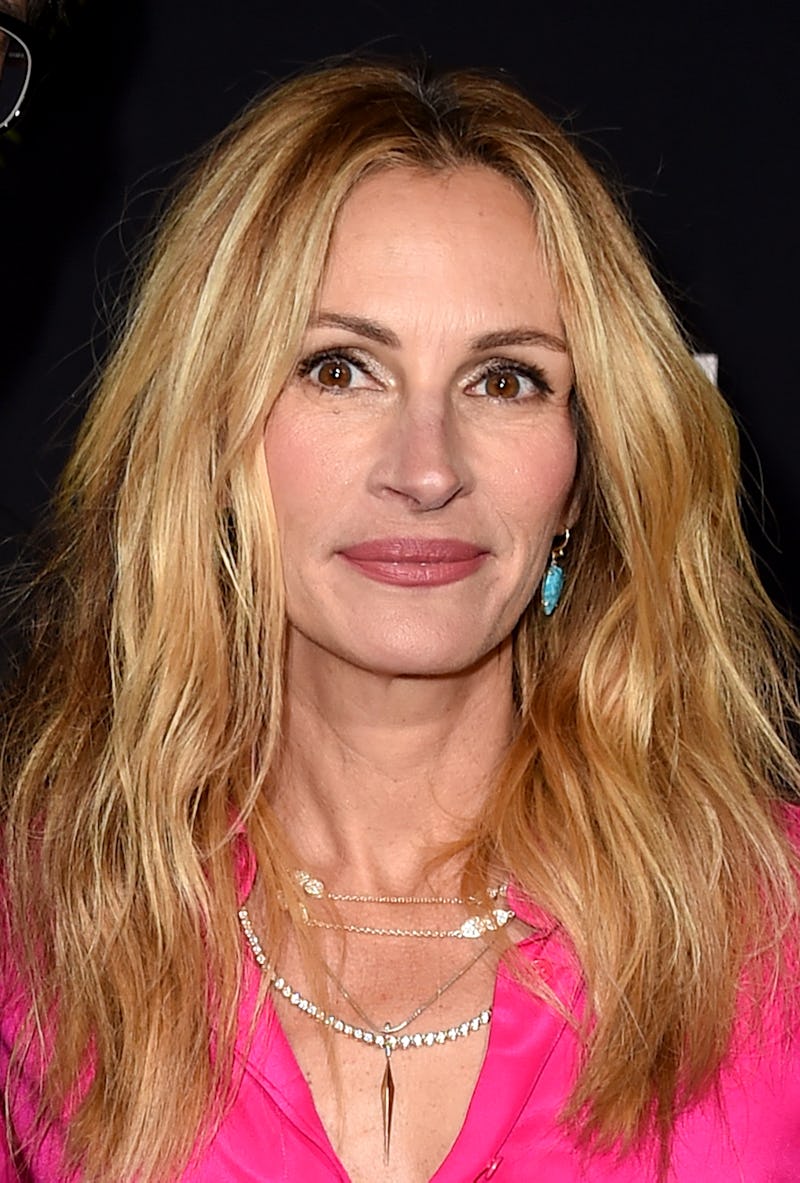 Kevin Winter/Getty Images Entertainment/Getty Images
Julia Roberts misunderstood Instagram, and thank goodness, because it made her a viral sensation. Julia Roberts created the "fake Boomerang" on Instagram, and it's just another reason her presence on the social media platform is so great. On Sunday night, Roberts discussed how her inability to create a Boomerang started a social media phenomenon during an appearance on Busy Tonight with Busy Philipps. The meme Roberts started, known as the "Faux Boom", is when you pretend to make a Boomerang by repeating a movement in a video.
In the interview, Philipps promised Roberts that the "Faux Boom" had caught on. "You haven't even been on Instagram for seven months, and you invented your own meme," the host said. "Julia, you started a thing."
Roberts went on to explain how the fake Boomerang came to be, which was largely because she genuinely did not get understand to use the social media platform. Her husband, cinematographer Daniel Moder, sent her a Boomerang from a set he was working on, but she didn't have the app. "My kids were like 'Don't worry, we've got this just film us'," Roberts said. "And they Boomeranged themselves. So the Faux Boom was born."
Philipps and Roberts created their own fake Boomerang on the late-night show. While Roberts held up a leaf blower for a wind effect, Philipps settled on a movement for the Boomerang. "You do a little something, and I'll do a little something," Roberts explained, before turning on the leaf blower. Philipps then did a dance movement, while both stars and the audience laughed.
If fans can't get the full effect of the "Fake Boomerang", Roberts also demonstrated one on her Instagram on Friday. The video shows Roberts shaking her braid a couple times, and was captioned, "Faux Boom Friday."
The Pretty Women star joined Instagram in June and gained an instant following. The recent "Faux Boom" is not the first time one of her posts has gone viral. Her "Faux Boom Fridays" or "FBF" have a following, and most of her fake Boomerangs have over a million views. Her witty comebacks in the comments on the platform have also made her a hit. In September, Roberts made headlines for commenting on a post that put her and Joan Crawford side-by-side with the caption: "Joan Crawford looks way better in my opinion. More classic and refined, and Julia is wearing ugly black nail polish!" Roberts wrote back:
"It is in a fact a navy nail polish with garnets crystals as a grounding accent. In case you would like to edit your comment from 'ugly black nail polish' to ugly navy polish with garnet crystals. Just sayin."
During the appearance on Busy Tonight, Roberts told Philipps that she never meant to be a clapback. "I did not mean to clap back, I never heard the words clap back," she told the host. "I just was being amusing, something stumbled into my eyeball range. I just was being funny and like a school teacher correcting." Even if she doesn't have the terminology down, Roberts definitely knows how to shut down trolls.
In the past, Roberts put off joining social media. In a 2013 interview with Marie Claire, she said that social media made her nervous. "It's is kind of like cotton candy: it looks so appealing and you just can't resist getting in there," she said. "And then you just end up with sticky fingers and it lasted an instant." Luckily, Roberts changed her mind about being online, and her social media account has become a hit.
Fans can be grateful that Roberts decided to join Instagram, as without even trying, her posts have become a viral sensation. From clap backs to "Faux Booms", Roberts is an unexpected social media star.