Julia Roberts & Dermot Mulroney's Selfie Is The Perfect 'My Best Friend's Wedding' Reunion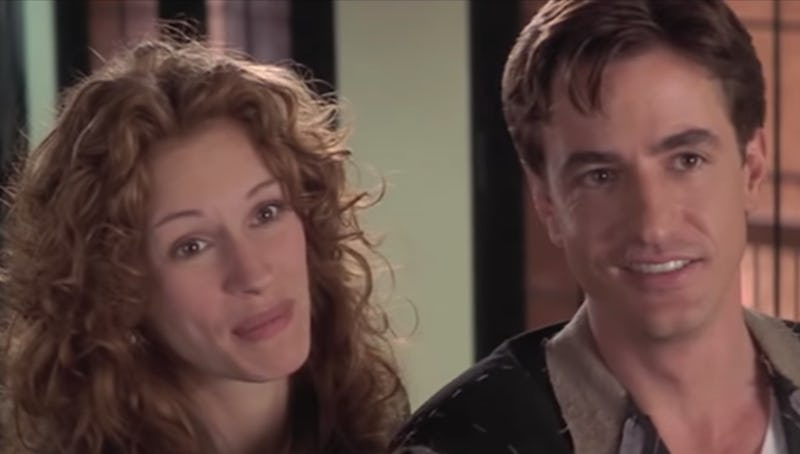 TriStar Pictures
Here's an Instagram photo that will make you want to belt out "I Say A Little Prayer." Julia Roberts and Dermot Mulroney reunited on Instagram and the photo is everything My Best Friend's Wedding fans could've asked for. On Friday, Roberts posted the picture with her dear friend and recent costar of Amazon's Homecoming. Alongside an emoji of a man and a woman holing hands, she simply captioned the adorable selfie, "Yep."
The two have never looked better. How can it be they filmed their beloved rom-com over 20 years ago? It just seems like yesterday they were playing Julianne and Michael. But, here they are in 2018 still as best friends and looking fabulous in the process.
Seeing as this is the time of reboots and revivals, fans might be wondering if a recreation of My Best Friend's Wedding will ever happen. Well, believe it or not, Roberts talked about the possibility just the other day in an interview with Entertainment Weekly published on Oct. 25. To be clear, she didn't say a sequel is happening or anything is currently in the works, but she opened up about which of her film's she would revisit.
The 50 year-old star said, "A lot of people want to follow up with Vivian." Robert was referring to her character in the 1990 favorite Pretty Woman. However, she'd rather go back to My Best Friend's Wedding.
She told EW she often wonders where Julianne would be today. Robert explained,
"I guess I think maybe it's just because we're talking about Dermot [Mulroney]. But Rupert [Everett] was so funny in My Best Friend's Wedding. I guess Kimmy (Cameron Diaz) and Michael (Mulroney) are married and they probably have kids. And then there's me and Rupert."
At the end of the movie, despite Jules doing everything in her power to stop Michael's marriage to Kimmy, Mulroney's character said "I do" to Diaz's character. They all ended up on somewhat good terms. The movie also closed with Everett's character, George, surprising Jules at Michael and Kimmy's wedding reception. The two BFF's then danced, of course, to "I Say A Little Prayer." So, Roberts' prediction of where the characters are today sounds pretty accurate.
Mulroney came outright and admitted to EW he wants a sequel. He said,
"I'll tell you that movie has wormed its way further and further under my skin, and I see more and more layers of how it holds meaning and sustains as a piece, and obviously it's always been irresistible. I think there's only about four people on Earth that could make a movie like that, and they include Rupert, Cameron, Julia, and me. So, let's have at it."
Who knows if a sequel will ever happen, but at least My Best Friend's Wedding fans can watch the original movie over and over again. Plus, it's nice of Roberts and Mulroney to at least star in another project together, in addition to sharing selfies on Instagram. At least fans have those two things, but it also probably wouldn't hurt to say a little prayer for a sequel.