No, You Shouldn't Try To Text Blac Chyna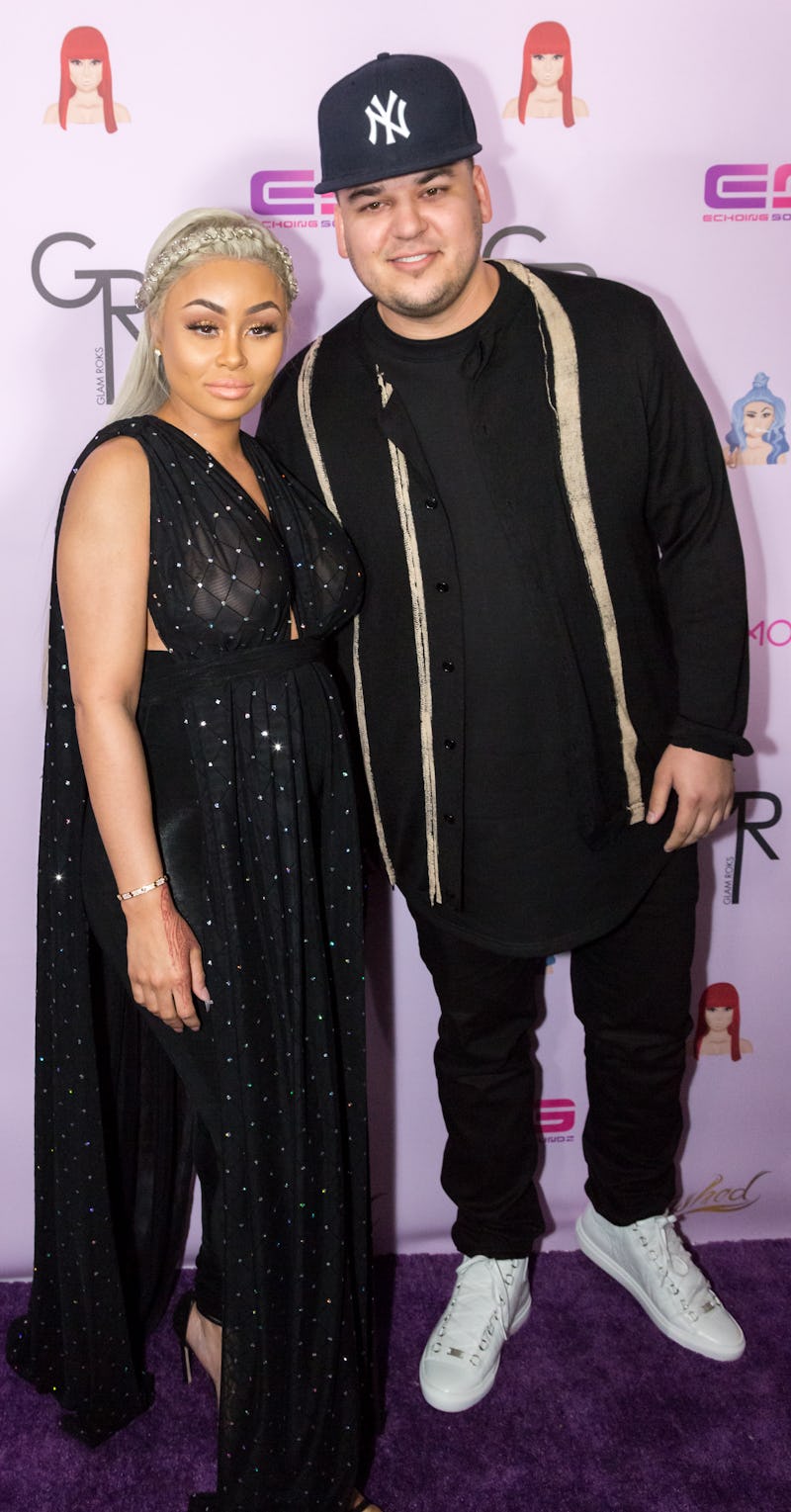 Greg Doherty/Getty Images Entertainment/Getty Images
After breaking up in February, for what seemed like the last time, Rob Kardashian and Blac Chyna are making headlines yet again. This time, it's because Kardashian may have shared Chyna's phone number — or what appears to be her phone number. This is just one in a series of posts from Kardashian; earlier on Wednesday, he shared alleged nude photos of Chyna, along with allegations of drug use and cheating. (At the time of publishing, Kardashian's Instagram page has been removed.) Meanwhile, Chyna posted a Snapchat accusing Kardashian of assault. (Bustle has reached out to reps for Chyna and Kardashian for comment on the claims and posts each of them made on July 5, but did not receive an immediate response.) While you can text Chyna's phone number (and many people are, if their tweets are to be believed), that doesn't mean anyone has the right to text or call her.
UPDATE: Blac Chyna's lawyer told ABC News in a statement "We are considering all legal options and recourses at this time." Bustle has reached out to Kardashian for comment, but did not receive a response at the time of publication.
EARLIER: That kind of feels like a no-brainer, right? Kardashian sharing Chyna's supposed number is an invasion of privacy, specifically the "publication of private facts." According to the Digital Media Law Project, the term "private facts" refers to "information about someone's personal life that has not previously been revealed to the public, that is not of legitimate public concern, and the publication of which would be offensive to a reasonable person." Kardashian sharing what appears to be Chyna's private phone number may apply to that definition.
It's very likely that the action of sharing his alleged conversations with Chyna, as well as what appears to be her phone number, was non-consensual considering the context in which it happened. And any issue involving consent and private matters should be taken seriously. In this case, Kardashian appears to be trying to get revenge on the woman he accused in a series of profanity-laden posts of allegedly cheating on him, asking him for drugs, using him for money, and giving birth to their daughter, Dream, out of spite for her ex, Tyga.
Making use of the information delivered by Kardashian's apparently vengeful actions by calling or texting Chyna makes all of us part of the problem created by Kardashian's string of Instagrams and tweets, and encourages others to share private information as a way of getting attention.
This is why social media sites have made attempts to stop this from happening. In fact, Kardashian sharing what is likely Chyna's private phone number is actually a violation of Instagram's Terms Of Service. Under Instagram's TOS, no one is allowed to expose your private and confidential information, which includes "but isn't limited to: credit card information, social security or alternate national identity numbers, private address or location information, non-public phone numbers and non-public email addresses." Instagram will remove the post or video, if the individual whose information has been posted contacts them.
Additionally, according to California's privacy laws, a person may have a case if they can prove the information that was shared was not a matter of "legitimate public concern." This may be harder to prove in Chyna's case, being that both are celebrities, but Chyna may have other paths to a case because sharing Chyna's number is not Kardashian's only offense.
For the record, this isn't the first time that the couple shared one another's phone number. Last September, Chyna tweeted out Kardashian's number, and later revealed on Snapchat that it was so he wasn't "texting no b*tches," as she said at the time. He seemingly went along with it, appearing alongside Chyna in the Snapchat. Still, leaking private info doesn't seem like a healthy cycle.
At the end of the day, if Kardashian did actually share Chyna's phone number this time around, he's opened her up to harassment — not just at his own hands on Twitter and Instagram, but at the hands of random texters and callers from all over the place. Essentially, by texting, you would only be adding to that avalanche.