Justin Bieber Finally Shaved His Whole Head & Yes, There Are Pictures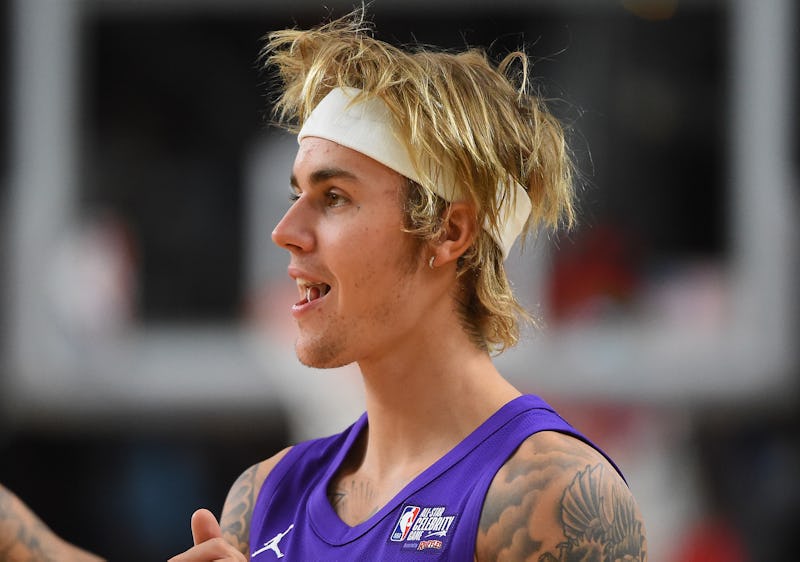 Jayne Kamin-Oncea/Getty Images Sport/Getty Images
Attention Beliebers: If you have been silently praying that the prince of pop found his way to a pair of hair clippers and shaved off his surfer hair, then you will be pleased to note that your patience has paid off. Justin Bieber just cut his hair, ending his bob reign with the swift snip of a pair of scissors. But now the question is what kind of style did he transfer to? Will we be met with the mid-2000s, High School Musical-esque bowl haircut with the swoopy bangs? Or is he rocking the shaved sides with the long textured brush back that just about every guy in 2018 is sporting? The answer is neither, where the artist went for an extreme chop.
The Biebs decided if he was going to get rid of his long blonde locks, then he would have nearly no hair at all. Justin Beiber now has a buzz cut, rocking a half a centimeter of hair, giving us completely new style vibes. He revealed his new look on Instagram Stories on Oct. 30, taking a mirror selfie and smirking at his reflection. The man is clearly pleased with his new cut, and probably knows the public freak-out that it is about to ensue. After the quick reveal he stepped out at Walt Disney World, debuting his look at the Magic Kingdom.
You can't really tell if he is in a salon in the photo, but there are a pair of scissors on the counter he's standing by, which makes you question whether this was a planned salon appointment or if he went Britney Spears on us and shaved off his own hair. Either way, he looks amazing.
Bieber fans that were anti his shaggy look were close a few times this year when it came to him getting rid off his long hairstyle. They had a few moments of worry in the first half of 2018, when in May the artist went on Instagram Stories and promised his fans that he will continue to grow his locks. At that point he had a '90s boy band look, captioning the selfie, "Long hair don't care."
The next photo in the Stories reel was another selfie, this time with a caption promising "I'm going to grow my hair down to my toes." He didn't get quite that far, and instead ended the look with collarbone skimming hair.
Three months ago he got a small hair trim, where his fiance, Hailey Baldwin, accompanied him to one of her favorite go-to salons, Cutler Salon in Soho in New York City. The outcome was a small maintenance trim, and he exited the appointment with cleaned-up hair that was slicked back and styled. He was the epitome of "salon fresh."
There haven't been any news of followup haircuts until now, where the "All Right" singer made a drastic transformation and lopped the whole length off. Fans, like always, are split down the middle when it comes to his new look, where some love it and others miss the shag.
Those that have been waiting for this moment could finally celebrate:
And those who have been digging the scraggly look felt personally victimized:
Either way, the man looks great.