Justin Bieber Crying In A Harry Potter-Themed Bar Is The Most Relatable He's Ever Been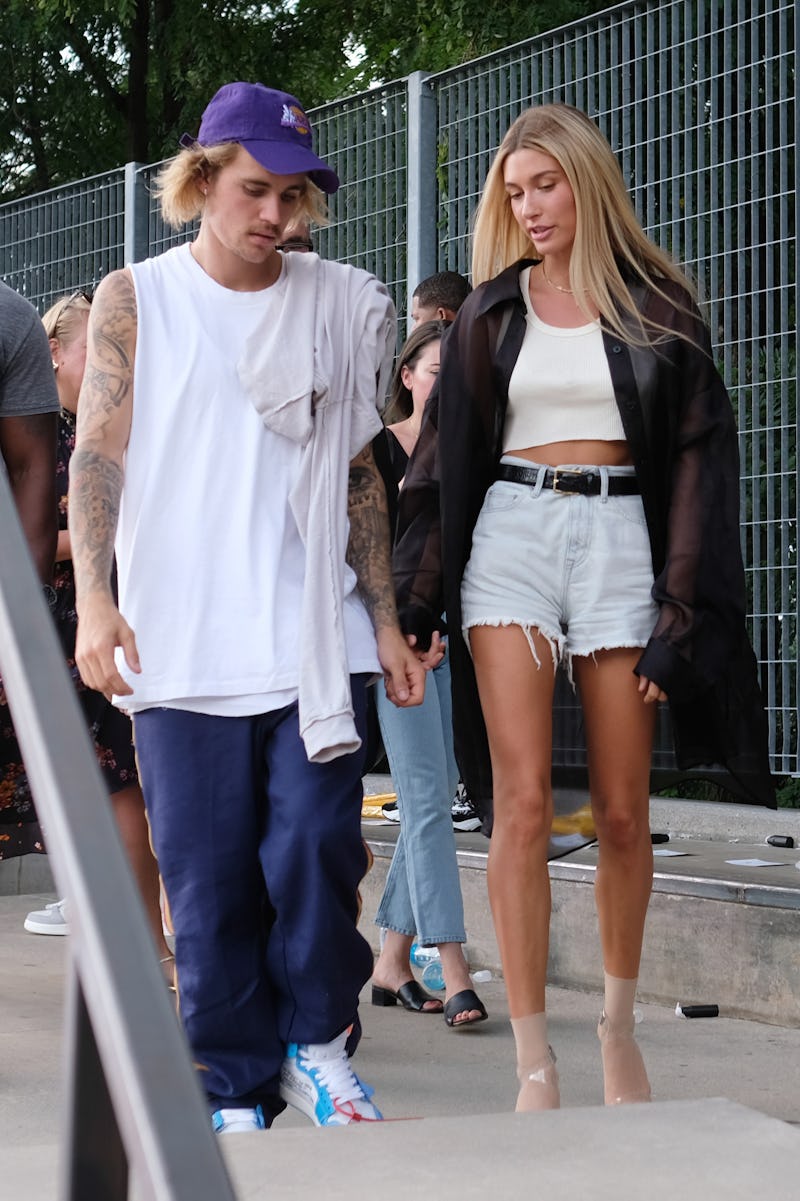 Nicholas Hunt/Getty Images Entertainment/Getty Images
Hey, are you OK? You OK? You OK, Bieber? Apparently not, because Justin Bieber was seen weeping at a Harry Potter bar in Florida, according to the Daily Mail. Not just crying, but weeping. And however you might feel about Bieber — and surely, you must feel a way — this might be the most relatable he's ever been. Who among us can say that Bieber crying into a butterbeer is not the biggest of moods in 2018?
According to the Daily Mail, Bieber and his fiancé (or possible wife) Hailey Baldwin were at the Leaky Cauldron at Universal Studios in Orlando, Florida on Sunday when a bout of tears struck the "Sorry" singer.
A source told the outlet that Bieber's security had the bar cleared out as the couple ordered drinks after 11:15 p.m. "They just walked in and sat down at a table while their security got to work. They ordered a couple of butterbeers," the source claimed. And yes, there are pictures on Daily Mail of Bieber crying with his head in his hands and Baldwin comforting him.
But should he be ashamed? Not even a little bit. How can anyone get through this year without wanting to, or actually deciding to, openly weep in public? In the Harry Potter books, a lot of stuff goes down a the Leaky Cauldron, like when Harry overhears his professors reveal that Sirius Black is his godfather. Maybe Bieber got some similarly distressing news, or maybe he was just having a rough day.
Sunday's incident is the most recent in a string of Bieber-crying sightings. He really seems to be going through it this year. Just a few weeks ago on Oct. 11, Bieber was spotted by paparazzi crying in his car with Baldwin, according to ET Online, over what seemed to be the news of his ex-girlfriend Selena Gomez's reported hospitalization. The couple was reportedly on the way to Bieber's pastor's home in Beverly Hills, CA. In the photos, Bieber looks very emotional and Baldwin appears to be pretty stoic, but you can only tell so much from a picture.
And back in July Bieber was seen crying with Baldwin during a bike ride in the New York summer sunshine. According to People, Bieber was crying with his face in his hands while Baldwin comforted him and rubbed his back, their Citi Bikes tossed aside. Later, it was her turn to cry in a restaurant in Tribeca, where Bieber was comforting her and caressing her face. Hey, at least they're both criers. That same week, Bieber was caught by TMZ and asked about all the tears, to which his sort of answer was holding up a self-help book called The Meaning Of Marriage, and "explained it was simply a 'bad day' in the long road that's marriage."
The road may have not been that long, though, because People reported that Bieber and Baldwin secretly married on Sept. 13, after they got engaged in July. However, neither party has confirmed the news, and there have been quite a few conflicting reports about their current martial status.
Whatever Bieber was crying about in that Harry Potter bar, though, it doesn't matter. Everyone can see themselves reflected in the singer right now. Sure, common folk don't have the means to clear out a bar for a personal butterbeer breakdown, but crying in public is perhaps the biggest of moods for 2018. Feel better, Biebs.