Selena Gomez Is Receiving Mental Health Treatment, According To New Reports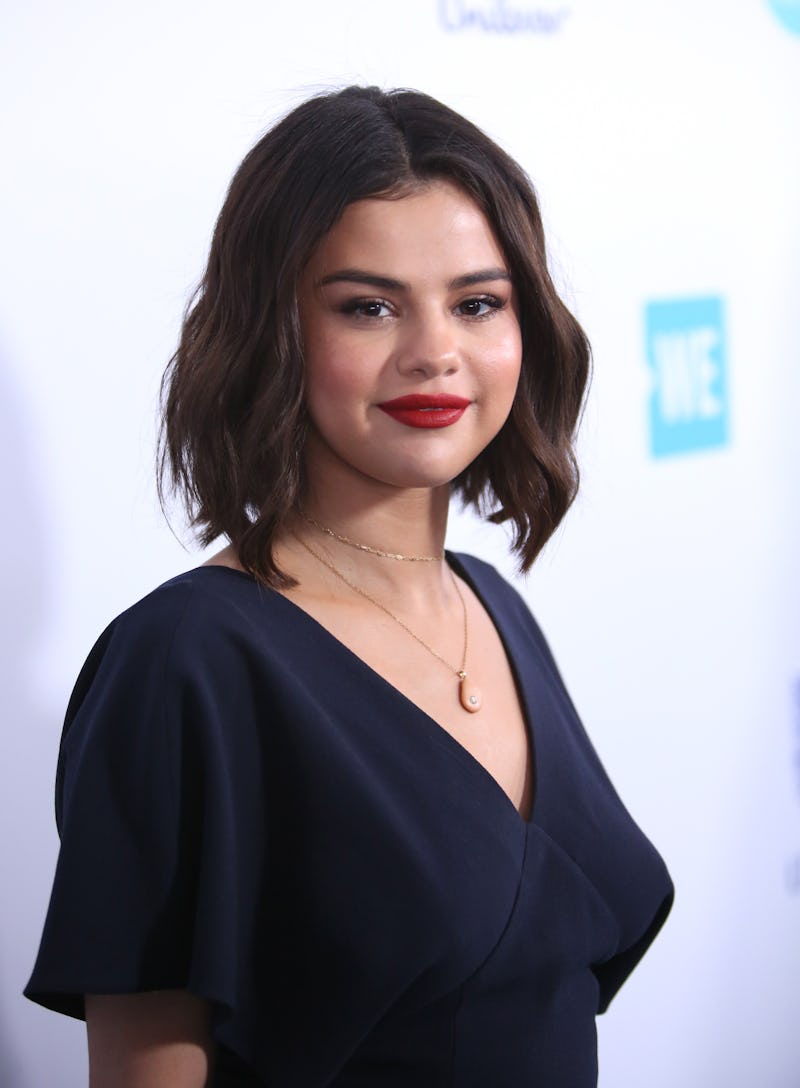 Jesse Grant/Getty Images Entertainment/Getty Images
A year after receiving a life-saving kidney transplant, it sounds like Selena Gomez is now fighting a different battle. According to TMZ, who was the first to report the news, Gomez has reportedly been hospitalized after having an emotional breakdown during a recent hospital stay, and the singer is now undergoing mental health treatment. (Bustle reached out to Gomez's rep for comment, but did not receive an immediate response.)
Sources close to the situation told TMZ that, since September, Gomez has suffered two emergencies when she had a low white blood cell count, which made her "despondent and emotional." During her most recent hospital stay, which TMZ says took place last week, Gomez reportedly "freaked out" after she was told she couldn't leave the hospital, which has led to her being admitted to a psychiatric facility on the east coast.
A source also confirmed the news to People, adding that she's had a "tough few weeks." The source said:
"She has had a tough few weeks and the panic attack in the hospital was the tipping point. She realized she needed to seek additional help for her ongoing emotional issues. She's surrounded by close family and has a lot of support. She's doing better now and is seeking treatment on the east coast."
Reportedly, Gomez will be treated with dialectical behavior therapy, which the source said will help her change her negative thinking patterns, per People. E! News also confirmed that Gomez's treatment would reportedly help with "ongoing issues related to anxiety and depression."
Given all that Gomez is reportedly going through — and the fact that she and her rep have yet to confirm what exactly is going on — it's important for fans not to jump to conclusions or make assumptions about what could be happening with her, especially given that mental health is such a serious subject. For that reason, it's also good to hear that the source says Gomez's friends and family are by her side at this time.
In September 2017, Gomez revealed that, because of complications she suffered from lupus, she had undergone a kidney transplant after the organ was donated to her by friend and fellow actor Francia Raisa. She shared the news with her fans in an Instagram post, where she thanked Raisa for giving her "the ultimate gift and sacrifice."
"I'm very aware some of my fans had noticed I was laying low for part of the summer and questioning why I wasn't promoting my new music, which I was extremely proud of," Gomez wrote. "So I found out I needed to get a kidney transplant due to my Lupus and was recovering. It was what I needed to do for my overall health."
On Sept. 23, Gomez took to Instagram to announce that she was taking a break from social media, asking her fans for "kindness and encouragement only" as she took a step back from her online presence. She wrote:
"Update: taking a social media break. Again. As much as I am grateful for the voice that social media gives each of us, I am equally grateful to be able to step back and live my life present to the moment I have been given. Kindness and encouragement only for a bit! Just remember- negative comments can hurt anybody's feelings. Obvi."
In 2014, Gomez checked into rehab for 90 days while she was receiving chemotherapy to treat her lupus, although she didn't reveal the reason she was in treatment and out of the spotlight until an interview with Billboard in 2017.
"I was diagnosed with lupus, and I've been through chemotherapy. That's what my break was really about. I could've had a stroke," Gomez told the magazine at the time. "I wanted so badly to say, 'You guys have no idea. I'm in chemotherapy. You're a**holes.' I locked myself away until I was confident and comfortable again."
Gomez has yet to speak out about her latest reported hospitalization herself.