Justin Bieber Just Cut His Long Hair, So Let's Mourn The Beach Mop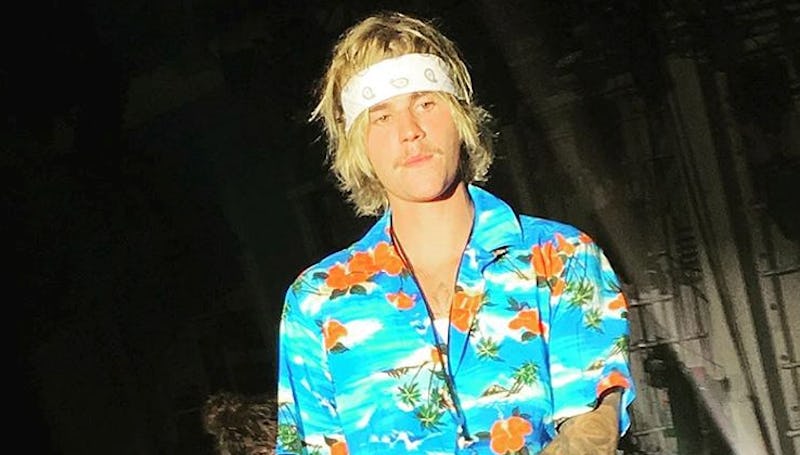 Instagram
Justine Bieber has been sporting long surfer hair all summer long, but that's all about to change. Bieber cut his hair, but don't worry. If you loved his shaggy blonde locks, then you will be happy to hear that they haven't been clipped down to a standard crew cut. He still has a lot of length, just it's a bit shorter and more shaped now.
Back in May 2018, Bieber went on Instagram Stories and promised fans to grow out his hair, bringing back the swooshy haircut of his early career, just more grown up. On that memorable day, the artist took a selfie of himself and his bowl-haircut-like flop that was parted down the middle, captioning the photo, "Long hair don't care." He was deep in the middle of the growing-out stages at that point, where his hair looked like a tribute to '90s boy band stars like Nick Carter.
The next picture in the Stories reel was another selfie, this time with text promising "I'm going to grow my hair down to my toes." We were all prepared for some major length, but it seems that he has changed his mind since spring. Which, fair enough. Keeping hair that reaches the ground silky and healthy is a lot of work.
Since then his hair has grown into a nearly shoulder skimming shag, where his long hair nearly was the same length as his fiance's, Hailey Baldwin. But now he has cleaned it up a bit, and with it got rid of some of the length.
Baldwin accompanied him, and the two went to one of her favorite go-to salons, Cutler Salon in Soho in New York City. She has a trusted long-time colorist and stylist who works there, Ryan Pearl, who was behind some of her most iconic hair transformations. In 2016, that was the very salon she went to in order to go from dark blonde to her now-signature light blonde look, and Pearl was also the mastermind behind her brown locks when she wanted to switch back to her natural hair color. Since she knows the salon so well, it could be possible that she recommended it to Bieber when he mentioned that he wanted to get a trim.
While it's not a radical haircut and more of a maintanence trim, the look still turned out amazing. The "All Right" singer looks more cleaned up, and exited the salon with his blonde hair slicked back rather than wearing it in his usual floppy way. The verdict is still out whether or not he will continue to wear it in that manner or if this is just a fresh-out-of-the-salon moment, but the look is really working for him.
Interestingly enough, his fashion was also newsworthy, where he took the whole comfy-chic thing to a whole new level by arriving and leaving the salon in house slippers and an Einstein t-shirt. Because, why not? With a fresh new hairstyle and comfy feet, Bieber is living his best life right now.