Hailey Baldwin May Have Bought Justin Beiber An Engagement Ring Too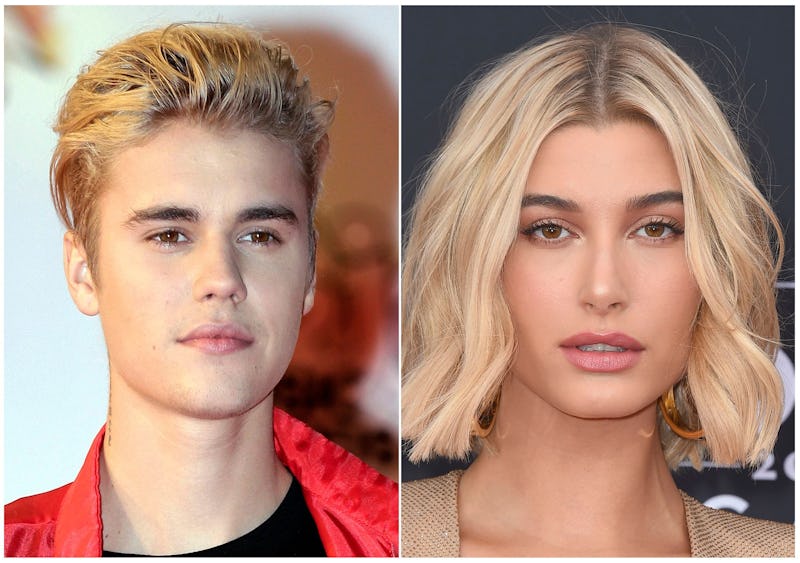 Shutterstock
When it comes to engagements, women aren't the only ones who get to wear a ring. Hailey Baldwin reportedly bought Justin Bieber a ring, but it is not confirmed yet whether or not it is an engagement ring. The pair just recently got engaged in July after one month of dating, during a vacation at a resort in the Bahamas. But their timeline isn't quite as linear as it seems, where the two have been friends since 2010, and began dating in 2016, only to enter into an on-again-off-again relationship. So their engagement isn't quite as out of the blue or fast as it might appear to the casual onlooker.
After coming back from their island getaway, the two went to New York's Pristine Jewelers to get Baldwin's ring properly fitted, making sure that the seven-carat, oval-cut diamond was the correct size. Pristine Jewelers is well known among A-listers, where celebs like Cardi B, Nas, and 2 Chainz come in to peruse the sparkle.
While there, Baldwin reportedly gifted Bieber with a a diamond band that had the letters "JB" engraved into it, as well as a matching ring for herself. Her ring also was engraved, swapping out Bieber's initials for the word "Baby." Bieber then took out his own credit card and bought himself a 33-carat Patek Philippe watch, making it one successful jewelry run.
While it's unconfirmed whether the ring Baldwin gifted her fiancé is an engagement ring that he will wear the same way as she wears her own, or if it's just a fun, spur-of-the-moment gift, it's still a sweet present.
Since the two rings are matching bands it's almost like the upper class equivalent of friendship bracelets, where the complimenting rings show that they are an item and are committed to each other. Then when you take into account the engravings — both "JB" and "Baby" — it could be interpreted as them linking themselves to each other.
While many see their engagement as a whirlwind — likening it to Ariana Grande's and Pete Davidson's few months long relationship — it might have actually been a long time coming. In 2016, when the pair first started dating, Bieber shared with GQ magazine that he might already be thinking towards the future, but wants to be careful. "I know that in the past, I've hurt people and said things that I didn't mean to make them happy in the moment. So now I'm just more so looking at the future, making sure I'm not damaging them. What if Hailey ends up being the girl I'm gonna marry, right?" Bieber said. "If I rush into anything, if I damage her, then it's always gonna be damaged. It's really hard to fix wounds like that. It's so hard. I just don't want to hurt her."
A few months later the couple split, but after a period of awkwardness they became friends again, seemingly more solid than before. "We didn't speak for quite some time and there was a lot of weirdness that went on," Baldwin told The Times back in May of this year. "But it brought both of us to the realization that we just work much better as friends. He's somebody I really cherish. Now it's a very mature situation. It's good."
A month later, in June, the two have been spotted canoodling and acting like a couple again, and then in July we see them ring shopping and getting married. Whether Bieber's new gifted ring is an engagement band is uncertain, but one thing that's clear is that the two are clearly happy and in love.