Justin's New Hair Looks Identical To His Old 'Do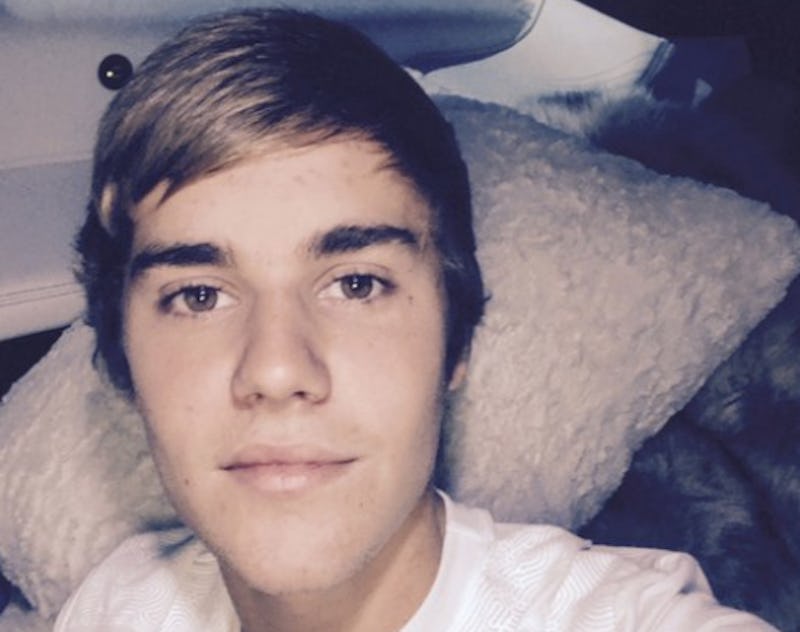 Bieber fans rejoice: The "Love Yourself" singer is finally bringing back his long thought to be extinct iconic hairdo. Yep, Justin Bieber's signature long bangs are officially back in 2017 — so let the hair-flipping commence.
Who would have thought? I think it's safe to say that we all assumed that the dramatic and iconic bangs he was once so famous for would remain a relic of his baby-faced "Baby" days — you know, way back in the annals of 2009-2011 — but nope. Now, several years later, he's rocking a look that's strikingly similar to the one that first made him famous as an up-and-coming teen pop star.
He's gone through several hair makeovers since then, involving everything from pomaded-up bouffants, to strangely limp-yet-cripsy bangs, to copious amounts of bleach — and now, it looks like he's finally come full circle. What does this mean? Does it signify some kind of hair defeat? Has he simply decided that his hair game will never be better than it was back in the early days of his career? Or maybe he wants to relive his glory days as a teen heartthrob? We'll never truly know, but let's all bask in the glory of the newly-shorn throwback bangs anyway.
It certainly feels a little Twilight Zone-esque to suddenly be presented with a new hairstyle that's so similar to the one that he was once so famous for, especially since it seems like he's actively tried to get away from the haircut and everything it represented for his image.
What do you think of Justin Bieber's "what once was old is new again" attitude?
It really brings you back, right? Remember the old days when all the teenage boys styled their hair into Bieber's famous swoop? Is that what we have to look forward to next?
Let's certainly hope so.