A Second Woman Has Come Forward To Accuse Virginia's Lt. Governor Of Sexual Assault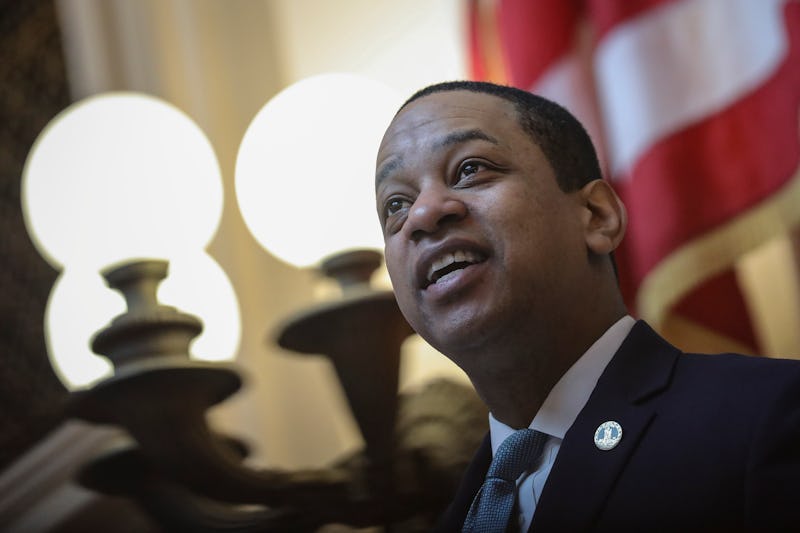 Drew Angerer/Getty Images News/Getty Images
A second woman has come forward to accuse Virginia Lt. Gov. Justin Fairfax of sexual assault, The Washington Post reported on Friday. According to the Post, Meredith Watson alleged through her attorney that Fairfax had raped her in 2000, when they were both undergraduate students at Duke University. Fairfax's spokesperson Lauren Burke told the Post that "we're calling for an investigation on all of these matters." Bustle has reached out to Fairfax's office for comment.
In the statement she issued through her attorney, Nancy Erika Smith, Watson described Fairfax's alleged attack on her as "premeditated and aggressive," and said that she and Fairfax had been friends who had never been in a romantic relationship. She also called on Fairfax to resign from his post as Virginia's lieutenant governor. According to NPR's Sarah McCammon, Fairfax issued a statement denying "this latest unsubstantiated allegation," and calling for "a full investigation" into these allegations.
"It is demonstrably false," Fairfax said in his statement. "I have never forced myself on anyone ever." Fairfax also said that he had "nothing to hide," noting that he had "passed two full field background checks by the FBI."
"It is obvious that a vicious and coordinated smear campaign is being orchestrated against me," Fairfax added. "I will not resign."
The New York Times reported that Watson decided to come forward with her allegations after Scripps College political science professor Vanessa Tyson alleged earlier this week that Fairfax had assaulted her during the 2004 Democratic National Convention. Fairfax similarly denied Tyson's allegations, arguing that it was a "smear." In the statement, which was published on her firm's website, Smith said her client felt "a strong sense of civic duty" to come forward.
"[Watson] has no interest in becoming a media personality or reliving the trauma that has greatly affected her life," Smith stated. "Similarly, she is not seeking any financial damages."
Smith — who represented Gretchen Carlson in her harassment lawsuit against former Fox News CEO Roger Ailes — also alleged in the statement that "the details of Ms. Watson's attack are similar to those described by Dr. Vanessa Tyson."
Kaneedreck Adams, one of Watson's former classmates at Duke, recalled to The Washington Post that Watson — who lived across the hall from her in spring 2000 — had come to her crying one day.
"She was upset," Adams told The Washington Post. "She told me she had been raped and she named Justin."
After Tyson came forward with her own allegations against Fairfax earlier this week, five different people reportedly told The New York Times that Tyson had described being sexually assaulted at the 2004 convention, and three of them told the Times that Tyson had named Fairfax as the person who allegedly assaulted her.
The latest sexual assault allegation against Fairfax was one of several recent controversies in Virginia, where both Gov. Ralph Northam and Attorney General Mark Herring — who, like Fairfax, are both Democrats — admitted to donning blackface in the 1980s. Northam, Herring, and Fairfax are all currently facing calls to resign.