This Look Back At Justin Timberlake & Janet Jackson's Halftime Show Will Jog Your Memory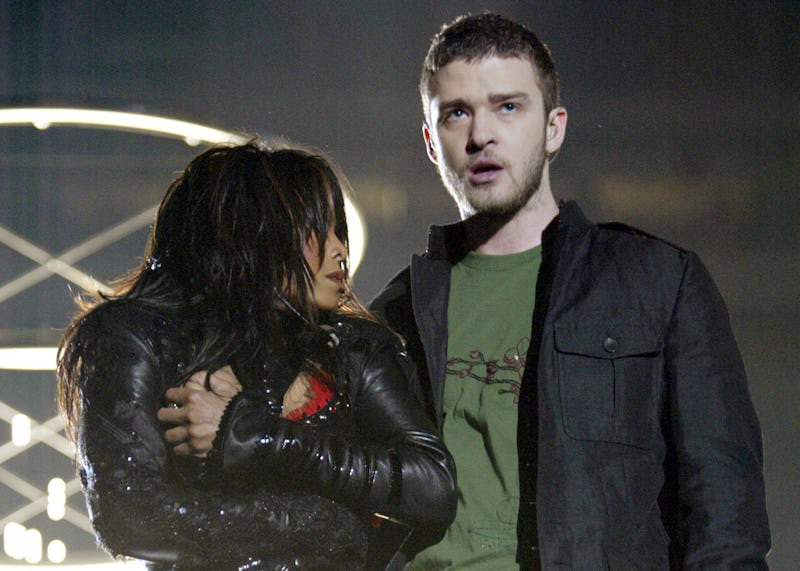 Frank Micelotta/Getty Images Entertainment/Getty Images
Before there was the controversial moment that changed TV history, Justin Timberlake and Janet Jackson's Super Bowl Halftime show was pretty amazing. But after Jackson's right breast was accidentally exposed at the end of the performance, the scandal dubbed "Nipplegate" had an enormous effect on cultural conversation, American broadcasting, and Jackson's career. Now that Timberlake is performing at the 2018 Super Bowl, audiences find themselves revisiting the historic 2004 show. Fourteen years later, the memories will come flooding back to anyone rewatching the video of Timberlake and Jackson's performance.
About 90 million people watched Super Bowl XXXVIII and its halftime show, according to Sports Media Watch. Because the unpredictable incident is still all that most people can remember, the five minutes of performance that took place beforehand often gets overlooked or forgotten, unfortunately. It started with Jackson and an army of backup dancers and drummers performing her song "All For You," followed by her politically charged 1989 hit "Rhythm Nation" (which was especially poignant in 2004, when free speech was controversial itself). At the last minute, Timberlake made a surprise appearance, and the two went on to sing and grind across the stage to his song "Rock Your Body."
About five-and-a-half minutes in, he reached for her right boob, and it looks like he purposefully took a second to pull down the clothing covering it. The piece he ripped was completely off, still in his hand, and he continued to sing. Jackson's boob came out and her nipple was covered with a sun-shaped accessory as she frantically looked around before covering it up.
Although the incident was initially deemed a "wardrobe malfunction," watching it again all these years later (and seeing how deliberate it appeared on Timberlake's part) makes it that much more confusing, especially considering what followed.
The scandal caused an uproar and its impact was significant. Following the show, MTV (which produced the halftime performance) released an apology statement, saying,
"The tearing of Janet Jackson's costume was unrehearsed, unplanned, completely unintentional and was inconsistent with assurances we had about the content of the performance."
Just after, Jackson's publicist explained that it was a wardrobe malfunction: "Justin was supposed to pull away the rubber bustier to reveal a red lace bra. The garment collapsed and her breast was accidentally revealed." Although many believed it to be a publicity stunt, Jackson's rep added, "We all attended rehearsals and there was no indication that something like this would happen."
But what continued to unfold is really disappointing history to look back on. Even though Timberlake was the one to actually commit the act, Jackson became the scapegoat. CBS had Jackson release an apology statement the Monday after the Super Bowl, having her take the blame:
"The decision to have a costume reveal at the end of my halftime show performance was made after final rehearsals. MTV was completely unaware of it. It was not my intention that it go as far as it did. I apologize to anyone offended."
The repercussions were vast. The FCC fined CBS $550,000 (which was eventually appealed), and after receiving 540,000 complaints from the show, the organization cracked down and raised its fines for on-air indecency, according to The Washington Post. Jackson became the most Googled-searched term in history and made the Guinness Book of World Records, and people's search for the halftime show actually inspired YouTube's creation, Business Insider reported.
But after all the chaos, Jackson suffered much more damaging outcomes than Timberlake. Jackson was reportedly uninvited from the Grammys that year, even though Timberlake still got to attend and even perform. Clear Channel Communications blacklisted Jackson's singles, videos, and radio play, perhaps causing her album Damita Jo to become her lowest-selling record since 1984. According to Billboard, she was forced to resign from a movie deal and a Mickey Mouse statue wearing her "Rhythm Nation" costume was torn down.
Two years later, while promoting his album Future Sex/Love Sounds, Timberlake finally addressed the scandal. "Everybody takes this so seriously. It's not that serious. The Middle East is a situation, that's serious," he told MTV in the 2006 interview. Eventually, he acknowledged that Jackson took the fall for what happened while he went on to pursue a thriving career. He explained at the time,
"In my honest opinion now, I could've handled it better. I'm part of a community that consider themselves artists. And if there was something I could have done in her defense that was more than I realized then, I would have. But the other half of me was like, 'Wow. We still haven't found the weapons of mass destruction and everybody cares about this!' I was sort of dumbfounded at how crucified the whole thing was. I probably got 10 percent of the blame, and that says something about society. I think that America's harsher on women. And I think that America is, you know, unfairly harsh on ethnic people... I didn't handle it the best way I could have."
At the time of the incident, Jackson's late brother Michael said he offered her advice during the difficult process (even though he didn't want to address the backlash itself). "Be strong, this too shall pass," Jackson recalled telling his sister on Fox News.
With Timberlake returning to the Super Bowl stage for the first time since, people are obviously wondering if Jackson will join or if there will be any reference to the event. According to Billboard, Jackson isn't set to make an appearance and the "Filthy" singer has promised "the wardrobe thing won't happen." He also recently brought up the situation with Jackson again, saying in an interview with Beats 1 host Zane Lowe:
"I stumbled through it, to be quite honest, I had my wires crossed. And it's just something that you have to look back on and go, like, 'OK, well, you know, you can't change what's happened but you can move forward and learn from it.'"
Timberlake usually puts on a great show, and the controversy seems to be water under the bridge for him and Jackson at this point. Still, the way it all played out still doesn't seem to totally sit right, especially given the current climate of gender dynamics and power in the workplace (especially in the entertainment) field. Anyone who revisits this history may have a tainted view of Sunday's show, but that may be necessary to continue moving the conversation forward.