JT's Super Bowl Performance May Include A Prince Hologram & Twitter Is Not Thrilled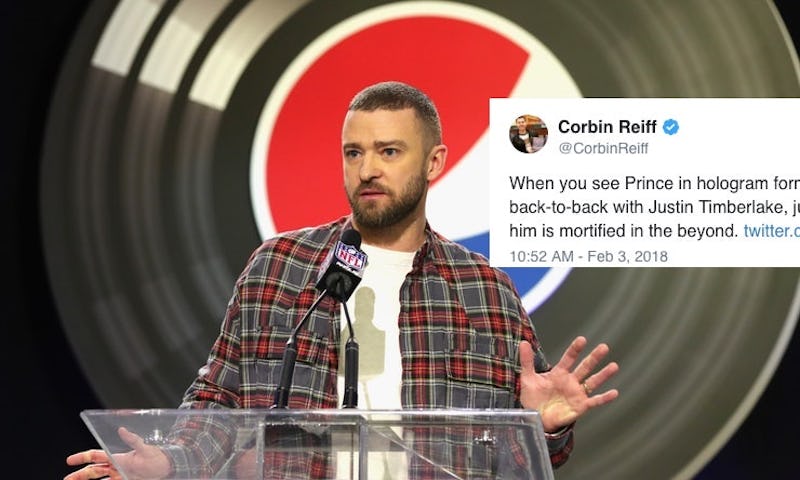 Christopher Polk/Getty Images Entertainment/Getty Images; CorbinReiff/Twitter
For the first time since the infamous 2004 performance, Justin Timberlake is returning to the Super Bowl halftime stage. This time, though, he won't have Janet Jackson with him. Instead Timberlake's halftime show might include a Prince tribute, and not everyone is thrilled about it. A tribute alone would be cool, even fewer than two years since the artist passed away. (After all, Prince himself rocked a halftime show in 2007.) However, outlets such as TMZ are reporting that Timberlake's halftime show will not just feature a tribute to the icon, but a hologram as well.
UPDATE: Late Saturday afternoon, Prince's brother Omarr Baker denied the hologram rumors on Twitter, according to People. When asked by a fan, "Does this mean you didn't authorize it or that it's not happening?", he replied, "Both."
Bustle reached out to Timberlake's rep for comment, but did not receive an immediate response.
EARLIER: This is enough to give fans pause, obviously. Even if Man of The Woods was released to mixed reviews, Timberlake has enough hits (and collaborations) in his back catalog to sustain a full show as a halftime performer. Including a hologram of a deceased artist with whom he never worked feels like an iffy choice, even if it is just a rumor. What will a Prince hologram add to the show? Why now, in 2018? Is it just because Prince was from Minnesota, where this year's Super Bowl will be held?
Fortunately, Twitter detectives are on the case. Well, the case of feeling uncomfortable about it, honestly. As fans point out, Prince had previously commented on the concept of hologram performances, and it didn't seem like he was in favor of them. Some people called into question how the artist's deeply held religious beliefs might clash with the concept. A few Twitter users were straight-up not into the idea, and they didn't care who knew it.
Here's what folks had to say about the Timberlake halftime show Prince tribute rumor:
1. Some Thought Michael Jackson Would Make More Sense
Suggesting Michael Jackson would be a more acceptable choice adds a new layer to the tribute argument. Also, adding that "Prince was skeptical" about Timberlake bringing sexy back is an incredible, subtle burn.
2. Trying To Get Back At Us?
One cynical fan thinks this might be Timberlake's response to tiring of criticism. To be fair, the Janet Jackson Super Bowl scandal affected Jackson's career so much, people are still talking about it now. It took until recently for the mainstream to accept (and challenge) Timberlake's role in it, and that's why this writer has her suspicions.
3. This Fan Had A Prince GIF Ready To Describe Her Feelings
*Insert mic drop here.*
4. One Person Sees It As Timberlake Desperate For Prince's Approval
Thinking this is Timberlake's attempt at a rumored posthumous cosign from Prince is pretty harsh. That said, the bulk of commentary on Twitter strays toward the neighborhood of "Prince might not have loved JT and he's determined to win his approval, even now" territory. A tough analysis, but not an unfounded one.
5. There's A Prince GIF For Every Feeling
An extended head shake seems just about right.
6. "The Opposite Of What Prince Would Have Wanted"
If you were to take Twitter's temperature regarding the Prince tribute rumor, it would be — what's cooler than cool? — ice cold. Some fans began to bring the receipts, and once you read that Prince found "singing from across the grave...demonic," you won't be able to hear this rumor the same way.
7. Some Thought He'd Get Booed
In case you thought the above fan was being dramatic, know this: That Prince quote resonated with a lot of people, and they are not fans of this halftime rumor on the artist's behalf.
8. Others Imagined How Prince Would Feel
At a certain point, folks moved away from the Timberlake aspect of everything, and went straight for attacking the Prince concept. It's almost like people forgot that there's the potential for a really cool performance by Timberlake, with or without new music.
9. This Writer Sees The Rumor As A Punchline
Some background here: For those not in the know, "The Aristocrats" is the name of a joke, one known for being lengthy, dirty, and varying from performer to performer. It's more of a joke format at this point. Basically, this is a burn on Timberlake. It's kind of like saying he played himself with this one.
10. A Fan Pointed Out That A Hologram Performance Kind Of Goes Against Everything The Purple One Stood For
This person didn't throw shade, make a joke, or go for the jugular. He was direct, clear, and honest. It's also true — Prince was so anti-streaming (et. al.) that he even attempted to sue the internet for allowing a few copies of his songs to exist on YouTube. No, really.
11. Even Celebrities Are Hesitant About It
Actor Holly Robinson Peete reacted with a GIF of Georgina from Get Out, and since that movie is a literal horror story about race relations, her GIF choice seems to be no accident.
12. Sheila E. Does Not Approve
Prince's longtime collaborator, close friend, and former fiancée tweeted Pitchfork's article about the rumor, adding that Prince straight-up told her it's not something he would want. That should probably be the final say on the hologram rumor, right?
On the surface, a Timberlake and Prince hologram performance sounds beyond fun, but Twitter was wise to raise skepticism. It does seem a little harsh to attack Timberlake for the rumor, though. He's just another performer, after all — it's not like he's responsible for planning the entire halftime show. Plus, Prince did love his home state. Whatever ends up happening with the 2018 Super Bowl halftime show, trust that Twitter will be on the case. And Timberlake's case, in particular.