Here's Why People Are Angry About Justin Timberlake's Rumored Super Bowl LII Halftime Performance — UPDATE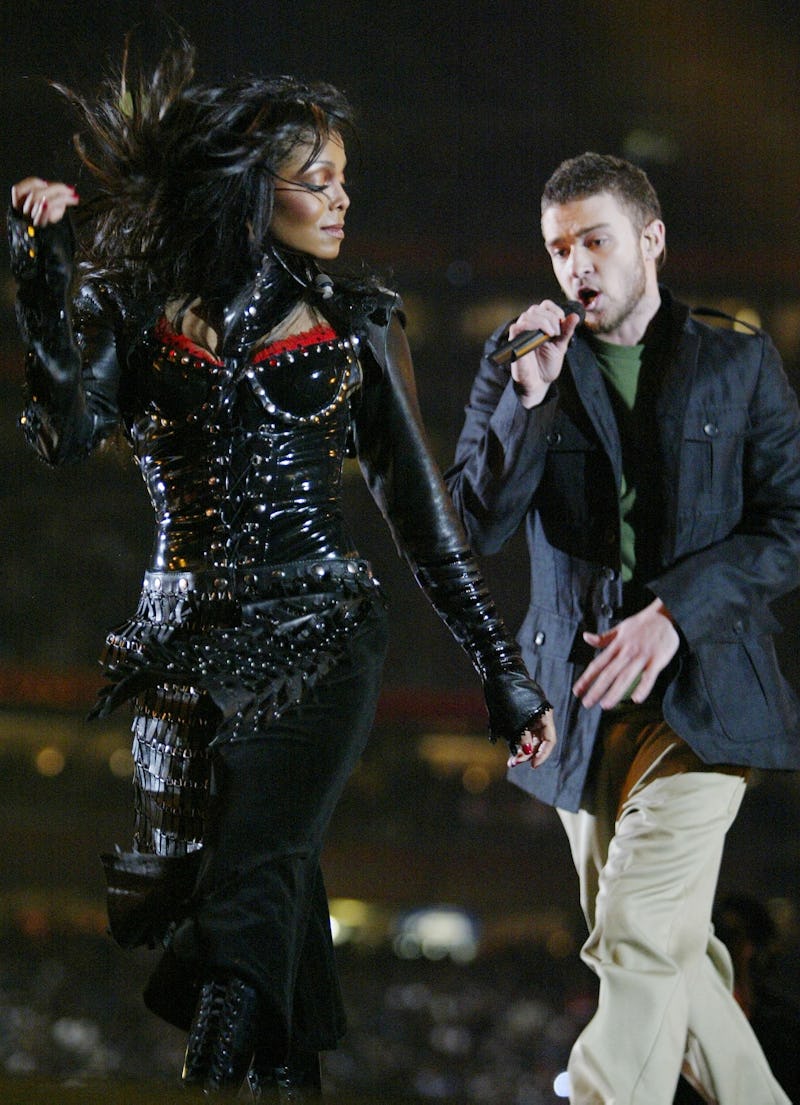 Frank Micelotta/Getty Images Entertainment/Getty Images
Over a decade after accidentally exposing Janet Jackson's breast on live television, Justin Timberlake might return to the Super Bowl halftime show, according to a new report from US Weekly. But the other artist involved in that infamous performance remains conspicuously absent, and the internet is not taking it well. Fans are straight up angry and they're demanding to know if Janet Jackson will ever return to the Super Bowl. After all, the singer has unfairly borne the brunt of the criticism in the years since "Nipplegate," as it's come to be called, and fans are worried that apparent imbalance may still be an issue.
Update: On Sunday, October 23, Justin Timberlake confirmed his Super Bowl Half Time show performance with an Instagram video. "This announcement is just the beginning," said the NFL in a statement. "Leading up to Super Bowl LII, fans may visit Pepsi.com for behind-the-scenes looks into Timberlake's journey to the Pepsi Super Bowl LII Halftime Show, as well as other surprises along the way."
Earlier: Of course, Timberlake is far from officially confirmed for the 2018 halftime show. NFL Vice President of Communications Brian McCarthy responded to the rumor with a statement to Bustle,
"No decisions have been made on the performer(s) and we are not going to speculate on particular artists. Along with Pepsi, we know that we will put on a spectacular show. When it is time to announce her name we will do it. Or his name. Or their names."
However the main question is whether or not Jackson is still blacklisted from performing at the Super Bowl, as TMZ reported was the case in 2014. (Representatives for Timberlake, Jackson, and the NFL did not immediately respond to Bustle's requests for comment on this matter.) And since nothing official has yet been announced, there is, of course, still a possibility that, if Timberlake is invited back, Jackson may be as well. Still, that hasn't stopped fans from rallying against the possibility of Timberlake performing without Jackson:
In case you missed the infamous moment, the year was 2004, the Super Bowl halftime performance was nearing its conclusion, and, after performing a medley of her own hits, Janet Jackson was joined on the Super Bowl XXXVIII stage by the former boy bander. The two of them sang a duet version of Timberlake's hit "Rock Your Body," ending with the lyric, "I'm gonna have you naked by the end of this song." On that line, Timberlake reached over and tore off a piece of his co-star's costume, revealing her right breast. It was a moment — actually, nine sixteenths of a second — that both Jackson and Timberlake claimed was unplanned, but that didn't stop a naked breast from being broadcast in approximately 143 households all over the country. And the backlash was both swift and mighty.
Rolling Stone reported that the FCC received over 200,000 complaints in the first week alone, resulting in a $550,000 fine against CBS, the largest ever of its kind. After years in court, that fine was ultimately dismissed; however, in their 2006 response to the claims, CBS lawyers claimed that Jackson and Timberlake "independently and clandestinely devised the finale."
But most sources were much less equal when meting out the blame for the wardrobe malfunction. Even though it was Timberlake's hand that had exposed Jackson's breast, the lion's share of the responsibility fell on her shoulders. She was repeatedly asked to respond to and apologize for the incident, and her initial written statement from February 2004 seems designed to take all the blame on herself:
"The decision to have a costume reveal at the end of my halftime show performance was made after final rehearsals. MTV was completely unaware of it. It was not my intention that it go as far as it did. I apologize to anyone offended — including the audience, MTV, CBS and the NFL."
The lack of mention of anyone else onstage with her all but absolves Timberlake for his role, but it still wasn't enough for many fans. In the continuing onslaught of controversy, Jackson was forced to respond again and again. In March 2004, she said:
"It's truly embarrassing for me to know that 90 million people saw my breast, and then to see it blown up on the Internet the size of a computer screen. But there are much worse things in the world, and for this to be such a focus, I don't understand."
For his part, Timberlake's statement presents an almost comical juxtaposition. For one thing, it took place onstage at the Grammys, a ceremony where Jackson was slated to be a presenter before that invitation was revoked in the wake of the scandal. But the "Cry Me A River" singer was not only invited to the ceremony, but also honored at it.
As he accepted an award for Best Male Pop Vocal performance, a smiling Timberlake announced to the cheering crowd, "I know it's been a rough week on everybody. What occurred was unintentional, completely regrettable, and I apologize if you guys were offended." And while Timberlake has experienced tremendous success since the incident, Jackson's career has never fully recovered.
In the 15 years between 1987 and 2002, she was nominated for 23 Grammys, five of which she won. But in the 15 years since 2002, even as she breaks records, she has been nominated just three times, the last time in 2007, none of which have resulted in a win. As Rolling Stone pointed out in a 2014 article analyzing the fall of Jackson's career since Nipplegate, singles from the singer's post-Super Bowl album Damita Jo was barely played on the radio or on MTV. Her subsequent tour sold a third of her previous one, and the singer was reportedly giving up on doing albums entirely, according to ex-boyfriend Jermaine Duprie in a 2010 Vibe interview. Even a 2016 New York Times profile praising Jackson's album Control for its 30 year anniversary took the time to mention that she went from a hitmaker to a "postlapsarian has-been, seemingly overnight" after the Super Bowl. (Meanwhile, that same year, Timberlake's "Can't Stop The Feeling!" became the top-selling song of 2016.)
But while album performance and awards won are subjective, possibly blacklisting her is not. It's a different time now than it was in 2004, but if Timberlake is invited to return to the Super Bowl and Jackson is not, then the owner of the bared breast is still suffering more than the owner of the hand that bared it. If one is culpable in Nipplegate, then both are, and if one is really being invited back to the Super Bowl, then there's no reason the other shouldn't be, too. And fans have every right to demand that balance.