Justin Timberlake Might Perform At The 2018 Super Bowl & No, This Is Not A Drill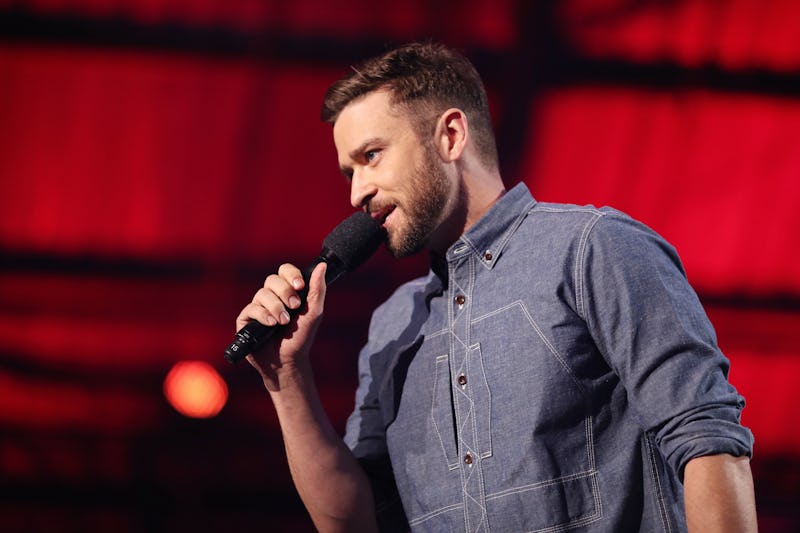 Christopher Polk/Getty Images Entertainment/Getty Images
The latent *NSYNC fan inside all of us began screaming on Tuesday thanks to the rumor that Justin Timberlake might perform at the 2018 Super Bowl. (Bustle has reached out to Timberlake and NFL for confirmation, but did not receive an immediate response.) Sure, the rumor deserves a bit of a side eye in light of what happened the last time the solo singer performed on that particular stage, but there's still a lot more to unpack here.
Update: NFL's VP for Communications said in a statement to Bustle, "No decisions have been made on the performer(s) and we are not going to speculate on particular artists."
Earlier: For one thing, if true, the performance begs the question of whether we should expect a new album from Timberlake in 2017. After all, your former boy band heartthrob and decade-long crush hasn't dropped an album since 2013's The 20/20 Experience 2 of 2, the second part of the record of the same name he dropped roughly six months earlier. And, yeah, he did release the feel good Trolls soundtrack single in 2016 that you can't get out of your head, maybe ever, "Can't Stop The Feeling." But despite the song hitting the number one spot on Billboard's Hot 100, it seems unlikely that just this would be the only recent release that he would croon during the potential performance. Besides which, Jessica Biel's husband has been talking about this new album for a while now.
In November 2016, during a Variety interview about Trolls, Timberlake very casually happened to mention that he was working on music that was totally different from anything he'd written before, explaining, "If 20/20 sounded like it literally surrounds your entire head, this stuff feels more like it just punches you between the eyes."
The article mentioned that he'd spent a few weeks in the studio with Pharrell Williams and that the superstar producer/musician said that, songwise, the former *NSYNC star had produced "a good solid six that are like, 'Whoa, what was that? Play that again.'" Which sounds like substantial progress towards a new album, right? However, the "Mirrors" singer did stress that he wasn't working to any particular timeline and that he would "put it out when it's done — when it feels right."
Further hope came our way on March 28 2017, when Williams, Timbaland and Timberlake all posted near identical photos of themselves on the sofa, all accompanied by the same mysterious "..." caption. Given that Williams produced the star's album Justified while that Timbaland produced songs on Justified, FutureSex/LoveSounds, and The 20/20 Experience, the writing on the wall seems loud and clear. Much as was already implied by the Variety interview, Silas Randall Timberlake's dad seems to be making new music.
And it would make sense if he was performing at the Super Bowl, since the event is often used by artists as a way of reminding their fans of what makes them so great, exactly, prior to releasing new music. Not that anyone needed reminding in Queen Bey's case, but, in 2016, Beyonce released "Formation" the day before the Super Bowl and gave the world Lemonade just two months later. Similarly, in 2012, Madonna headlined the sports event half time show, releasing her album MDNA just over a month later (with supporting artist Nicki Minaj pulling something similar, releasing her second album Pink Friday: Roman Reloaded two months later). In both Beyonce and Madonna's cases, they were releasing new music after a long break; Lemonade was Bey's first album in three years, while MDNA dropped almost four years after Madonna's last record, Hard Candy.
As such, if the rumor is true, then this could mean goosebump-inducingly great news for Timberlake fans. After four bleak years minus those silky smooth vocals, your wait could be over.