Justin Timberlake's New Album Is Going To Be Epic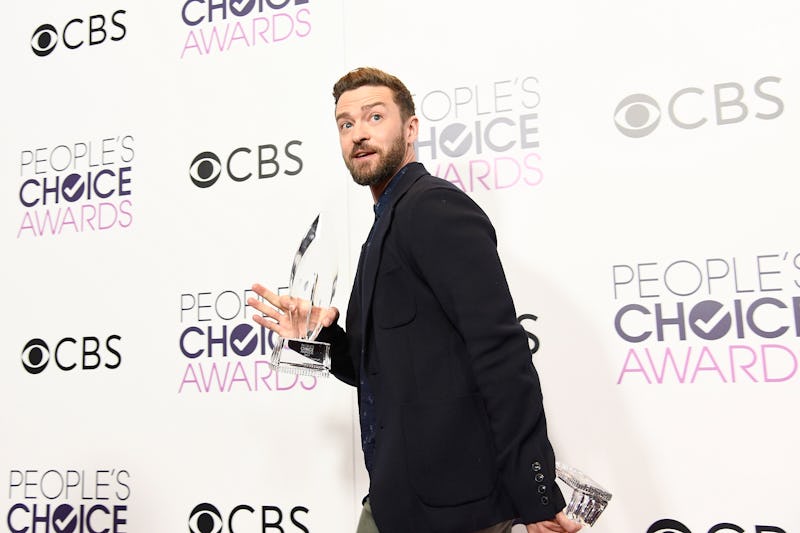 Kevork Djansezian/Getty Images Entertainment/Getty Images
Justin Timberlake is a lot of things — a singer, actor, songwriter, dancer, comedian, original boy band crush — and now he's being a bit of a tease. Thanks to some clues he has been dropping on social media, it looks like Timberlake is recording new music with Pharrell Williams and Timbaland. The information that Pharrell and Timberlake are working together isn't particularly new, but these social media updates prove that it's time to start officially preparing yourself for Timberlake's first studio album since 2013.
Although Timberlake has released music recently — most notably the single "Can't Stop the Feeling!" for Trolls in 2016 — the man, the myth, the legend hasn't created an album since The 20/20 Experience – 2 of 2 came out in September 2013. Another astounding fact is that beyond Justified and the two 20/20 Experience albums, his only other solo album is 2006's FutureSex/LoveSounds. So to say that his fans are due for a new album is an understatement.
Yet, the wait may be coming to an end if Timberlake's social media is to be believed. Timbaland, Pharrell, and Timberlake all posted a photo of them sitting on a couch on Instagram with identical ellipses captions. According to HotNewHipHop, Timbaland was the first to post the photo on March 28 with Timberlake and Pharrell following suit only moments later.
Timberlake had posted a photo of him and Pharrell in a recording studio back in March 2016 and Variety had reported that Timberlake and Pharrell were working together in October 2016, so Pharrell hanging with JT shouldn't be a surprise. And yes, Timbaland is pretty much a Timberlake staple, so of course he'd be there to help with the new music too. But that doesn't make it any less epic to see this trio hanging out together, presumably working on Timberlake's new album. As Three 6 Mafia sings on "Chop Me Up," this news has "got me cryin' rivers like Timbaland and Timberlake" — but happy tears.
To solidify just how excited you should be for this new album, Timberlake dropped another hint on social media, but this time on his Twitter. He retweeted producer Danja's tweet with the eye emoji.
Here's what Danja — who, along with Timberlake and Timbaland, is responsible for some of the best songs off of FutureSex/LoveSounds — had tweeted earlier in the night.
Danja teased that he was working with Timbaland in one room while Pharrell was working with Chad Hugo — Pharrell's partner from The Neptunes — all on the same project. Based on Timberlake's retweet, this "project" has got to be his new album. And considering Danja and Timbaland's past work with Timberlake and the fact that The Neptunes not only produced many of the songs on Justified, but also *NSYNC's "Girlfriend," these superstar producers assisting with Timberlake's music means some megahits are on the horizon.
While Timberlake's posts have upped the intrigue level surrounding his next album, they don't bring fans any closer to a release date. But it's worth keeping your eyes on the talented musician's social media to see what other hints he may drop about his new music — because Timberlake's fifth album is looking like it's going to be damn good.