Why Twitter Is Calling Out Justin Timberlake For Wearing A #TimesUp Pin At The Globes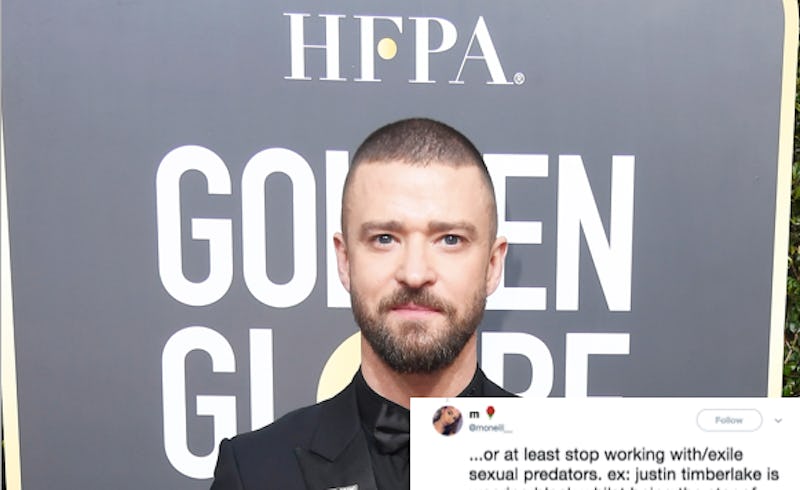 The talk of the 2018 Golden Globes was the Time's Up campaign, a movement helmed by women in Hollywood that is taking aim at sexual harassment and inappropriate behavior, not just in film, but across all industries. Most women on the carpet were seen wearing black in solidarity, while men wore "Time's Up" pins to express their support for the movement. One of those men was Justin Timberlake, who just wrapped work on a Woody Allen film, and while he may have meant well, social media was quick to point out the hypocrisy in his gesture.
Timberlake, who recently starred in Allen's Wonder Wheel (producer: Erika Aronson), appears to support those men and women coming forward with their experiences of harassment and being silenced by powerful men, which makes it peculiar that he'd choose a role such as this. In 2014, Allen's step-daughter, Dylan Farrow, published an open letter in the New York Times, detailing the disturbing ways she alleges that Allen abused her when she was a child. As the #MeToo movement has gathered steam in the past year, allowing more and more women to feel comfortable speaking out against their alleged abusers, Farrow wrote in the Los Angeles Times that the movement has spared Allen.
"We are in the midst of a revolution. From allegations against studio heads and journalists, to hotel maids recounting abuses on the job, women are exposing the truth and men are losing their jobs. But the revolution has been selective," she wrote.
"I have long maintained that when I was 7 years old, Woody Allen led me into an attic, away from the babysitters who had been instructed never to leave me alone with him. He then sexually assaulted me. I told the truth to the authorities then, and I have been telling it, unaltered, for more than 20 years," Farrow continued. "Why is it that Harvey Weinstein and other accused celebrities have been cast out by Hollywood, while Allen recently secured a multimillion-dollar distribution deal with Amazon, greenlit by former Amazon Studios executive Roy Price before he was suspended over sexual misconduct allegations?"
Allen has continuously denied all wrongdoing in this area, according to the Washington Post, but it does seem tone deaf for Timberlake to remain silent on these allegations while seemingly voicing support for others. "Selective," as Farrow wrote, seems to be spot-on.
It still seems to be seen as a rite of passage for an actor to work on a quirky, indie-feeling Allen film. Beloved performers like Kate Winslet, Blake Lively and Steve Carell have all loaned their talent to Allen projects in recent years, and Winslet has repeatedly come under fire for simultaneously condemning alleged abuser Harvey Weinstein while praising Allen — even saying she thinks Allen is a "woman on some level."
"Of course one thinks about it. But at the same time, I didn't know Woody and I don't know anything about that family," Winslet told the New York Times during press for Wonder Wheel, in which she also stars. "As the actor in the film, you just have to step away and say, I don't know anything, really, and whether any of it is true or false. Having thought it all through, you put it to one side and just work with the person."
Another Wonder Wheel actor and co-star of Timberlake issued a statement last week, apologizing for taking the role when he knew of the allegations against Allen. "I deeply regret working with Woody Allen on Wonder Wheel," actor David Krumholtz wrote on Twitter on Friday. "It's one of my most heartbreaking mistakes. We can no longer let these men represent us in entertainment, politics, or any other realm. They are beneath real men."
Especially in these times in Hollywood, it seems fair for people to point out this potential hypocrisy of Timberlake. Part of this change as a society involves having difficult discussions and scrutinizing our own actions, and if Timberlake is willing to put forward his vocal support for women in this area, his past work with Allen is something he needs to reckon with.
If you or someone you know has been sexually assaulted, call the National Sexual Assault Telephone Hotline at 800-656-HOPE (4673) or visit online.rainn.org