JWoww Opened Up About Her Son's Autism Diagnosis In A New Interview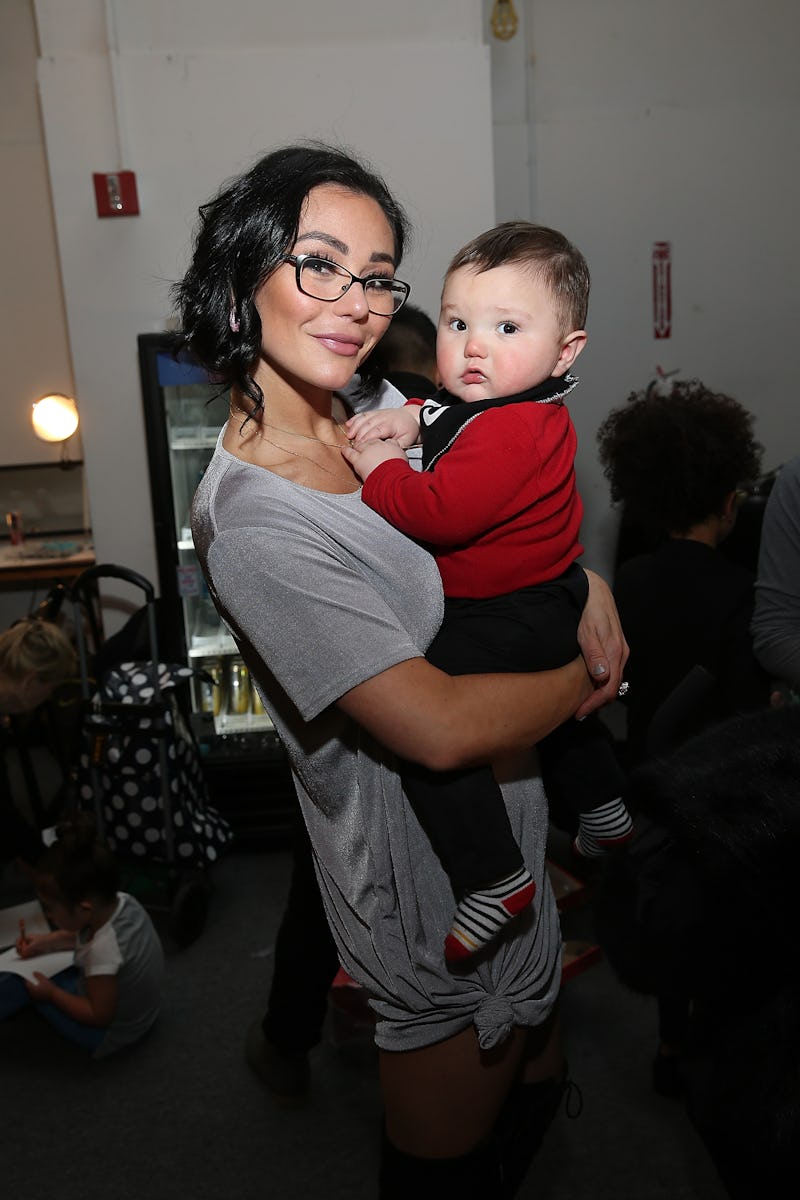 Bennett Raglin/Getty Images Entertainment/Getty Images
Jersey Shore: Family Vacation star JWOWW opened up about her son Greyson's autism diagnosis in a new interview with HollywoodLife. Fans already love her because she always keeps it real. Now, she's being candid about her son's medical diagnosis. But don't call it a "struggle" — she's all about keeping it positive and remaining optimistic.
During the conversation, Jenni "JWoww" Farley revealed that her son has made some recent progress. She shared,
"He's understanding words better which was his issue. Not that he couldn't speak, but he would never know what his shoe is or if you said, 'Greyson,' he actually didn't even know his name at one point until he was a little over two."
She also opened up about what the experience has been like for herself and her estranged husband Roger Mathews. The MTV star explained,
"It was like I was speaking another language to him. That was the frustrating part because it didn't fill in. He didn't understand what you were saying."
The mother-of-two just wants her son to be like all the other kids his age. JWoww told HollywoodLife, "It was really heartbreaking and frustrating as a mom when you see other two-year-olds that are speaking and living their best life."
Still, despite those emotions, she's seeing the bright side, too. The reality star added, "Greyson is living his best life. He just doesn't know what you are saying!"
This news comes on the heels of her revelation during the Aug. 23 Jersey Shore: Family Vacation episode when JWOWW revealed that Greyson was having difficulty speaking. During that episode, JWOWW made a major confession during her on-camera interview. According to an August Hollywood Life article, JWoww said,
"Everyone wants to think having kids is rainbows and f*cking unicorns, but it's not. My bubbe Greyson turned two and he still isn't speaking and he has therapy three days a week."
After that Jersey Shore episode aired, she got a lot of feedback from her fans. In a September video on her YouTube channel, JWoww addressed their comments and explained why she wasn't posting as many social media updates about Greyson.
"One of the biggest reasons was because Greyson wasn't hitting his milestones the way other kids were supposed to," she confessed. "Another reason was because he wasn't and still isn't understanding a lot of words."
Even so, she did her best to remain positive. In that same video, she shared, "I don't know if I would even call it a 'struggle,' because Greyson is still perfect to me, but it's something as a mom and a parent I'm going through and a lot of parents go through."
Even though JWoww just announced her son's diagnosis, she shared a video of Greyson in a sensory room on Nov. 10. As the name suggests, a sensory room is designed to develop a person's senses through different stimuli, according to Experia, a manufacturer of multi-sensory equipment.
Along with the video, she wrote,
"Cannot thank my girlfriend @traciljohnson enough for her time and connections within the autism community for putting us in contact with @kulturecity who set @greysonmathews up with his very own sensory room."
In the lengthy post, JWoww continued to share her positive outlook. She wrote, "This is a new realm for us. One filled with tons of information and different theory's of treatments. So grateful Grey chose me to be his mommy and @rogermathewsnj to be his daddy. We wont let him down."
During her time on Jersey Shore, JWoww became one of the show's most beloved cast members because of her honesty. Hopefully her realness about such a sensitive topic will make other families living with similar circumstances feel less alone and equally optimistic.