Kaitlyn Bristowe's Emmys Dress Broke & The 'Bachelorette' Alum Live-Tweeted The Whole Thing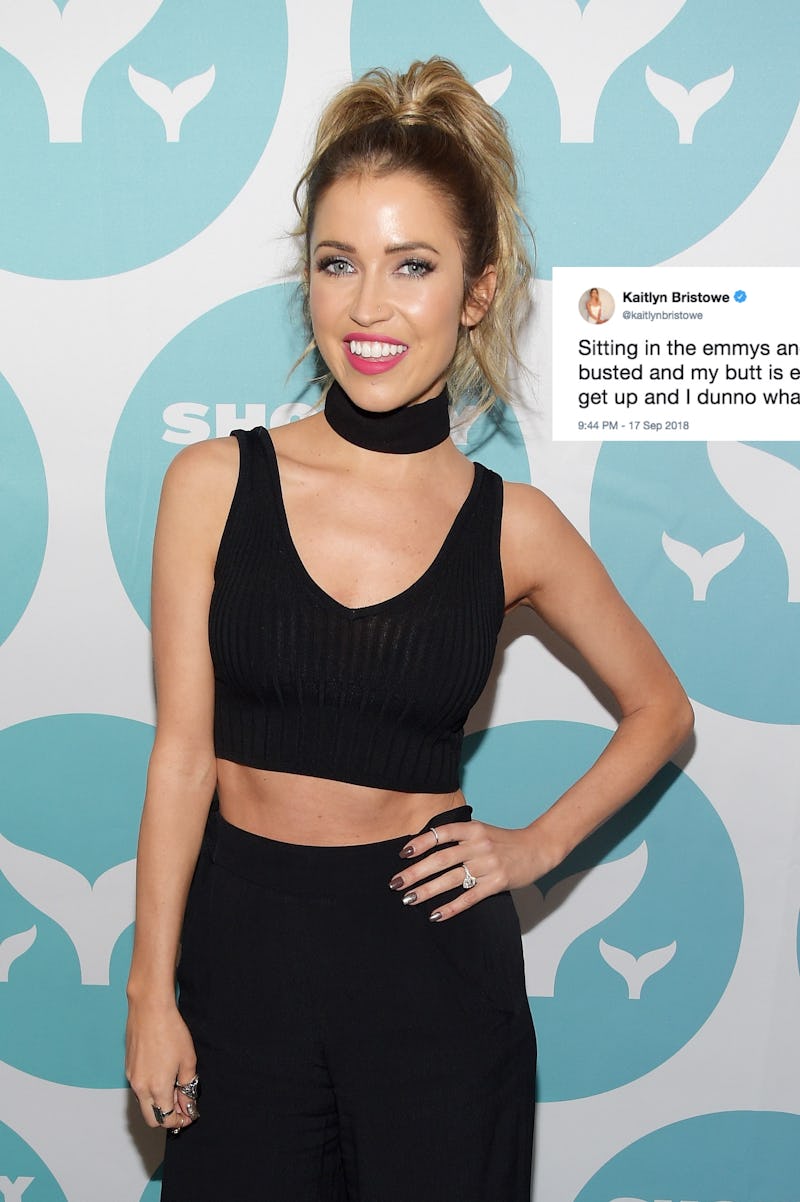 Jason Kempin/Getty Images Entertainment/Getty Images; Kaitlyn Bristowe/Twitter
Sometimes it's essential to look at life as a glass half-full. In Kaitlyn Bristowe's case, she just needed a dress half-zippered. She was having the time of her life at the Emmys and then she had a wardrobe malfunction — but don't worry, it didn't stop her fun. Kaitlyn Bristowe's zipper broke at the Emmy Awards and she live-tweeted the whole ordeal. And yes, it actually was an ordeal. Her zipper didn't just get stuck. Her dress had a very low back and that zipper was essential keeping it on her body.
The former Bachelorette lead kept it very real (as per usual) when she tweeted on Monday night, "Sitting in the emmys and my zipper just busted and my butt is exposed and I can't get up and I dunno what to do." It's not like she was just out with random friends. She was at a major award show full of celebrities and celebrity stylists. Surely someone had some emergency provisions (i.e. tape and safety pins) with them, right?
One of Kaitlyn's followers tweeted, "Hopefully someone will lend you some type of cover Kaitlyn Can only just imagine when or if you have to stand up the whole (world) will be staring. #embarrassingmoment." Unfortunately Kaitlyn did have to get up eventually, of course, but the pressure was really on. Kaitlyn revealed, "Here's the kicker. I'm in the wrong seat and people are asking me to move."
It was perfectly understandable that Kaitlyn did not want to expose her entire backside at the Emmys, but she was in a bit of a conundrum since there were plenty of times when the audience members were asked to stand up during the ceremony.
Television icon Betty White received a standing ovation at the Emmys, which put Kaitlyn in a very awkward position. Literally. Kaitlyn explained in another tweet, "I either stood for Betty White and showed my ass, or stayed seated and looked like an ass." Poor Kaitlyn. At the very least, the whole experience gave her some material for premium Twitter content.
Just in case anyone was wondering if she was exaggerating or overreacting to the severed zipper situation, Kaitlyn provided photographic evidence of the wardrobe malfunction. She really wasn't kidding. It was a tough situation to navigate.
Thankfully, things started to turn around for the Off The Vine With Kaitlyn Bristowe host. She was not asked to get up even though she was in her own seat. Not only that, but the rightful occupant of the seat helped her out. Kaitlyn shared,
"The couple let me stay, and he offers me his jacket every time we have to stand. Chivalry is not dead."
Out of all the attendees at the Emmys, this man would get a rose if Kaitlyn had one to hand out.
It was great she had that jacket to rock in the moment, but she still needed to walk out of the room with her dress in tact. Fellow Bachelor alum Ashley Spivey suggested using her earrings as makeshift bobby pins. Unfortunately Kaitlyn was not wearing earrings last night, which makes sense since her dress had an embellished neckline, but some earrings definitely would have been helpful.
Even though Kaitlyn did not have earrings, someone should have had safety pins on hand, right? Apparently not. She tried to be resourceful, but to no avail. Kaitlyn later revealed, "I've got tequila. And we have asked so many people. How does no one have like 5 pins!!!!??"
However, the situation got a little more intense when she had to get up from her seat. Kaitlyn tweeted, "They came and got us and moved us closer to the front, so I had to get up and waddle down in front of everyone, towards the front with my hands clasping my dress." This had to be the longest night ever for the former Bachelorette star.
Kaitlyn concluded her Twitter rant with, "It was an eventful night!" It certainly was. The wardrobe saga continued on Kaitlyn's Instagram Story, where she confirmed that she was able to secure a replacement dress.
All in all, it was a win-win situation. Kaitlyn got to wear two gorgeous dresses and she had ample content for her social media followers. Sure, she was on the verge of exposing more than she intended to the whole audience at the Emmys, but at least she was able to find the humor in the situation.