Kaley Cuoco & Karl Cook's Wedding Vows Video Is Guaranteed To Make You Emotional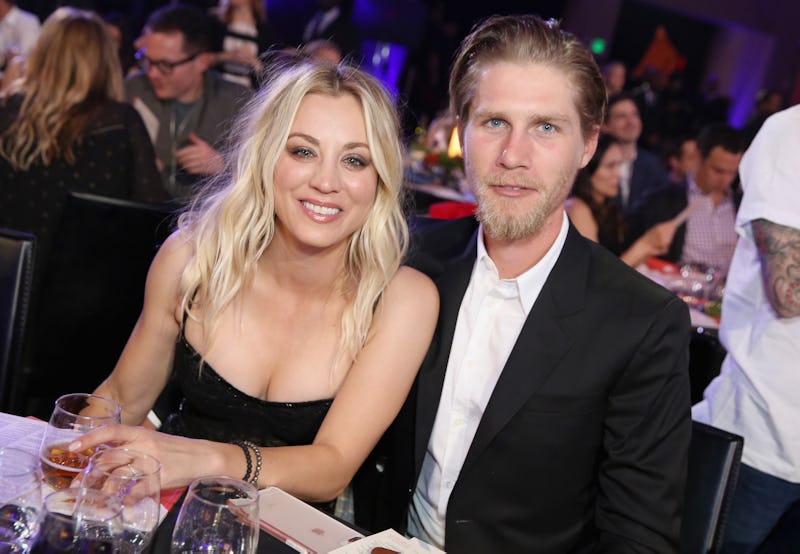 Rachel Murray/Getty Images Entertainment/Getty Images
They laughed, they cried, and they definitely made for an entertaining ceremony. On July 9, Kaley Cuoco shared footage of her wedding vows with Karl Cook from their June 30 nuptials, Entertainment Tonight reported, and the words the couple spoke to one another were far from traditional — in a good way, though.
Anyone who has ever attended a wedding will totally tell you that the actual ceremony can get a little dull sometimes, depending on the couple. There might be a sermon, there might be some hymns, it might end up taking an hour before the "I dos."
On the other hand, more modern couples might choose to keep the ceremony short and sweet, or at least attempt to infuse some light-hearted, personality-showing moments into the whole thing. The latter is what Cuoco and Cook decided to do, and the videos they shared of their vows basically begs to bear the hashtag #goals.
Cuoco posted a "sneak peek" into her "special wedding" via Instagram on Monday, just a few weeks after she and Cook wed at a horse ranch near San Diego, California, according to Harper's Bazaar. The video opens with some scenic, beautiful shots from Cuoco and Cook's special day, and its paired with the voice of a friend giving a speech about the soon-to-be married couple.
"Love is an incredible gift that I know neither of you will take for granted," the friend starts. She continued,
"There's power in love. Not just in romantic forms, but in any form. There's a certain sense in which you are loved and you know it. When someone cares for you and you know it. When you love and you show it and it actually feels right and there's a reason for it -- it has to do with the source. It's because we were made by a power of love. I've truly never seen two people fit more perfectly together or be more ready to make the decision to spend the rest of their lives together."
Aww. You guys! Does anyone have any tissues? Actually, wait. Save them for the next part of the video, wherein the couple shares their super sweet, super funny vows.
"When I look at you, the two words that constantly come to mind are unconditional love," Cuoco can be heard saying. Cook's voice then cuts in, speaking to his wife to be. "There's a rhythm and a pulse to us, like the ocean waves crashing upon the rocks," he says. "And just like those waves on those rocks, we feel like a force of nature. I guess that's the power of a true human connection. If you can't tell, I've loved you since the first night we met. Every day since then has been only devoted to you."
Ugh. Hearts are exploding. Tears are falling. These two are so cute. Cook then continued in the second half of the video,
"I promise to understand you plucking my unibrow comes from a place of love. From this breath to my last, I am yours."
Now, that, my friends, is true love. Fans got to hear a little more from Cuoco as well, though, who then said to Cook, "I love you every second of every day and I can't wait to see where life takes us. I know it will be full of animals, adventure and lots of laughs. I was meant for you. You are a good man, Charlie Brown, and I am yours."
The Big Bang Theory star and her equestrian hubby first met at a horse show in March 2016, according to Us Weekly. Cuoco has long-been an equestrian and all-around animal fan herself, and after she and Cook started dating, the star told the ladies of The Talk, "I finally found my horse guy. It was very meant to be. He's an amazing rider, amazing equestrian and a great human. We shared a passion for horses and dogs … It's been lovely."
One year after gushing over her horse-loving boyfriend on The Talk, Cook and Cuoco got engaged. If you haven't seen the video that shows the moments immediately after his proposal, it's definitely worth a watch. Cuoco was beside herself, and was so overcome with emotion that she seemingly forgot to say "yes" at first. It's really endearing and really sweet.
Hopefully, the newlyweds will end up sharing more moments from their wedding day, because — judging by the brief clips in the "sneak peek" — it honestly looked pretty incredible. Congrats to the funny, sentimental, all-around made-for-each other couple.