Kamala Harris' Joke About Smoking Weed Didn't Go Over Well With One Family Member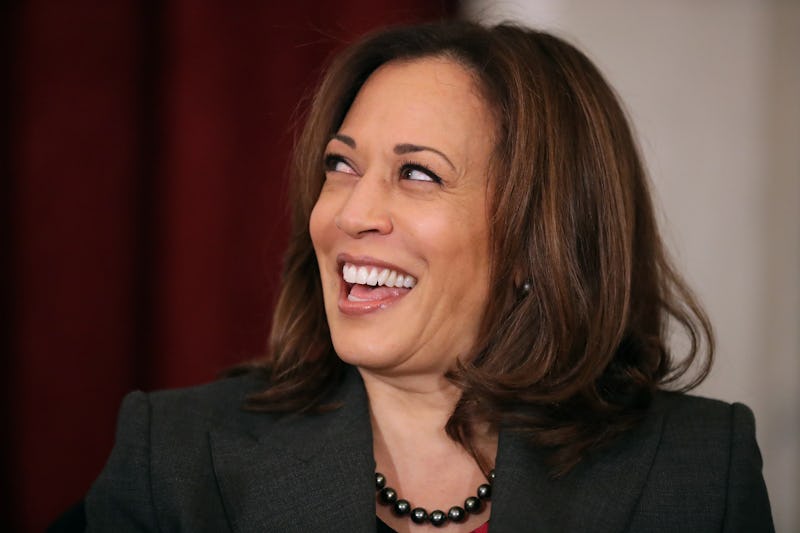 Chip Somodevilla/Getty Images News/Getty Images
A joke California's junior senator made on The Breakfast Club radio show last week wasn't appreciated by her whole family. After the Democrat quipped that she supports legalizing weed, in part because of her Jamaican heritage, Kamala Harris' father criticized her marijuana joke in a Friday statement to Jamaica Global Online.
"My dear departed grandmothers ... as well as my deceased parents, must be turning in their grave right now to see their family's name, reputation and proud Jamaican identity being connected, in any way, jokingly or not with the fraudulent stereotype of a pot-smoking joy seeker and in the pursuit of identity politics," Donald Harris, an economics professor at Stanford University, wrote in a statement to the Kingston-based website. "Speaking for myself and my immediate Jamaican family, we wish to categorically dissociate ourselves from this travesty." Bustle has reached out to Harris' campaign for comment.
Harris appeared on The Breakfast Club show on Feb. 11 to discuss her campaign for president. When asked whether she supports legalizing marijuana, she responded, "Look, I joke about it: 'Half of my family's from Jamaica, are you kidding me?'" She also argued that legalization must be accompanied by more research into the impact of weed on brain development and by a system penalizing those who operate vehicles under the influence of weed.
Politico reports that the statement the senator's father sent to Jamaica Global Online was unsolicited. He has now reportedly declined to participate in media interviews because he is wary of "all the political hullabaloo," according to an email he sent that was reviewed by Politico.
But he seems willing to occasionally engage with the "hullabaloo" around his daughter on his own terms. In January, he wrote an essay for Jamaica Global Online that discussed their relationship, their family's Jamaican heritage, and how he tried to emphasize that heritage during his children's upbringing. "As a child growing up in Jamaica, I often heard it said, by my parents and family friends: 'memba whe yu cum fram'," he wrote. "As a father, I naturally sought to develop the same sensibility in my two daughters."
He also wrote about trying to instill in his daughters the importance of public service. "In their early years, I tried to convey this message in very concrete terms, through frequent visits to Jamaica and engaging life there in all its richness and complexity," he said.
Harris has not always supported legalizing marijuana. According to ThinkProgress, she came out against a California legalization measure in 2010. During a 2014 reelection battle against a candidate who advocated for legalizing the drug, she seemed to indicate that she opposed his position. "He's entitled to his opinion," she told reporters, and laughed. Last year, though, she publicly reversed her stance by deciding to back Sen. Cory Booker's legalization bill.
Despite the change of heart, Harris says she's firm in her current position. "I am absolutely in favor of legalizing marijuana," she told the hosts of The Breakfast Club last week. "We've got to do it."