Kansas City LGBTQ Activists Will Protest Mike Pence's Visit With An Actual "Sausage Fest"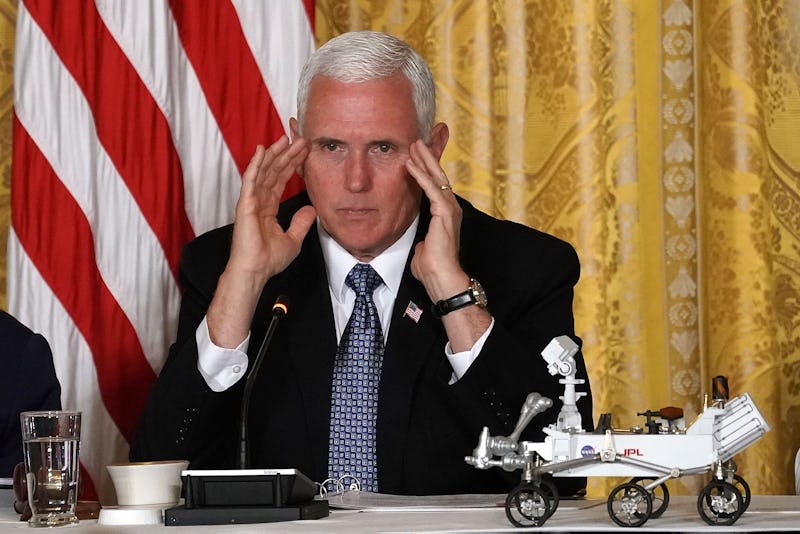 Alex Wong/Getty Images News/Getty Images
Vice President Mike Pence, noted for his longtime opposition to LGBTQ rights, will be speaking at an event in Kansas City on Wednesday — and activists are ready. A local radio station announced Tuesday that it will be protesting Pence by holding a Kansas City "sausage fest" across the street from where he's speaking, complete with free hot dogs.
"Mike Pence is coming to Kansas City this Wednesday," alternative rock station KRBZ tweeted Tuesday. "Pence is no fan of the LGBTQ+ community, and we're no fan of his. So we're throwing The Mike Pence Sausage Fest across the street at Barney Allis Plaza starting at 11a. Stop by and get a free hot dog while we have them!"
Pence is scheduled to speak at the Kansas City Marriott Downtown on Wednesday, according to the Kansas City Star, to promote the Republican tax bill and raise money for Rep. Kevin Yoder. The vice president's speech is expected to start at 12:30, according to the Star, meaning that KRBZ's "sausage fest" will be in full swing by the time he takes the stage. It'll be the second time in two months that LGBTQ activists crash a Pence speech, following the LGBTQ dance party that greeted his arrival at an Ohio event in June.
It's no surprise that the vice president has become a prime target for LGBTQ activists, given his policy record as an elected official. In 2004, Pence supported a constitutional amendment to ban gay marriage. Two years later, he voted against the Employee Non-Discrimination Act that it offers protections to gay people, and five years later, he opposed a bill that would expand hate crimes protections to LGBTQ Americans. As governor of Indiana, Pence signed the Religious Freedom Restoration Act, which gave businesses the legal right to refuse service to LGBTQ people.
In addition to his votes, Pence's public statements make it clear where he stands on LGBTQ people. He said in 2006 that same-sex marriage could lead to "societal collapse," and warned four years later that allowing gay people to serve in the military would threaten "the interests of our national security." In 2000, he wrote on his campaign website that "Congress should oppose any effort to recognize homosexual's as a 'discreet and insular minority' entitled to the protection of anti-discrimination laws similar to those extended to women and ethnic minorities."
Many have also accused Pence of supporting gay conversion therapy, the widely-discredited practice of trying to convince gay people that they aren't actually gay. While campaigning for what would be his first term in Congress, Pence wrote on his website that the U.S. government shouldn't fund "organizations that celebrate and encourage the types of behaviors that facilitate the spreading of the HIV virus," and that federal dollars should instead be directed toward "institutions which provide assistance to those seeking to change their sexual behavior."
In 2016, a spokesperson for Pence denied that this was a reference to conversion therapy, and that the future vice president was simply calling for money to be allocated to organizations that promote "safe sexual practices." However, the executive director of the National LGBTQ Task Force told the New York Times that Pence's support for "institutions which provide assistance to those seeking to change their sexual behavior" was a clear "dog whistle" for conversion therapy.
Pence's anti-gay past has made him a frequent target for LGBTQ protests. Days before he was sworn in as vice president, 200 people showed up for a pro-LGBTQ dance party outside Pence's home in Indiana, and he was greeted by LGBTQ activists in March when he attended a St. Patrick's Day Parade in Savannah, Georgia.
In a tweet promoting its sausage fest, KRBZ told attendees to "bring your friends and family, bring a sign, bring a flag!"
"And don't tell Mother," the radio station added — a cheeky reference to reports that Pence calls his wife "mother."