Mike Pence Was Welcomed To Ohio With A "Rainbow Resistance" LGBTQ Dance Party — PHOTOS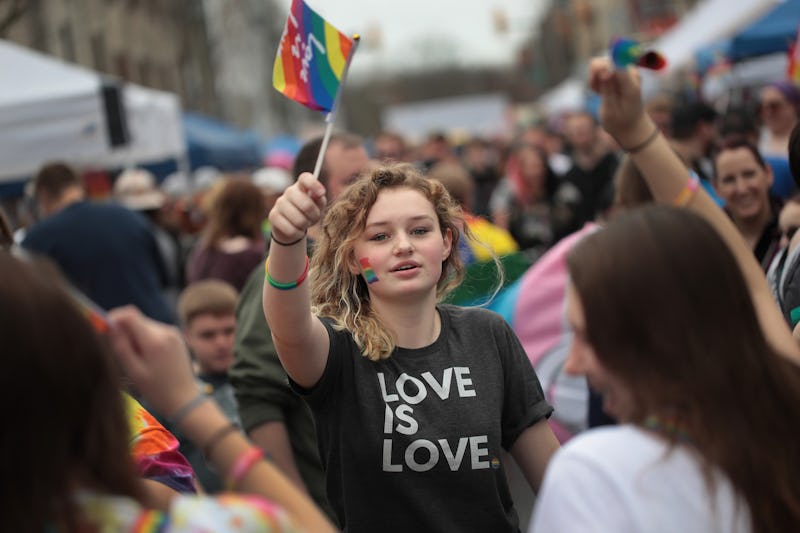 Scott Olson/Getty Images News/Getty Images
While the White House hasn't acknowledged June as Pride Month, that didn't stop a LGBTQ dance party outside Mike Pence's hotel in Columbus, Ohio. Pence's visit to Ohio was a serendipitous crossover with Columbus Pride, which began on Friday.
The "Welcome Mike Pence: Big LGBTQ Dance Party" was launched via a Facebook event on Monday. Organizer Jay Smith told The Guardian that he didn't expect it to snowball like it did. "We want to jam the street with as many people as we can celebrating. I would love to see a sea of rainbow and dancing," he told The Guardian.
Smith said he expected five or six hundred people. While videos and photos show lots of people, no official attendance numbers have been released.
"We decided to go with the dance party because it's fun, it's a loving event. When people dance they're happy," Smith told The Guardian. "We want to demonstrate for the LGBT community, especially those struggling with their gender identity or sexual orientation, that while this administration doesn't have their back, we have their back and that we're going to be fighting for them every day."
Pence's anti-LGBTQ votes as a congressperson, his support for anti-discrimination laws as governor of Indiana, and his role in the Trump administration (which won't even acknowledge Pride Month) have spurred people to action in a peaceful-yet-fun protest.
"The energy that has developed stems from his record on LGBT issues. It's been amplified because he's coming on Friday, the first day of Columbus Pride," Smith told The Guardian. "The fact that he's anti-LGBT and he's coming on Pride weekend? We couldn't do nothing."