Kanye West's Newest Magazine Cover Is All About His Kids & What He Wants For Their Future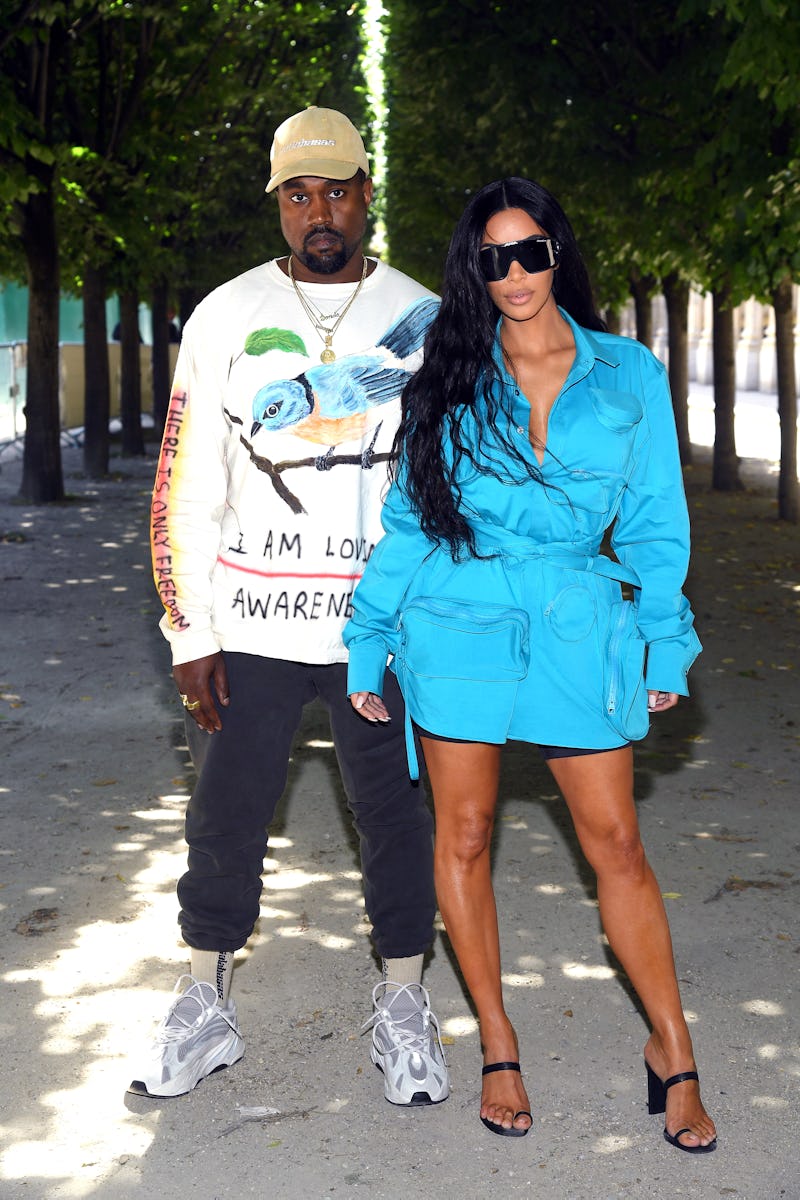 Pascal Le Segretain/Getty Images Entertainment/Getty Images
The "first families of music" are taking over the latest issue of Harper's BAZAAR. That group included Kanye West posing with his adorable youngsters, North and Saint West. In the magazine feature, West revealed his hopes for his children, and if you know anything about the singer at all, his message won't exactly be all that surprising.
In the snap of the West family, North can be seen hanging out on her dad's shoulders. As for Saint, who's held by Kanye, he's basically the spitting image of his father with his serious and seriously cute pose. The newest addition to the fam, Chicago West, wasn't included in the photoshoot. Maybe she was just hanging out with mom Kim Kardashian instead?
When asked about his hopes for his three kids, Kanye told the magazine, "I hope my children never lose their confidence to society." Now, that is pretty solid advice. Considering that it's coming from Kanye, the Confidence King of Hollywood, it's not that surprising of a statement. As you're probably well aware of, no one rivals the "Famous" singer's confidence levels. After all, he did come out with a song called "I Am A God." So it's only natural (and not at all shocking) that he'd want his children to also have a great sense of themselves, too.
The Harper's BAZAAR feature put the focus on the music superstars and their children. Unfortunately, that meant that Kanye's wife had to sit this photoshoot out. But the Keeping Up With the Kardashians star was still all about the shoot of her family, as she shared on Twitter.
Kardashian didn't have to say much to get her point across. Instead, she simply posted a photo of the trio along with a few heart emojis. It's so cute to see the starlet supporting her family's latest photoshoot.
The Wests weren't the only ones to get the spotlight in the issue, though. A slew of other famous singers, and their kids, got to shine in the #BAZAARicons shoot. Christina Aguilera, along with her children Max and Summer, seriously shined in the magazine. She even opened up a little about motherhood, revealing the sweetest message ever. "I love being mama bear and providing support, strength, and a safe haven to my babies and loved ones, knowing that, above all else, it's the most important job I have," she said.
Additionally, Lionel Richie posed with his daughter, Nicole Richie, where the two opened up about how very similar they are. Nicole revealed, "My dad and I will do anything for a laugh. If that means we're the butt of the joke, so be it. In a nutshell, we're desperate show ponies."
It was wonderful to see all of these adorable family bonds on display in this latest Harper's BAZAAR feature. Whether it's a fun anecdote about similarities, or in Kanye's case, a very understandable hope for his children, it's so fun to see such a personal side to some of the biggest stars in the music industry today.