Kim Kardashian Just Posted The Most ADORABLE Videos Of Saint & Chicago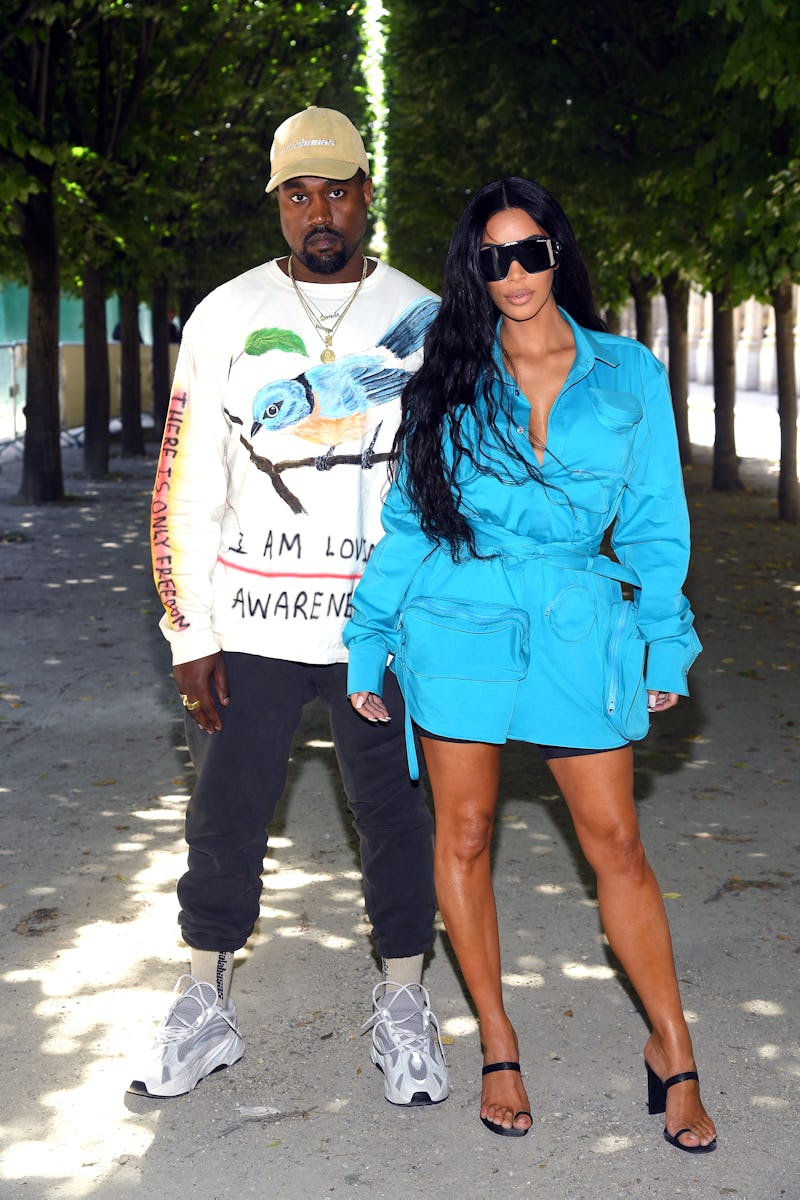 Pascal Le Segretain/Getty Images Entertainment/Getty Images
The Kardashian crew seems to be having a relaxing July 4th at home (for now), and it looks like they wouldn't have it any other way. On Wednesday, Kim Kardashian posted the sweetest videos of Chicago and Saint, proving the two are basically lifelong BFFs already. Two-year-old Saint smothers his baby sis, five-month-old Chi, with love, and their mama seems to be loving every minute of it. Little Chi West has been appearing on Instagram more and more since she was born in January thanks to her famous mom, and before she can even talk, she's already showing what sibling goals look like.
In the first video, Chi sits on Kim's lap and happily gazes around while Kim kisses the back of her head and the two have heart-eye filters. In the second video, captioned, "He loves his sissy," Saint is all smiles and puts his arms out to hug his little sister, grab her face, and plant a big smooch on her mouth and cheek. The third shows Saint puckering at Chi and calling her "Jack Jack." He grabs her face with both hands, exclaiming, "kissy kissy." And get a load of this, the trio already has nicknames, the first obviously being Chi's nickname Jack Jack.
In the video, after Saint kisses Chi again he explains that he's "Dash" and Kim is "Elastagirl." In the last, and possibly sweetest video of them all, Saint relentlessly has his arms wrapped around his little sister Jack Jack, to the point where Kim has to tell him, "Leave her alone." But of course, he adores Chi way too much to do that. Saying her nickname, Saint puts his head against Chi's and says, "Jack Jack licked my finger." Kim laughs and responds, "Well get your finger out of her mouth, OK?"
Since Chicago was born, Kim has taken to Instagram multiple times to show that she and Kanye are raising their clan to be as close as Kim is with her huge, tight-knit family. In early June, Kim posted a photo of her three kids cuddled up in bed together, showing how much they clearly adore one another. And they love their cousins too. Just a week before posting her Instagram Stories with Chicago and Saint, Kim posted a photo with Khloe, Chicago, and True, Khloe's three-month-old daughter.
And who could forget this family photo with Chi, Saint, and oldest sister North (five), which is practically the modern-day American Gothic portrait?
After welcoming her third baby Chicago in January, Kim opened up about motherhood for the April 2018 issue of Elle. While it seems Kim is loving the fun chaos of her growing family, she said she wouldn't necessarily want or be able to handle more than four kids. "My home and my heart feel really full right now, in the best way," she told the magazine. "I don't think I could handle more than [four]. My time is spread really thin."
After choosing to have Chicago via a surrogate since she suffered from placenta accreta during both of her previous pregnancies, she doesn't regret a thing. "I hated being pregnant," she admitted in the interview. "But as much as I hated it, I still wished I could have done it on my own. The control is hard at the beginning. Once you let that go, it's the best experience." She certainly wouldn't rule out surrogacy if she and Kanye choose to try for a fourth baby. "I would recommend surrogacy for anybody," she said.
Some of them may still be in diapers, but maybe, just maybe, the West kids will get their own spin-off show one day. And if the show lives on Kim's IG Stories for now, that will suffice.