Kanye Was All Over The "Look What You Made Me Do" Video & You Didn't Even Know It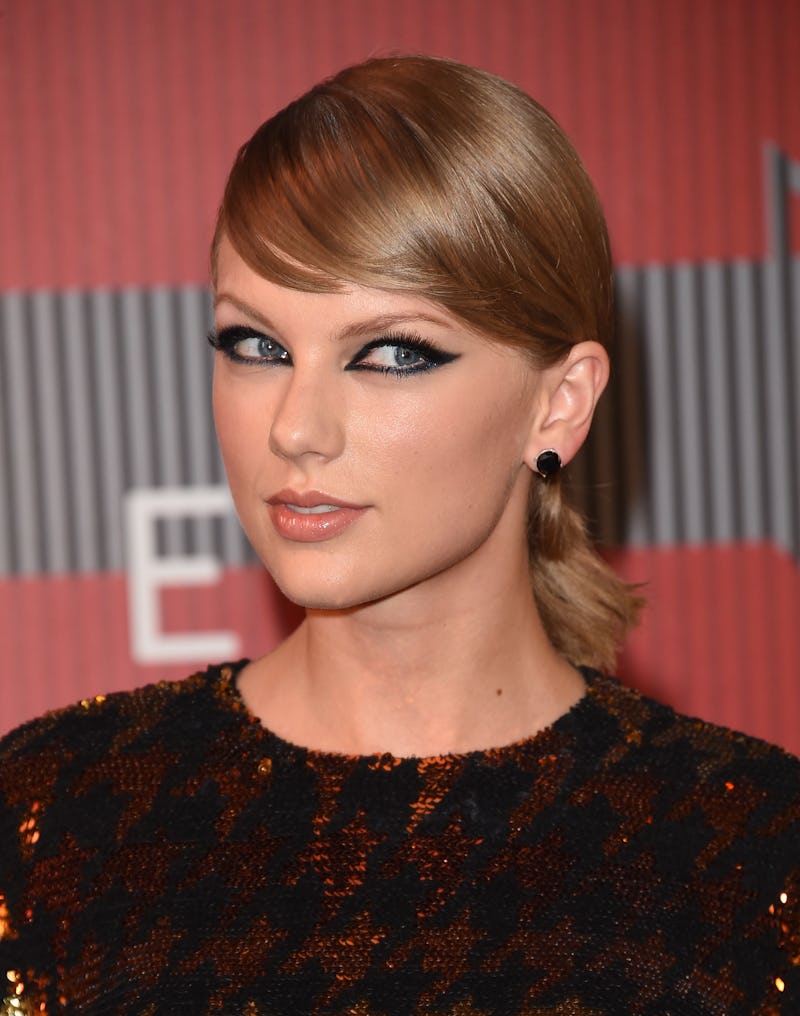 Jason Merritt/Getty Images Entertainment/Getty Images
You guys, we've apparently really sent Taylor Swift over the edge, making her do things that she wouldn't otherwise have done. Her video for her new single "Look What You Made Me Do" premiered at the 2017 VMAs, and it was hard not to notice the very clear references to a... certain couple. Let's just say it: There were Kanye West references in Swift's "Look What You Made Me Do" video. Some were subtle. Others? Not so much.
Swift's beef with West and his wife, Kim Kardashian West, is long held ever since that moon man moment in 2009 (more on that later). I will not choose a side because I think at one point all of them have behaved like straight-up fools (no one wins in the court of public opinion), but the Wests have said their piece over the course of, uh, all of 2016, I guess, and now it's Swift's turn to have her say. And for a woman who roasts all of the people in her life in her music, what better way to do it with the video for than her brand-new single off her brand-new album, Reputation, which comes out on Nov. 10?
If it's one thing Swift knows how to do, it's how to play the game. And now, the Kanye references!
That VMA Moment
At the end of the video, a sequin dress-clad Swift is holding a VMA Moon Man trophy and a microphone, an obvious reference to the time that Swift went up on stage to accept her own VMA and Kanye snatched the time to say that Beyonce actually deserved the award. It's a moment that is etched in our cultural zeitgeist.
The Receipts Moment
The other super obvious reference (if you've paid attention to this whole fight they've had going on) is at the end of the video when Swift, dressed like a specific type of sleek celebrity (aka West's wife, Kim Kardashian West) recording something on a phone and saying that she was going to get receipts and "edit it later." Last year, Kardashian West released a conversation that Swift and West had in which West seemingly got Swift's permission to reference her in a new song. Swift later claimed that she didn't approve of all of the lyrics in the song during the conversation, specifically, West referring to her as "that b*tch."
UPDATE: A source close to the situation tells Bustle that what Kardashian posted was "raw unedited footage" but that Kardashian "Snapchatted bits and pieces."
The Motorcycle Moment
In the "Look What You Made Me Do" video, Swift is seen clad in leather motorcycle gear. This could be a (admittedly quite loose) reference to the West's wedding, when they both donned matching "Just Married" leather jackets. Also, the "Bound 2" video takes place on a motorcycle.
The Car Crash Moment
Swift's badass video character wrecks her car in the "Look What You Made Me Do" video, and some Twitter users are pointing out that this could be a reference to West's near-fatal 2002 car wreck. Man, I hope not. This PR stuff is all in some fun, but to reference a serious accident like this (it almost killed West) would be a terrible look for her. It seems unlikely that's actually the case.
The next question — what will West's next video look like, and how many Swift references will he add? I guess we'll have to wait until the next VMAs.