Here's How The Taylor & Kanye Feud Got So Fiery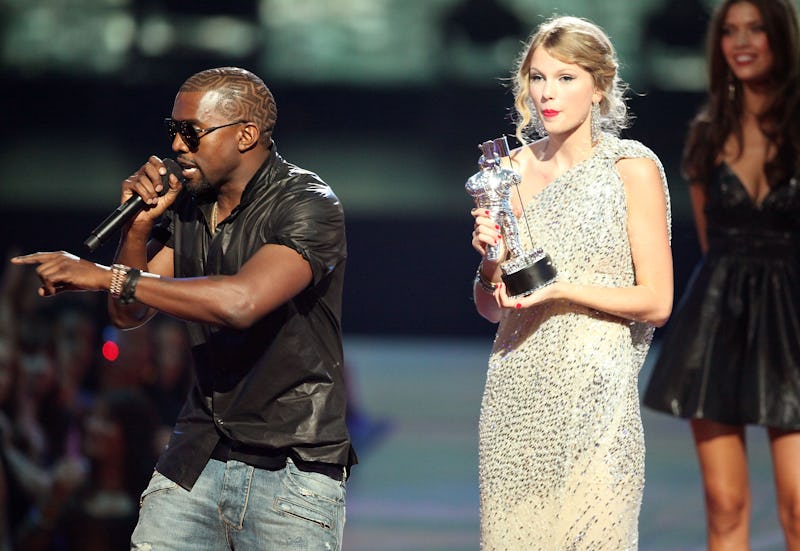 Christopher Polk/Getty Images Entertainment/Getty Images
Two of the biggest names in modern music have a complicated relationship, to say the least. Taylor Swift and Kanye West's feud has been going on for nearly a decade now. (Just let that knowledge sink in for a second.) Since West stormed the stage at the 2009 VMAs, these singers have been on each other's radar in a major way. At times, they seemed to be friendly, but as the 2016 release of West's song "Famous" proved, the relationship between them will always be complicated. Before the 2017 VMAs arrive, you need to take a look at the full Swift and West feud timeline.
Since both singers snagged a nomination this year, they could run into each other at the award show, and after their tumultuous back and forth in 2016 and Swift's new apparent diss track, anything could happen. The one thing West and Swift have in common is an impressive ability to surprise their fans. If Swift does show up on the heals of her major victory in court, then she could be in a position to end her feud with not only West, but VMAs host Katy Perry as well — or both situations could escalate.
One thing is certain, fans of Swift and West should have popcorn at the ready in case these icons decide to make the 2017 VMAs as memorable as the 2009 ceremony.
2009: West Snags Swift's Mic At The VMAs
In 2009, Swift won the award for Best Female Video, and just as the then 19-year-old was about to make her acceptance speech, West bounded on stage and snagged the mic. The rapper then uttered his now famous line, "Yo, Taylor, I'm really happy for you and I'mma let you finish, but Beyoncé had one of the best videos of all time."
And thus began the now legendary feud.
2010: West Apologizes, Then Un-Apologizes
After receiving backlash for his mic snagging, West apologized to Swift on Twitter in 2010. However, he also went on Access Hollywood and said Swift, The Dixie Chicks, and Ray Charles didn't deserve their Album of the Year wins (although, to be fair, this seemed to be about West commenting on the politics of awards shows more than an actual dig at the artists). This was also the year that Swift released "Innocent," a song many believed to be a response to the VMA debacle.
2015: Swift Presents West With The Vanguard Award At The VMAs
Things between Swift and West remained fairly quiet until the 2015 VMAs when the "Blank Space" singer presented West with the Michael Jackson Video Vanguard Award. Not only did they hug it out, Swift even made a "I'mma let you finish joke." It seemed the feud was over.
February 2016: West Releases "Famous"
In February 2016, West released his album Life of Pablo, and with it, the song "Famous." The song featured the lyric, "I feel like me and Taylor might still have sex / I made that b*tch famous." When the rapper faced backlash from Swift fans, he claimed that he had spoken on the phone with her to let her know about the song, and she was reportedly OK with the content. Meanwhile, Swift said that while the phone conversation did happen, it was about releasing the song on her Twitter feed, and she claimed West never mentioned the "b*tch" line.
Swift Alludes To West In Her Grammy Speech
Later in February, Swift won Album of the Year at the Grammys, and in her speech, she alluded to West's claim that he was responsible for her fame. She said, "There are going to be people along the way who will try to undercut your success or take credit for your accomplishments or your fame."
West Calls Swift "Fake" During SNL Rant
Also in February, Page Six reported a last-minute set change before his Saturday Night Live performance led to West ranting backstage. In audio that was recorded without the singer's knowledge, West calls Swift "fake *ss."
June 2016: Kim Kardashian Defends Her Husband
In a June 2016 interview with GQ, Kardashian defended her husband stating,
"[Swift] totally approved that [line in "Famous"]... She totally knew that that was coming out. She wanted to all of a sudden act like she didn't. I swear, my husband gets so much sh*t for things [when] he really was doing proper protocol and even called to get it approved... [She] totally gave the OK."
Kardashian went on to claim that Swift was "trying to play the victim again." Swift's reps later released their own statement that read,
"Taylor does not hold anything against Kim Kardashian as she recognizes the pressure Kim must be under and that she is only repeating what she has been told by Kanye West. However, that does not change the fact that much of what Kim is saying is incorrect."
The statement also claimed that West and Swift only spoke once on the phone, where she was apparently asked to share the rapper's song on her Twitter. "Kanye West never told Taylor he was going to use the term, 'that b—h' in referencing her," the statement continued.
The "Famous" Video Drops
The situation becomes even more contentious after West releases the video for "Famous," which features the naked, sleeping bodies of several celebrities including Amber Rose, Donald Trump, and Swift.
July 2016: Kardashian Releases A Snapchat Of West & Swift's Phone Call
Kardashian once again wades into the feud by releasing video of West speaking to Swift on the phone. The two are heard discussing "Famous," and Swift thanks West for giving her the heads up about her inclusion on the song. However, at no point in the audio is Swift actually played the song or heard being informed that she would be called a "b*tch."
Swift responded on Instagram in a post that has since been deleted, but BuzzFeed reported it read:
"Where is the video of Kanye telling me he was going to call me 'that b*tch' in his song? It doesn't exist because it never happened. You don't get to control someone's emotional response to being called 'that b*tch' in front of the entire world. Of course I wanted to like the song. I wanted to believe Kanye when he told me that I would love the song. I wanted us to have a friendly relationship. He promised to play the song for me, but he never did."
Swift ended her post by writing, "I would very much like to be excluded from this narrative, one that I have never asked to be a part of, since 2009."
"Look What You Made Me Do"
In her first single in three years, Swift seemingly takes aim at West, calling out his "tilted stage" from his The Life Of Pablo tour and threatening that karma will catch up with him.
Since then, Swift and West have been busy doing their own things, but with the 2017 VMAs coming up and the blatant disses in "Look What You Made Me Do," there might be another twist in this feud coming.