Now The Whole World Knows Kanye's iPhone Password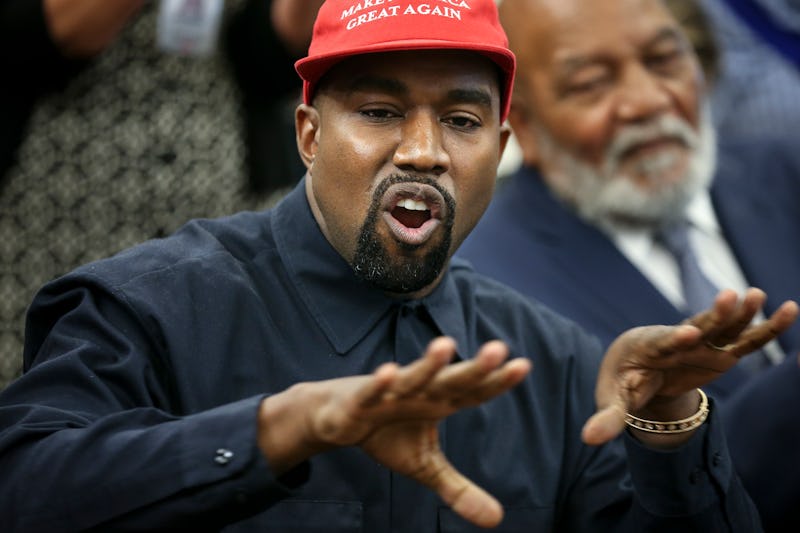 Pool/Getty Images News/Getty Images
Oh, Yeezy. If you've ever wondered what Kanye West's iPhone password was, this is your chance to find out. On Thursday, the rapper appeared in the Oval Office alongside President Donald Trump, where West went on a 10-minute rant about a host of issues. During one particular moment, captured in a video clip from CNN and shared on Twitter by many accounts, West can be seen unlocking his iPhone with perhaps one of the easiest number combinations on earth: 000000.
You read that right. West's iPhone security lock is merely six consecutive zeros. But it is possible that considering the news coverage this topic is getting, the rapper will change his password for security reasons.
The reveal came on Thursday when West unleashed a lengthy diatribe about a variety of things. For instance, at one point during his meeting with Trump, he called the 13th Amendment — which abolished slavery — a "trap door."
"There's a lot of things affecting our mental health that makes us do crazy things that puts us back into that trap door called the 13th Amendment," West said. "I did say abolish with the hat on, because why would you keep something that's a trap door?"
It didn't end there. West went on to say, "If you're building a floor — the Constitution is the base of our industry, of our country, of our company, right? Would you build a trap door that if you mess up, and you accidentally — something happens, you fall and you end up next to the Unabomber? You gotta remove all that trap door out of the relationship. The four gentleman that wrote the 13th Amendment — and I think the way the universe works, it's perfect! We don't have 13 floors."
The rapper's commentary about the 13th Amendment may offend some observers but this won't be the first time that West attracted controversy with his remarks. In April, for instance, he described slavery as "a choice" and a product of black people supposedly suffering a "mentally imprisoned" collective state of mind.
In another case, West called for abolishing the 13th Amendment but later on explained that it was centered on outdoing coercive prison labor. Washington Post White House pool reporter Anne Gearan reported that West told journalists that listening to him was similar to "tasting a fine wine" and that it carried "complex notes to it."
According to reporters present at the encounter, West's diatribe left Trump somewhat speechless. The president, who is generally known for his sound bites and talking at great length with the media, seemed impressed. Trump said that West "can speak for me any time he wants" and that the rapper was a "smart cookie [who] gets it." When asked if West would be a competent president, Trump said, "He could very well be."
By the end of his rant, West reached over to hug Trump. The president said, "That was quite something."
West then told Trump, "It was from the soul. I just channeled it."