Karen Chen & Kristi Yamaguchi's Friendship Is A 2018 Winter Olympics Highlight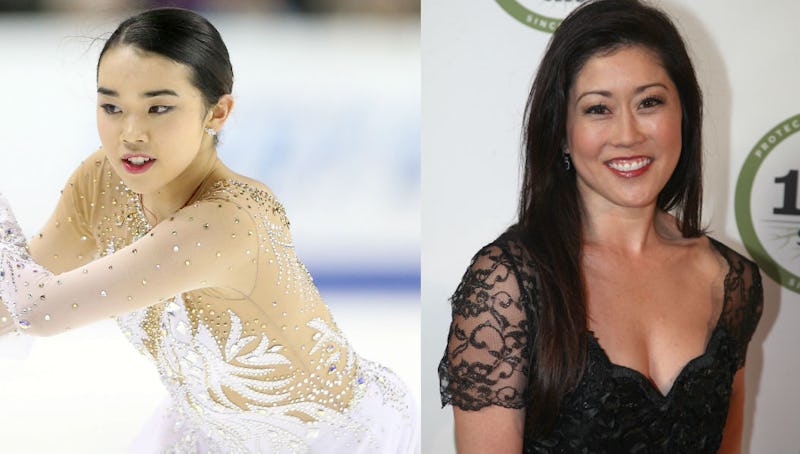 Matthew Stockman/Getty Images Sport/Getty Images; Kelly Sullivan/Getty Images Entertainment/Getty Images
Seeing Olympians support one another is always a joy, but there's something extra special about watching Olympics veterans encouraging the next generation of athletes. Nowhere is this dynamic on display more than in Kristi Yamaguchi and Karen Chen's friendship. In 1992, Yamaguchi become the first Asian-American woman to win a gold medal at the Olympics, and she quickly became an inspiration to many kids who dreamed of becoming ice skaters. Now, Yamaguchi is Chen's mentor. The 18-year-old member of Team USA shares the hometown of Fremont, California with Yamaguchi, and with any luck, she'll share a bit of her mentor's legacy as a figure skating icon too.
In an interview with In Style, Yamaguchi revealed that she's known Chen since the Olympian was just 12-years-old. While the gold medalist doesn't interfere with Chen doing her own thing, Yamaguchi was happy to offer advice to her young friend as Chen embarked on her first Olympic journey. Yamaguchi shared with the magazine the one thing that she told Chen to keep in mind as she headed off to the 2018 PyeongChang Games. Yamaguchi told In Style,
"The one major thing that I've told her is that for the Olympics you have to learn to insulate yourself from the pressure. I've always tried to keep her thinking positively because it's easy to let doubts creep into your head before a big performance like this."
When Yamaguchi was representing Team USA, social media didn't exist, and she's keenly aware of how the constant chatter could affect young Olympians. Her advice to Chen? "America is rooting for you! You can't forget that — even with all the pressure that you're feeling right now," Yamaguchi said in her interview.
As for Chen, it's clear from her social media accounts just how much she values Yamaguchi as a friend and mentor. The women have partnered together for charity events on more than occasion, with Chen joining Yamaguchi's Golden Moment Skating Show to raise awareness for children's literacy. In a June Instagram post, Chen wrote, "Kristi has been my source of inspiration and role model."
The Mercury News caught up with Chen and Yamaguchi in May, when Yamaguchi and Chen stopped by the Glenmoor Elementary School in Fremont. Yamaguchi was there to read to the kids, and Chen was clearly in awe of her mentor. Chen told the paper,
"I want to be just like her, just a caring person. I am just sitting there listening to her reading a book and I'm thinking, 'Wow is this a dream?'"
Even though Chen has known Yamaguchi for several years now, she still seems to be impressed by the older athlete's talent and immensely grateful for her support. Yamaguchi even wrote the forward for the 18-year-old's book, Finding the Edge. It seems that Yamaguchi has been there for Chen every step of the way, and the significance of that is not lost on the 1992 gold medalist, who told Mercy News that she once benefited from having skating mentors herself.
According to Yamaguchi, the first time she met Chen, she knew that the young woman had the drive and talent to go all the way in the sport. Yamaguchi said to Mercury News,
"I felt it right away. There was something special in her and unending potential there. You think, 'Wow this can really happen.'"
Now that it has happened, Yamaguchi is cheering Chen on through her social media accounts. The friendship between these Olympians is inspiring, and a beautiful example of what can happen when women reach across generational lines to help one another. Yamaguchi went from being Chen's hero to her mentor and now she's also her friend. With any luck, the beautiful relationship between these two will continue to flourish for years to come.