Why Karen's Divorce On 'Will & Grace' Won't Even Be The Wildest Part Of Season 10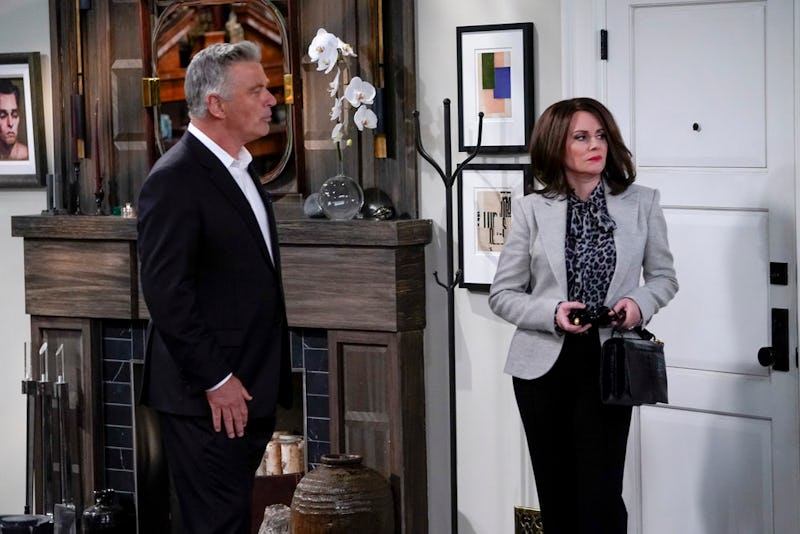 Chris Haston/NBC
Spoilers ahead for Will & Grace Season 10, Episode 2. Will & Grace has heavily teased change for its characters in Season 10, and it's already making good on that promise. In "Where In The World Is Karen Walker?" it's revealed that, after many close calls in the original run, Karen is finally getting divorced on Will & Grace. During the final moments of the episode, Alec Baldwin returns as Karen's longtime lover, Malcolm, and reveals that he told her husband, Stanley, about their former affair. So, Stan serves Karen with divorce papers. Their relationship has certainly been tumultuous over the years, but this time it seems like it's really over.
Fans will recall that Karen ended her affair with Malcolm in the Season 9 finale in order to stay with Stan, but apparently, Malcolm wasn't ready to let go. When Stan hired him to find out who Karen had been cheating with, he intentionally ruined her marriage by revealing it was him Karen had been sleeping with all along. That was more than Stan could take, so he filed for divorce.
Of course, Karen and Stan have toyed with splitting up before. During the original run of Will & Grace, Stan was in jail for tax evasion and encouraged Karen to see other men. She eventually started an affair with Lionel Banks (Rip Torn), but had Rosario break it off for her when Stan was released from prison. However, Stan then cheated on her with prison cafeteria employee Lorraine Finster (Minnie Driver). Karen started divorce proceedings, but Stan (seemingly) died before they could be finalized. (It turned out he'd actually faked his own death to escape the mob, but I digress.)
Karen did finalize their divorce in the original Will & Grace finale, but since the revival decided to ignore that episode, her and Stan were still married when the show picked back up. However, now that they might actually be getting divorced for real, it's unclear what will happen with Karen and Malcolm. At the end of "Where In The World Is Karen Walker," she told Malcolm she wanted him out of her life, and he left the apartment. Needless to say, rekindling their romance doesn't seem high on Karen's list of prioritizes, even if she is now single.
Plus, it doesn't seem like we'll be seeing much more of Alec Baldwin this season, even if Megan Mullally is rooting for it to happen. "I don't know if that's going to be a permanent deal, but Alec is at least coming back for a minute," she told The Hollywood Reporter in July. "Karen Walker and Malcolm Widmark are a great TV couple together — I also really, really love working with Alec. He's a total pro and he's the f*cking funniest person."
One thing that is for sure? Karen is going to get even more out of control now that Stanley is divorcing her. "Can you imagine? You think it's bad now? Wait until she gets divorced, all hell breaks loose," Mullally continued. In fact, Will & Grace creators Max Mutchnick and David Kohan teased to Vulture that Karen will experiment with a new drug. "We don't know what hallucinogen she takes, but she downs a big gulp of something and we end up putting her in a nightclub, so you get the gift of hearing Megan Mullally singing 'The Man That Got Away' from the Judy Garland version of A Star Is Born," Mutchnick explained.
Still, that doesn't mean Karen will be partying all the time. Mutchnick noted that Karen will end up "dating a serious person" later in the season. Could that mean Malcolm? A new love interest? Only time will tell.
In the meantime, fans should sit back and watch the inevitable hilarity of a single Karen Walker (well, Karen Delaney) unfold.