This GOP Senate Candidate Reportedly Compared Michelle Obama To A Monkey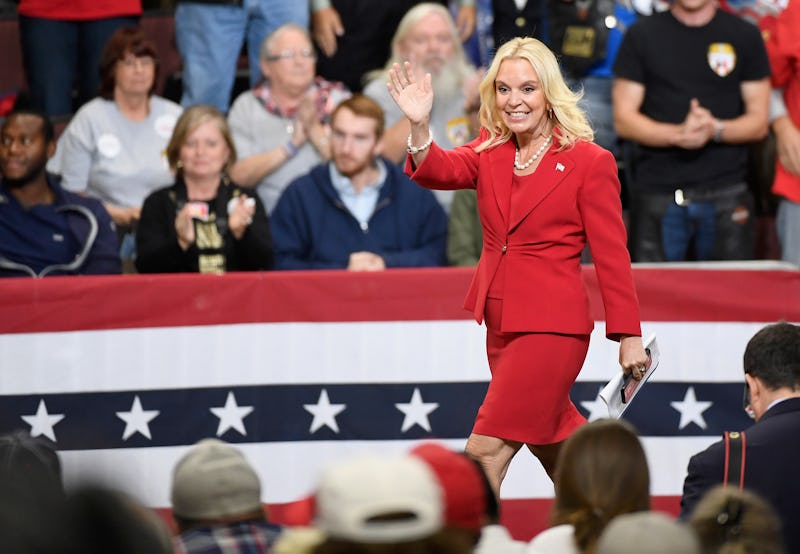 Hannah Foslien/Getty Images News/Getty Images
One of the candidates vying for Al Franken's old senatorial seat is facing intense criticism following a resurfaced 2009 Facebook post wherein she appears to make racist comments about the then-first lady. In the post, Minnesota lawmaker Karin Housley compared Michelle Obama to a "chimp," according to screenshots of the comments published by the Huffington Post.
In the string of remarks shared by HuffPo, Housley was reportedly responding to the Obamas' 2009 visit to Buckingham Palace. "Michelle is soooo far from cool," Housley reportedly wrote in one comment. "Don't we expect our First Ladies to at least stand up straight? (And my dear sister, know the proper etiquette and DO NOT TOUCH THE QUEEN!)"
Housley then followed up with her original comment, apparently lamenting how much she missed having the Reagans in office. "I do miss Nancy Reagan," she wrote. "Ronald even more. Speaking of Bedtime for Bonzo, I think even that chimp stood up straighter than Michelle. Uh-oh, someone is going to make a comment." Bustle has reached out to Housley for comment.
Bedtime for Bonzo is a 1951 movie starring Ronald Reagan. The plot centers around the quest for humans to teach morals to chimpanzees, and explores the question of "nature vs nurture."
In an email to HuffPo, Housley's spokesperson deflected questions about the Facebook post. "It's not surprising the Huffington Post—basically an extension of the Democratic Party—would do Tina Smith's dirty work for her," Schneider said in a statement, referring to Housley's Democratic opponent in the upcoming election. "This is what the radical left does when they are losing—they attack Republicans so they don't have to come up with solutions to the problems Minnesotans are facing."
In a statement reported on by Time, Schneider reportedly accused Housley's opponents of misusing the post. Specifically, he said, according to the magazine, that they were "using an out-of-context Facebook post from 10 years ago to manufacture outrage."
Smith responded to reports about Housley's Facebook comments in a statement. "Minnesotans deserve a Senator who treats everyone with respect — even if you disagree," she said, according to Time.
Michelle did make headlines almost immediately upon hugging the Queen during her 2009 visit, but reception of her so-called "faux pas" was largely positive. And later on that same evening, according to The Guardian, Michelle placed her arm around the Queen, only to have the monarch reciprocate the move, indicating to many that she did not appear offended by the familiarity.
Michelle was not the only first lady that Housley criticized, according to The Huffington Post. In a separate 2009 Facebook post, Housley reportedly made fun of Hillary Clinton's size and appearance. When a friend wrote that Clinton, who was then the Secretary of State, "seems to be eating well," Housley wrote that she agreed. "That's what I thought too … porker in a royal blue pantsuit," she said, according to HuffPo.
This is not the first time that old Facebook posts have haunted candidates for public office years after the fact. But with the November midterms just weeks away, such controversial remarks are sure to grab attention.