Karlie Kloss Is Engaged To Joshua Kushner, Confirming The News With A Sweet Selfie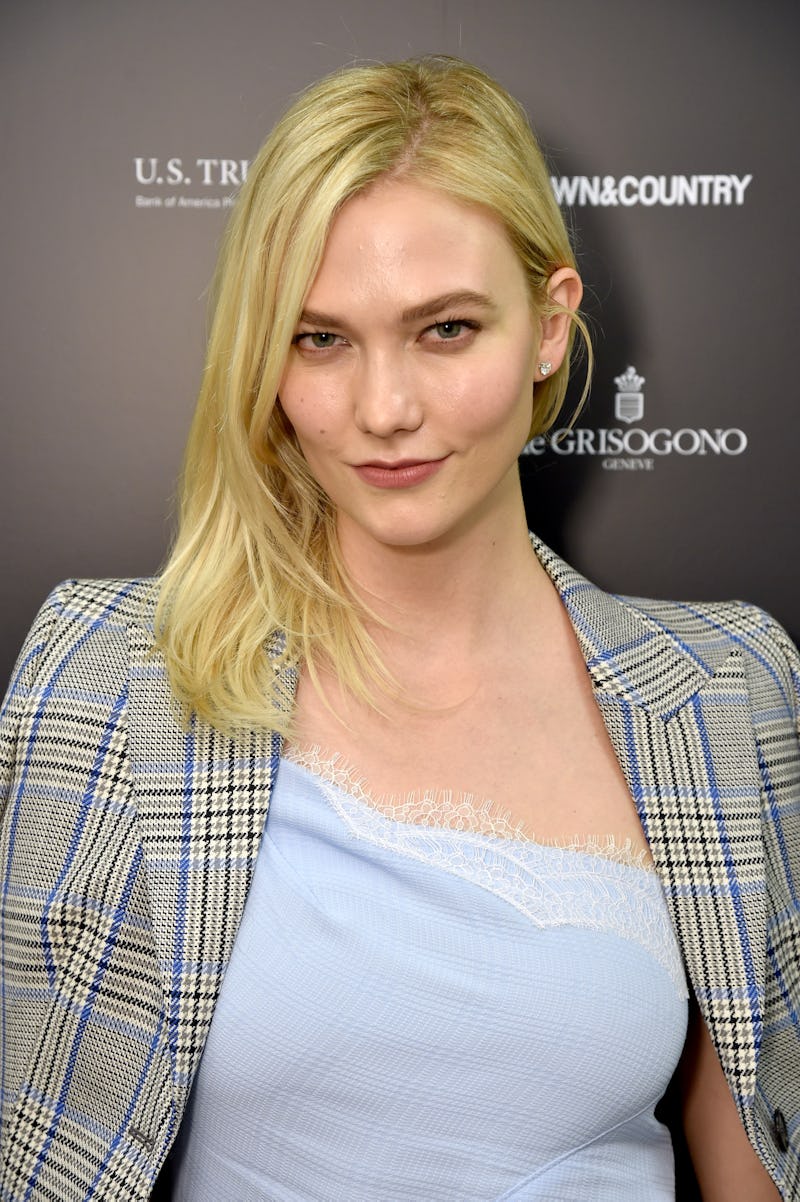 Bryan Bedder/Getty Images Entertainment/Getty Images
If you're looking for another celebrity engagement to get excited about, look no further. On Tuesday, Karlie Kloss announced she's engaged to Joshua Kushner via a heartfelt Instagram post. She shared a sweet selfie with her longtime boyfriend-turned-fiancé (although no, there's no glimpse of the engagement ring in sight). Along with the photo, Kloss wrote,
"I love you more than I have words to express. Josh, you're my best friend and my soulmate. I can't wait for forever together. Yes a million times over"
Kushner has yet to post the news on his own page, but it's likely only a matter of time. Speaking of timing, not longer before the model's own announcement, People reported that Kloss and Kushner got engaged recently after six years of dating. A source claimed to the publication, "He proposed a few weeks ago during a romantic weekend together in upstate New York." People's source continued, "They're both overjoyed and happily celebrating. Their hearts are full and they're excited to build their future together."
Soon after she shared the Instagram photo, fans flooded the comments section with reactions ranging from "Omggggg," to "CONGRATS," to a slew of heart emojis. Famous pals like the also recently engaged Hailey Baldwin liked the photo, while Andy Cohen wrote, "CONGRATULATIONS!!!!"
Kloss and Kushner were first reported to be dating back in November 2012, according to Huffington Post. At the time, Kushner attended the Victoria's Secret Fashion Show afterparty with her, sparking headlines on sites like Us Weekly. But for the most part, the pair tends to keep their relationship under-wraps, aside from the occasional sweet Instagram post.
As for why, back in April, Kloss talked about her private life staying private in an interview with Porter magazine (via Harper's Bazaar). In the interview, the entrepreneur explained,
"It's not like I've ever wanted to be so secretive about my private life. Carolina Herrera always says, 'A woman who's an open book is boring.' There's no mystery anymore. I know in my life what really matters to me. I'm not trying to hide that from the world; I just really like having a more private private life. I've got nothing to hide, though!"
And the fact that she came out and announced her engagement, rather than letting people endlessly speculate, proves that last point. She's not actually hiding anything. She just chooses to keep some things secret and that's totally her prerogative.
Plus, Kushner is indeed the brother of Jared Kushner, husband of Ivanka Trump and son-in-law to Donald Trump. Given Kloss' reportedly liberal viewpoints, it makes sense to not publicly dive into all of those familial connections too much. (It's also worth noting that Kloss and her now-fiancé seem to share similar views, with Cosmopolitan pointing out they attended the March For Our Lives together earlier this year.)
Shifting the spotlight back to the happy news, Kloss and Kushner seem like a great match. The birthday message she posted for him two years ago emphasizes their (quite literal) bond, as she wrote:
"My atoms love your atoms, It's chemistry.- @atticuspoetry ❤️🤓🎂🍪❤️ Happy birthday to my best friend and partner in crime. The past 5 years of our adventures together have been some of the best memories of my life. I love you @joshuakushner"
These two clearly are in love, and them taking this next major step together is super sweet to see. As her caption on IG points out, Kloss is thrilled. And fans couldn't seem more excited for them either.