Kat Graham On Working With Prince & Her New Album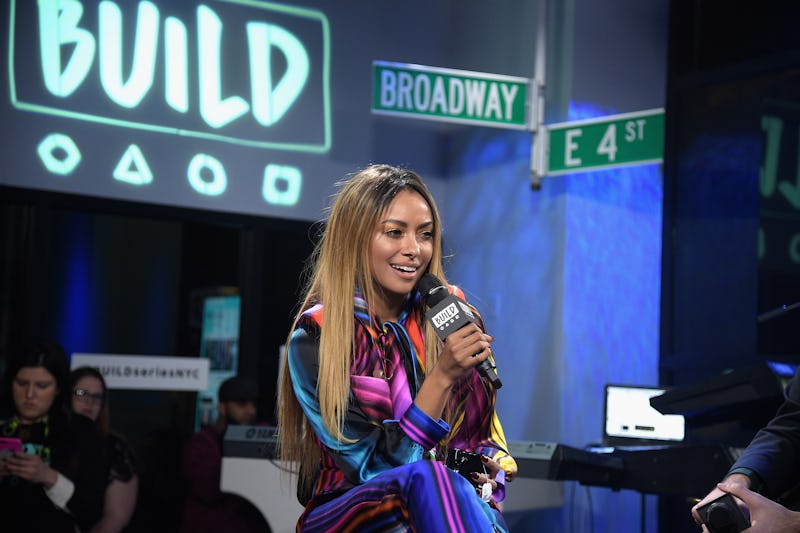 Jason Kempin/Getty Images Entertainment/Getty Images
As fans of The Vampire Diaries prepare to bid farewell their favorite witch, Bonnie Bennett, the actor who plays her is more than ready to show the world her myriad magic tricks as a music artist. Kat Graham is a triple threat in every way. In fact, she tells Bustle she was producing her own beats at just 14 years old and has a degree in recording engineering to boot. Graham recently brought down the house at AOL's BUILD Studios in New York City on Thursday, Jan. 12 performing a medley of songs from her upcoming "empowering" album Love Music, Funk Magic, which includes her latest hit single, "All Your Love." But to folks who fear the "1991" singer may struggle transitioning from acting to music/dancing, Graham says they'll be mystified to know she's been a multi-hyphenate all along.
"As blessed as I am to have had a great platform — an international platform — that really brought me into the homes and is still bringing me into the homes of millions of people every week, it almost is crippling because people won't see past that," she tells me via phone. "They want to see you as this character that I couldn't be any less like to be honest."
While her debut album, Roxbury Drive, has a heavy '90s influence, Graham says her sophomore record goes back a couple more decades. "Creating something that feels like disco-pop is something that I hadn't seen any females doing," she says. "Even the men kind of stuck to funk and I wanted to do something that was still upbeat and fun but still felt classic."
The Swiss-born artist says she hopes Love Music, Funk Magic, out March 31, spreads a message of inclusion through "relatable" lyrics — a lesson she learned while fine-tuning her artistic integrity with the late Prince. Prior to his passing last April, the music legend sought Graham to not only share his infinite musical wisdom and guidance but also to open her third eye to better envision the artist she could become and the legacy she had the potential to leave behind. "We spent way more time talking about the importance of being awake in a society asleep," Graham says. To her being "awake" meant "not shying away from topics like discrimination," showing compassion, elevating her spirituality, and embracing her individuality.
"I wouldn't say that I fit in to what's happening in music, but some of my favorite artists right now do not fit in necessarily at all," she explains. "They're doing their own thing; they're pretty independent from Solange to F.K.A. Twigs. It's just a different era... It's artists like that that get me to understand that it doesn't need to play on the radio every five song rotation. It could just be incredible visuals and self-expression and that's what makes you an artist."
The 27-year-old says she prefers to make timeless music with colorful visuals. In the music video for her single "All My Love," Graham says she was inspired by the highly acclaimed Jennie Livingston documentary Paris is Burning. To Graham, the video wasn't just an opportunity to slay, serve, and throw shade, but rather pay homage to the LGBTQ community while showcasing her high-energy dance moves and captivating vocals: "It's all about being inclusive and all about LGBTQ rights and bringing people together and being united."
With an album, a television show, and three upcoming movies (including playing Jada Pinkett Smith in the Tupac biopic All Eyez On Me) under her belt, Graham says the hardest part about being a triple threat is balancing all of her gigs. "I finished this record last year... But I haven't been able to promote it like I want to because of the very demanding television show schedule." Now with Vampire Diaries winding down, the time has come for Graham to show and prove.