Kat Von D Reportedly Disqualified A Contest Winner For Being Pro-Trump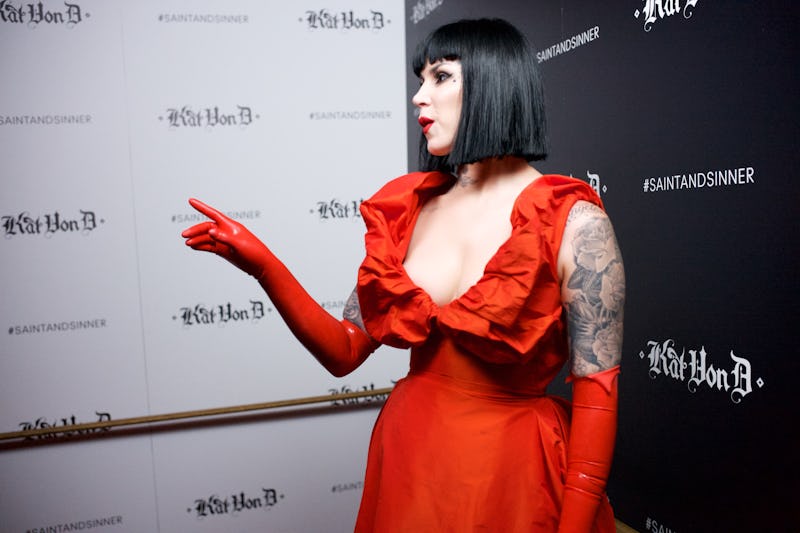 Earl Gibson III/Getty Images Entertainment/Getty Images
Back in June, Kat Von D held a contest for the relaunch of her Saint and Sinner perfumes. If you don't remember seeing a winner, that's because there wasn't one. According to the winner of the contest Gypsy Freeman's interview with The Wichita Eagle, she was disqualified for supporting now-President Trump on Instagram. The makeup artist allegedly has the messages to prove it, too.
There's no denying that the 2016 election created a rift between friends and family all across the nation. Apparently, it did the same in the beauty community. You may or may not remember the contest that Kat Von D Beauty ran for her Saint and Sinner perfume relaunch. She asked fans to send in makeup creations and one lucky winner would be chosen to attend to re-release party. After Freeman was chosen as the winner, Kat Von D allegedly disqualified her. The makeup artist told The Wichita Eagle that it was because she was a Trump supporter.
Freeman told the publication that Kat Von D's direct message read, "My launch party [and my brand] celebrates many things that Trump is against. And I just need you to know that I personally have a hard time with inviting anyone who would support such an anti-feminist, anti-homosexual/LGBT, anti-immigrant, and anti-climate change fascist such as Trump."
According to Allure, Freeman responded saying, "I understand," the makeup artist wrote back. "I am, however, not Trump...We would love to be there, of course, but I sincerely do understand if you decide to replace us with someone who supports the candidate you support."
The conversation didn't stop there. According to Freeman's interview, Kat Von D responded one more time saying, "It's just extremely difficult (borderline impossible) for me to be friends with or associate with anyone who would support a man who goes against everything I stand for. I would feel the same way towards people who supported Hitler, or any other fascist."
All Instagram posts about the Saint and Sinner perfume contest and winner have been removed from both the brand and Kat Von D's Instagram page. There was also no other winner spotlighted at the release party, according to social media. Bustle has reached out to Kat Von D for comment.