'The Office' Star Kate Flannery's New Character Is A, Well, Sober Departure From Meredith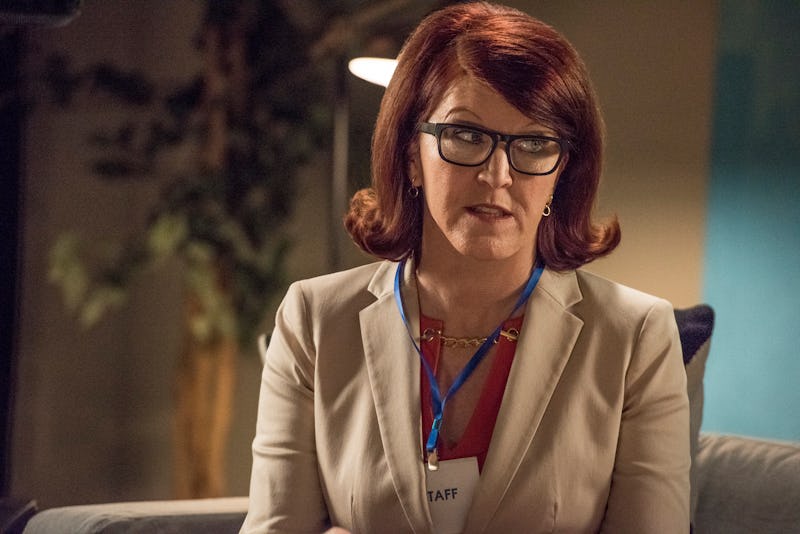 Rachael Thompson/Hulu
Throughout nine seasons of The Office, Meredith Palmer went through the wringer. She was trapped in a plastic bag along with a live bat. She drunkenly caught on fire at the office Christmas party, prompting her coworkers to stage an intervention. And she even took a moving car to the groin. Meredith's plights were always outrageous, but the actor behind her never failed to keep her grounded and lovable. But don't expect Kate Flannery's character in Hulu's All Night to be anything like Meredith — in fact, Meredith might think she's the ultimate party pooper.
In the new comedy, which hits the streaming service on May 11, Flannery isn't exactly doling out the drinks. She plays Principal Saperstein, who is desperately trying to keep a group of newly minted high school grads sober as they enjoy one last school-sanctioned all-nighter.
"I think some of [this role] is just penance for playing the drunk on The Office," she says over the phone in late April. "Suddenly I'm trying to control the drinking, which is the opposite of Meredith."
Principal Saperstein is ready to take someone down if she learns any booze has infiltrated the facility — definitely a departure from Flannery's Office employee, who'd likely be running the contraband operation — but she isn't just a foil for the ornery kids she's trying to control. Saperstein's sheer enthusiasm for this school function is enough to make you laugh on its own. And, later in the season, she shares some poignant scenes with the students that show just how much she cares for them. So she's far from the heavy, though she certainly has a job to do.
"I think I don't do authority figures. If that's, like, their main characteristic, I'm probably not your gal," Flannery says. "I just like when characters are a little bit more fleshed out initially, and you get to talk about how to sort of make [that character] a little more three-dimensional."
All Night really captures the emotional turmoil felt just after high school graduation, as teenagers agonize over what could have been, hurl themselves at every fleeting last chance, and prepare to say goodbye to their childhood friends. Flannery says that even though she's playing the teacher, the show really took her back to her own teenage years.
"Those are the things you really don't forget — all those milestones like graduation. And it's interesting ... most of us never have it easier than when we're in high school," she continues. "You really don't have any real responsibility, but yet, the things that don't go exactly the way you want them to carry so much more weight. I think we can all relate to those feelings."
And All Night's cast of young actors, made up of relative newcomers to the business, was one Flannery enjoyed being a part of. "The only difference between people with experience and people without experience, is experience." she says. "I like working with new talent. I feel like it's always interesting to kind of not have the jaded people — not that everybody is jaded — but I do feel like there's a little more room for discovery and joy when people are starting out."
And on the flip side, those actors and comedians just starting out have a lot to learn from working with someone like Flannery. In addition to All Night, she's half of the comedy act The Lampshades, has been known to tour the country crooning tunes with Jane Lynch, and her IMDB page is constantly racking up new and intriguing credits, but Flannery is perfectly happy if you think of her first and foremost as Meredith. And, by the way, she's certainly not opposed to returning to the screen in that part. As unconfirmed rumors of an Office revival swirl, Flannery says she hasn't heard anything official, but she's ready if it happens.
"I would love it. It was a great job for nine years, let me tell you," she says. "For a million reasons. A million reasons. I love that there's a whole other wave of fans because of Netflix, and I do think it's more intense than it was when we stopped filming."
She jokes that she hears from fans all the time that they watch her on The Office as they fall asleep — "That must be horrifying," she laughs — but she appreciates the love that still endures for the show. "When I do catch [The Office], I'm still very, very proud of it," she says. "And I think it's such a rare position to be in as an actor where you feel like your show has legs long after it first airs. I'll always be proud of it."
So, even if an Office reboot is far from a done deal, don't despair — there's still much more Flannery where that came from, starting with one madcap season of comedy that'll put her latest character through her paces.